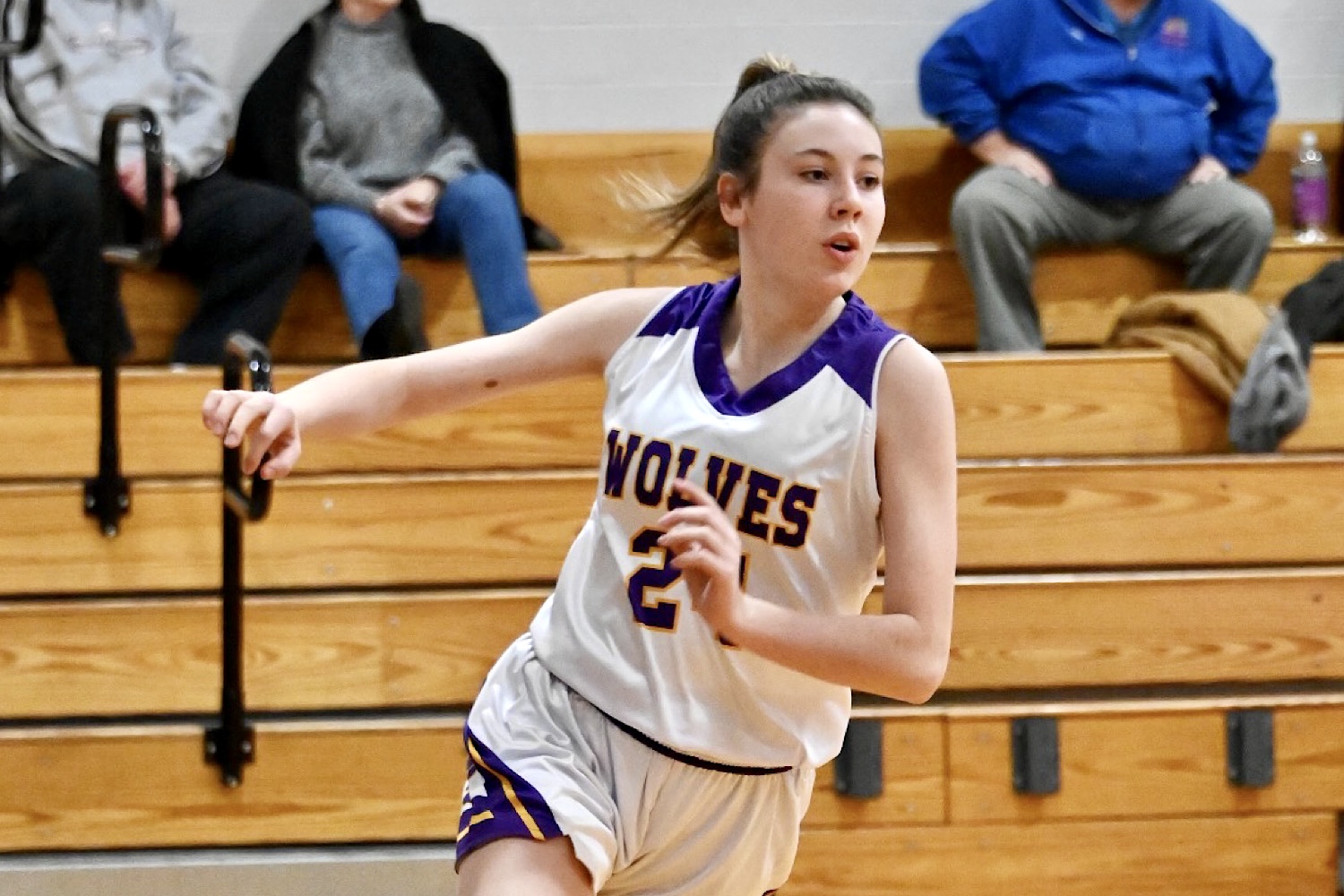 STRATTANVILLE, Pa. (EYT/D9) — Ainsley Hartle scored 18 points, with 16 coming in the first half, as North Clarion used a quick start in rolling to a 55-24 victory over Clarion-Limestone on Friday evening.
(Pictured above, Ainsley Hartle/submitted photo)
The loss snapped a five-game winning streak by the Lions, which dropped them back to .500 at 6-6 on the season.
Emma McFarland scored nine points on three shots from behind the 3-point line. Madison McFarland, Akeela Greenawalt, and Lauren Lutz each added six points. Madison McFarland also pulled down eight rebounds while Lutz added seven boards.
"Tonight, Ainsley kind of went off and that's good for her," said North Clarion head coach Terry Dreihaup. "We're usually a pretty balanced scoring team — or at least we like to be. Our girls are about the wins as a team, and they are all pretty unselfish."
North Clarion (11-0) raced out to an 8-1 lead before ending the first quarter with a 22-5 lead.
"Everything they were putting up was going in for the most part tonight," said C-L head coach Gus Simpson. "I think the girls kind of panicked as they didn't really know how to respond. I think we did a better job in the second half. I'm proud that they kept fighting."


North Clarion sports on Explore and D9Sports.com are brought to you by First United National Bank – The FUN Bank!
North Clarion continued to roll in the second quarter in holding an 18-6 advantage to increase their lead to 40-11 by halftime.
"We like to come out and use our pressure defense to set the tone and get our legs under us," said Dreihaup.
Lutz scored the first points of the third quarter, which put the lead to 42-11 and set the mercy rule running clock into effect for the rest of the contest. North Clarion held a 9-5 advantage in the third to lead 49-16 after three.
C-L finished with an 8-6 edge in the fourth quarter to set the final score.
Alex Leadbetter scored six points and grabbed seven rebounds to lead C-L. Alyssa Wiant, Lexi Coull, and Sam Simpson each added five points. Jenna Dunn grabbed five rebounds.
"We'll just have to pick up the pieces after this one and try and move on," said Simpson. "We're starting to get a little healthier so we're trying to figure out the right combination of girls to put on the floor."