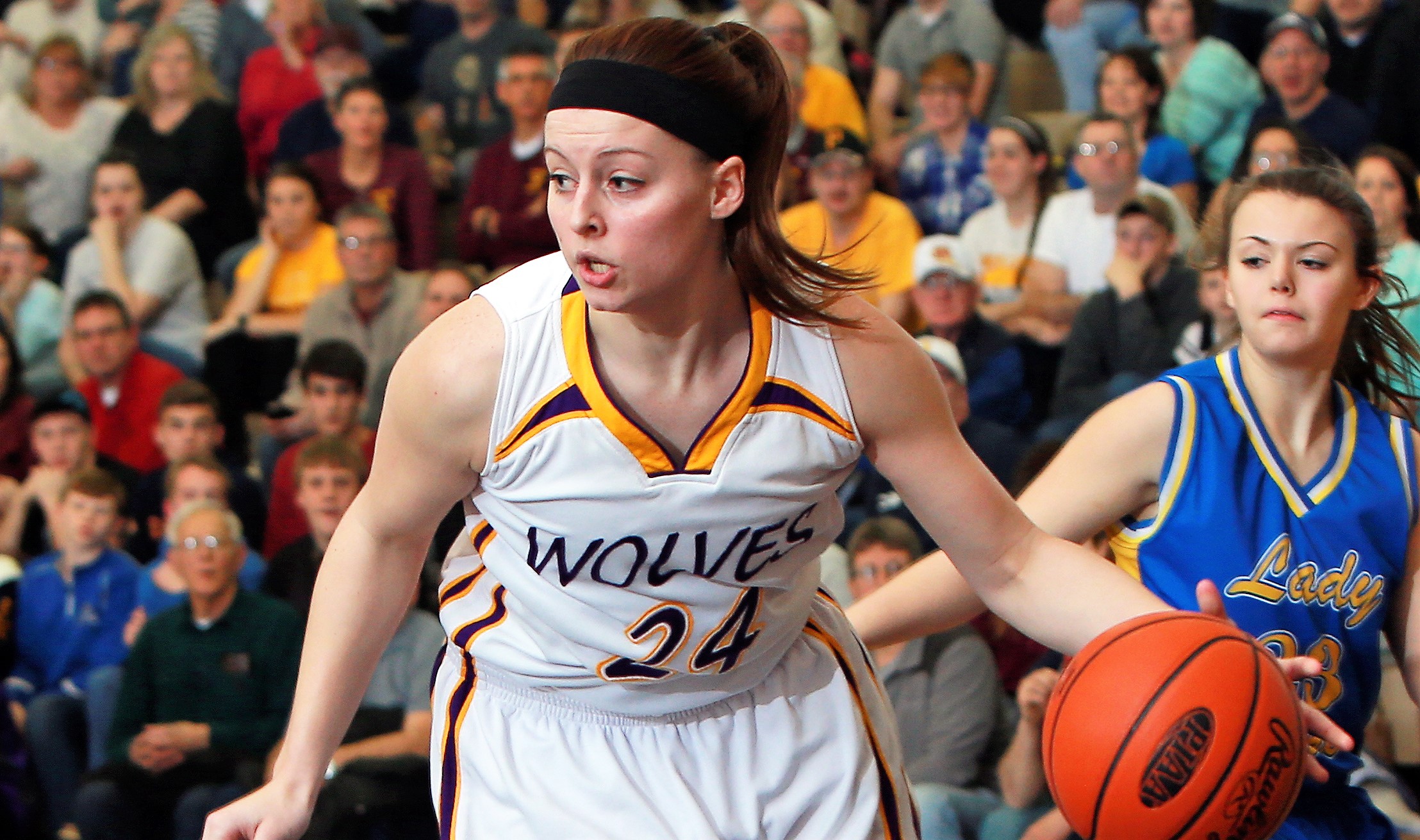 SHIPPENVILLE, Pa. – To say this year's senior class in District 9 girls' basketball is loaded would be an understatement.
(Cover photo of North Clarion's Tori Obenrader. Photo by Paul Burdick. Check out more of Burdick's work here)
Six All American Awards & Engraving D9Sports.com First-team All-District players return (11 all together with a 12th being a junior), and it's those six that make up the 2017-18 All American Awards & Engraving D9Sports.com District 9 Pre-season Girls' Basketball Team.
The squad is anchored by the reigning District 9 Player of the Year and a first-team all-state selection in Class 1A, North Clarion's Tori Obenrader. Obenrader, who is making her third consecutive appearance on the preseason team, led District 9 in scoring last year at 23.6 points per game while adding 15.8 rebounds, 3.2 assists, 2.0 steals and 1.0 blocks per contest. The Gannon commit shot 51 percent from the field, hit 53 3-pointers and recorded 28 double-doubles.
She is joined on the preseason squad by three additional all-state players: Punxsutawney's Leah Miller, DuBois' Ashley Hallowell and Otto-Eldred's Camryn Thomas.
Miller averaged 16.3 points and 15.0 rebounds per game a year ago while recording 17 double-doubles and was named a third-team Class 4A all-state selection. This is Miller's second consecutive season on the preseason All-District squad.
Hallowell was the leading rebounder in the district in 2017 averaging 18.0 per game while adding a 16.8 points per game and recording 22 double-doubles. She was a third-team Class 5A all-state choice.
Thomas also averaged a double-double at 16.0 points and 10.1 rebounds per contest while recording 16 double-doubles on the season. She was a third-team Class 1A all-state player.
Rounding out the preseason All-District team are a pair of solid guards in Coudersport Haley Keck and Karns City's Emily Hegedus.
Keck averaged 18 points, two rebounds and 1.5 assists per contest last year, while Hegedus has 17.1 points, 6.1 rebounds. 3.8 assists and 3.3 steals per game. Both players helped their teams to District 9 titles as did Obenrader. This is the second year in a row Hegedus has been a preseason All-District selection.
ALL AMERICAN AWARDS & ENGRAVING D9SPORTS.COM PRESEASON ALL-DISTRICT 9 GIRLS' BASKETBALL
Haley Keck – Sr., Coudersport
Ashley Hallowell – Sr., DuBois
Emily Hegedus – Sr., Karns City
Tori Obenrader – Sr., North Clarion
Camryn Thomas – Sr., Otto-Eldred
Leah Miller – Sr., Punxsutawney