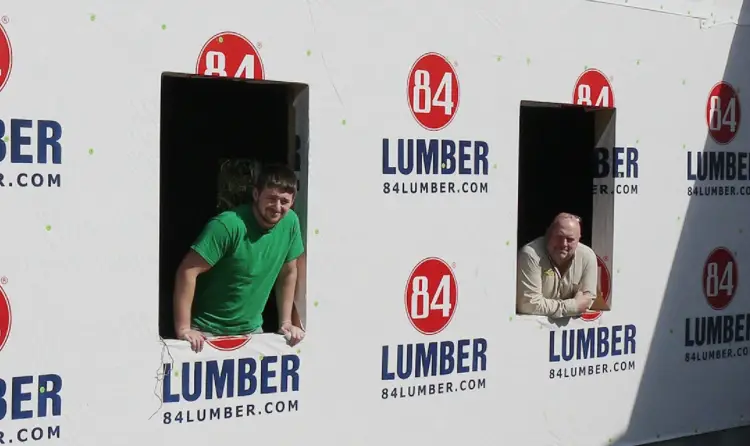 SHIPPENVILLE, Pa. (EYT) – What started out as a hobby in 2004 in one stall of Jim Carroll's two-stall garage in his home, All American Awards and Engraving will soon move into a 5,500 square foot building as soon as work finishes on an expansion of his Shippenville store.
The family-owned business prides itself on customer service as it offers trophies, awards, engraving, screen printing, embroidery, and unique personalized gifts.
Proud of the growth of the business, on the company's Facebook page, Jim Carroll states: "We are the tristate areas most comprehensive and high tech Screen Printing, Embroidery, trophy, award and recognition shop."
Jim and his son Ian are now co-owners.
Although Jim is a whirlwind of activity, he recently agreed to sit still for an interview with Ron Wilshire and exploreClarion.com.
That's a pretty large addition. What is it going to hold?
"The addition will connect our two current buildings; the front building, which is our showroom and the back building where all the production machinery is. It will be one big building, just about 5,600 square feet. We will be moving the embroidery, screen printing, and vinyl departments in the new addition. Inventory and the Trophy/Engraving department will remain in what we currently call the back building."
"We have been planning this expansion for a few years now, telling ourselves "just one more good year' and the next year we'd say 'just one more good year' until finally in the winter of 2019, we decided to 'pull the trigger'. We were just getting overrun and needed more space."
What types of service do you offer?
"We do embroidery, screen printing, full color garment decorating, engraving, trophies and awards and offer tons of unique personalized gifts. We also do industrial marking, laser cutting and we even do ADA Tactile braille signage."
"We have our own graphic designer, screen press operator and embroidery machine operator and office staff/ sales people for a total of six full-time and a couple part-time employees. And now with this expansion, we are looking for more staff, particularly for the embroidery and screen printing department."
How did you get started in this business?
"Four months after I sold the Pool Company, my wife and I were just sitting around the house staring at each other and came to a conclusion. She wasn't used to me being around every minute of the day, and I wasn't used to her being around. She looked at me and said 'you better find something to do, or I'm going to kill you.' (he starts laughing and says) "The message was pretty clear."
"The business was kind of a hobby at first and maybe something our kids could do to understand what working and making a living is all about. They were 10 and 7 years old at the time. Now our son Ian is one of the owners and our daughter Eva is our Purchasing Manager and Production Supervisor."
How much production equipment do you have now?
"We have several multi-head embroidery machines, automatic screen presses, several different types of printers for full color items like photos on t-shirts, dash plaques for car shows and other things like name badges and interior novelty signage. We also have vinyl printers and cutters for different things for garment decorating like glitter and rhinestones. We have four different printers for different phases of each division. We have three laser engravers and two mechanical rotary engravers and 5 heat presses."
How does the internet affect your business?
"Well, what we have that the internet doesn't have is 'in-person' customer service. You can go online and buy a trophy, or a t-shirt, a coffee mug or a plaque, but we have a showroom. We have salespeople to help you find what you want. You can try on that polo shirt, or pick up that trophy, or sit down with our graphic designer and talk face to face to get what you want. Ordering online you don't know what it is until you open the box and hope everything is what you ordered and spelled correctly."
"We have two walls of nothing but coats and polo shirts. We have a wall of nothing but hats and another of nothing but t-shirts. We're not a place you just walk in and buy off the rack, we know you're coming in here to get something personalized, whether it's for your family reunions, your company, or sports team."
"People want to feel the garment they're buying. If we don't have it, we'll order in one to sample. If the customer likes it, we'll order in multiple sizes so they can try them on. We do that with almost every organization we deal with. We have customers come from Erie, and Cleveland, down into Pittsburgh, Clearfield and all points in between."
"We bring in the garment they want, they can take it to their workplace and have everyone try them on to be sure everyone gets the correct size. That's something you can't do on the internet."
Walking proud?
"We have to do a good job with everything we do. We all live in this town, shop here and eat in the restaurants here. It's a great feeling when walking down the streets of Clarion where you know almost everybody, and they say, 'hey, there's Ian from All American Awards, he's the guy that made our cool Fantasy Football Trophy, or hey, that's Lauren, she's the girl who designed our family reunion shirts.'
"We pride ourselves on our customer service, but every once in a while you don't get it right. We all make mistakes, but, we're pretty proud of how we remedy the situation."
"We try to turn things around quickly. Clothing and wearables we usually say 2 weeks, since there are other orders already in the queue and it give us time to be sure what was ordered is what was shipped. There are always exceptions where we have turned around screen printed orders in as little as a day and some embroidery things in as little as a couple hours. Luckily, we have enough staff and technology to keep an order on track. We've done things where people have called me at five o'clock in the evening, "Jim, I need a plaque by tomorrow morning, can I pick up on my way to work tomorrow?"
Tell us about your company's background.
"I started the company in 2004 and moved to Shippenville in the spring of 2012. It all started in one stall of our two-stall garage at home. That lasted for about a year and then I built a larger, separate shop next to my home. It was the shop for a while then we added a shop beside the house. A few years later, I purchased two embroidery companies and a screen printing company. For several months, I had 4 different companies in 3 different locations. It was hard for customers to find us out in the country until I bought the Shippenville location in 2012. Route 322 is highly traveled highway and has a good traffic count. We bought the place and rehabbed it and combined the companies into one location."

What are some of the things you enjoy the most?
"I've always been in retail/service, and the customers are the greatest people on the planet. You meet such a wide variety of people."
"You have school athletic directors who are trying to get something that works for the kids, but doesn't break the bank. They have a particular set of ways they like to do things and they're all different. You might deal with people who can get a little wild and crazy with designs which are always fun. You meet just an enormous variety of people in this job."
"People come in for trophies or plaques because they want to recognize somebody for a specific accomplishment, and that's always exciting to see who broke a school record or something like that. We have one customer who, every year, buys a plaque for her husband for Father's Day with their two kids' photo engraved on it. It's been fun watching these kids grow up from year to year on these plaques. You can look back at the first one we did for them, and knowing the family has made it that much more exciting. When we did the first one years ago when the kids we in elementary school and now their daughter has graduated high school and is off to college. "
"Customers are always getting fun stuff. It could be coffee mugs with a picture of their dog on it or other fun things like a t-shirt for a gag gift, or a onesie for a newborn. We do a lot of one-time or one-of things. These are usually pretty exciting to see what people want on them."
Did you notice any change in business with COVID-19?
"Oh my god, yes. Almost instantly."
"First of all, everything closed down, so nobody could go out. You couldn't go anywhere, so you were down for two months."
"We still had oddball things to do. We actually started making custom masks. We made them using one of the processes that we do for making t-shirts. We teamed up with a local seamstress to get started, and our staff took over. We even bought the appropriate machines to sew them. When the dust settled we had made well over 2000 masks. We can put your company logos on them or people's dogs and even bedazzle them."
"When things across the state were finally able to open, our bigger companies were basically waiting to order their normal yearly stuff. Maybe not order as much, but they still needed something. Every business in this country is going to be down this year, and we're going to be no different."
Is this a good time to expand your building?
"Everybody was questioning that, looking at me and questioning me in their minds – like we're still going to build this addition? I got a lot of concerned stares from our accounting department. To say I'm not at all concerned would be a lie, but I'd be concerned on a good day, anybody would. I have faith in this country, and things are going to return to some semblance of normal at some point. We had planned this addition for years, and COVID is not going to stop us. It's a little bump in the road, and we're going to get through it."
"I like dealing with local people, just like we like local people dealing with us. If there is a problem, I can talk face to face with that company. I make it a point to rarely get anything online. If it doesn't exist when I can go get it, then I have no choice but to order it. When planning this project, I made it a point to tell my contractors that if you can buy local, that is where I want it to come from."
"If you take a look at the photos of the progress on our Facebook page, you'll see trucks from Clark Electric, LSM Landscaping, BRCK Developing LLC, Lutz Concrete Construction, DuBrook Inc., Schmader Concrete, Luton's Plumbing and Heating and The Computer Guru: All local contractors. We are so fortunate to have so many skilled individuals right here in our own neighborhood."
"I want everybody to see this is who we are. This is Clarion, and the only way this is going to work is if we all work together and deal with each other."
"It's surprising how much business we do right out of this store. It's also great to see the company grow."
"We are reaching out farther and farther, and we pride ourselves on what we have to offer."
"We are a one-stop customization shop for our customers. We can take care of pretty much all of it for you. We don't farm out jobs anymore because you lose control with subcontractors, and I learned that a long time ago."
Veteran Support
The frequent veteran spotlights sponsored by All American are one of Jim's favorite things on exploreClarion.com.
"I will do that until they don't have it anymore. These men and women and their families sacrificed for us, so if I can salute them and remind others of what they did for us, I'm all for that."
"Our company was named All-American for a reason!"

All American Awards and Engraving is located on Route 322 in Shippenville. The company specializes in Embroidery, Screen Printing, all kinds of awards, trophies, engraving, unique gifts and more. As the company motto says, We can put "Almost Anything on Almost Everything". 
They can be found online at www.allamericanhq.com, by calling toll free 1-877-402-9273 and ask for Jim Carroll, or visit them here www.facebook.com/AllAmericanAwardsandEngraving