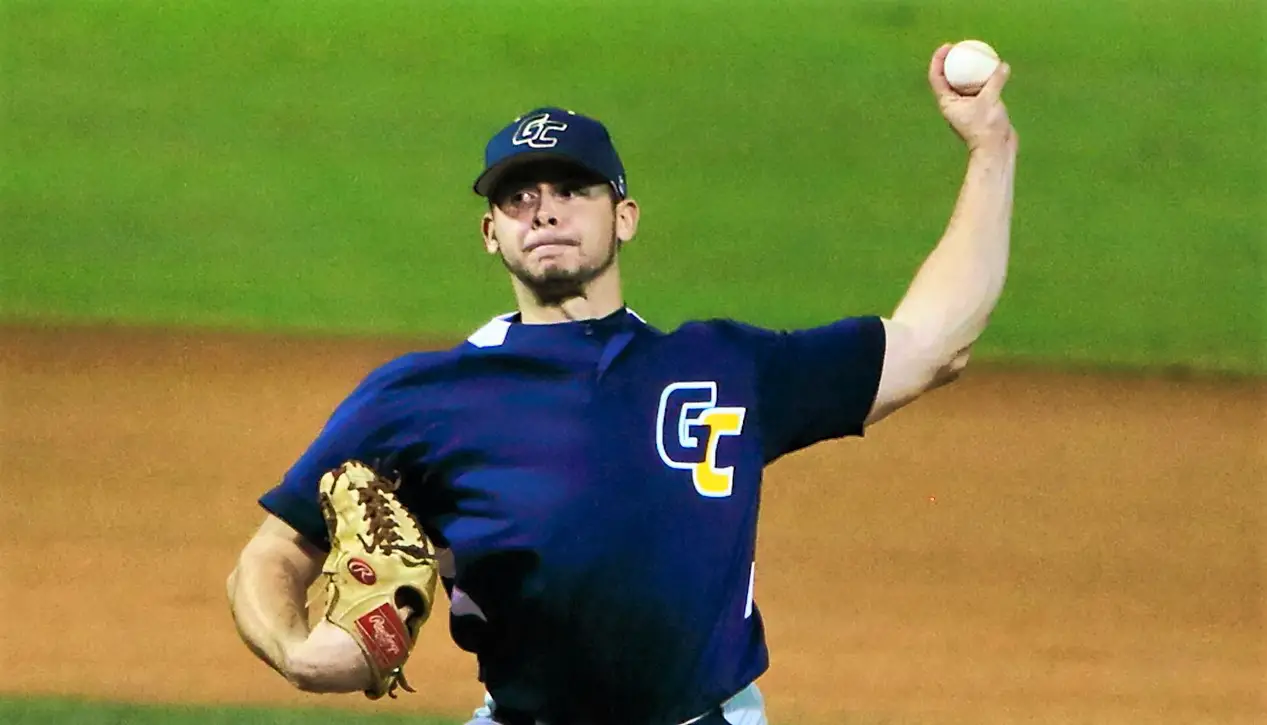 CLARION, Pa. – The year 2017 saw three District 9 alumni selected in the Major League Baseball draft.
(Photo by Dave Cyphert)
One of these D9 alums was 2015 Cranberry Area High School graduate Dylan Cyphert.
Cyphert had a unique journey to professional baseball, but there is no question that many of the decisions he made in his college career have paid off.
In his high school days, Dylan was a dominant lefty who surrendered very few runs and kept his team in the ballgame each time he took the mound.
Cyphert was one of the highest-rated recruits in the 2015 high school class.
After weighing his options from several colleges, Dylan decided the University of Pittsburgh was the best place for him. Fellow D9 left-handed pitcher and Ridgway Area High School alum Josh Mitchell was a member of the Pitt baseball program, and Cyphert talked about his previous relationship with Mitchell being a contributing factor to joining the Panthers baseball program.
In the fall of 2015, Cyphert began fall ball and off-season workouts with the Pitt Panthers. Cyphert enjoyed the University of Pittsburgh and the academics the school provided him with.
However, after thinking about what was best for his future, Cyphert decided that Gulf Coast State College in Panama City, Fla., was the best place for him to continue on his journey to professional baseball.
"It was quite the change," Cyphert admitted. "I went from playing on nice turf fields to pulling weeds at my first Junior College baseball practice. Initially, I thought maybe I did make a mistake heading to junior college. After the first couple weeks, I began to really make some great friendships. I was beginning to feel more like my old self as a baseball player."
Attending Junior College allowed Cyphert to play right away as a freshman while also facing off against quality opponents.
"I think it is a misconception that junior college sports may not be as good," Cyphert said. "I played against several now professional players in junior college. Facing off against these guys truly did prepare me for the jump to professional baseball."
In his two-year career playing for the Commodores, Cyphert racked up 11 career victories while fanning over 120 batters. It led to organizations like the Pirates, Padres and Marlins speaking to him prior to the 2017 MLB draft.
In the 17th round that year, a dream came true when Dylan Cyphert's name was called and he officially became a Miami Marlin.
"I remember having my phone on all practice despite coach having a strict policy against phones," Cyphert said. "He knew that it could be a big day for me, and I was happy to know a few hours later that I would be a Marlin."
Cyphert began his professional career with the Gulf Coast League Marlins in rookie ball where he posted a 1-1 record in 16 appearances. After the 2017 season concluded, Cyphert began his work to prepare for the Marlins 2018 Spring Training. After playing for the Marlins in 2018 Spring Training, Cyphert was optioned to Short Season A ball to play for the Batavia Muckdogs of the New York-Penn League.
So far in his minor league career, Cyphert has been used as a long to middle relief pitcher who is capable of striking out a lot of batters.
Last season pitching for the Muckdogs, Cyphert had 33 strikeouts in just 28 innings of work.
When asking Cyphert what has been key to his success so far as a pro, Cyphert was truthful about what helps gives players an edge over others.
"Everyone at this level can really play," Cyphert said. "Putting in the proper work and doing the little things in the offseason is what helps set guys apart from one another at this level. I, unfortunately, have seen guys get cut from a lack of preparation in the offseason and also lack of drive during the season. If you want to stick around, you have to come to work every day and give it your best to improve and help your ballclub win."
While Dylan Cyphert always remembers himself being an above average ball player since his early Little League days, he realizes there are a lot of people who helped him fulfill more of his potential.
Cyphert credits his parents for their belief and him and for allowing him to play a lot of travel baseball to improve his skills and play against better competition.
"My dad, Dave, put a lot of time aside for me and also invested a lot of money in me to hopefully live out the dream I am currently living," Cyphert said.
After hearing some of the stats Cyphert compiled in his high school career, it should come as no surprise he is in the position he currently is in today.
Cyphert won four letters, two Keystone Shortway Athletic Conference MVP's, struck out 403 batters, won 23 games and also helped lead the Berries to a D9 Championship in his senior season. He also helped the Berries win a state playoff game over California in his senior season which is something Cranberry had not done in many years.
In addition to his career in professional baseball, Cyphert continues to study for a degree in business administration while taking online classes through the California University of Pennsylvania.
After his playing career concludes, Cyphert has thought about the potential of a career in law enforcement but knows baseball will always play a role in his life in some way.
Dylan Cyphert once again is an invite to the Miami Marlins Spring Training in 2019 and hopes the 2019 season allows him to play for a full season ball club.
"I know one of the keys for me to get to where I want to be next season is be more consistent with my control," Cyphert said. "I need to limit my walks and continue to pitch the way I know I am capable of."