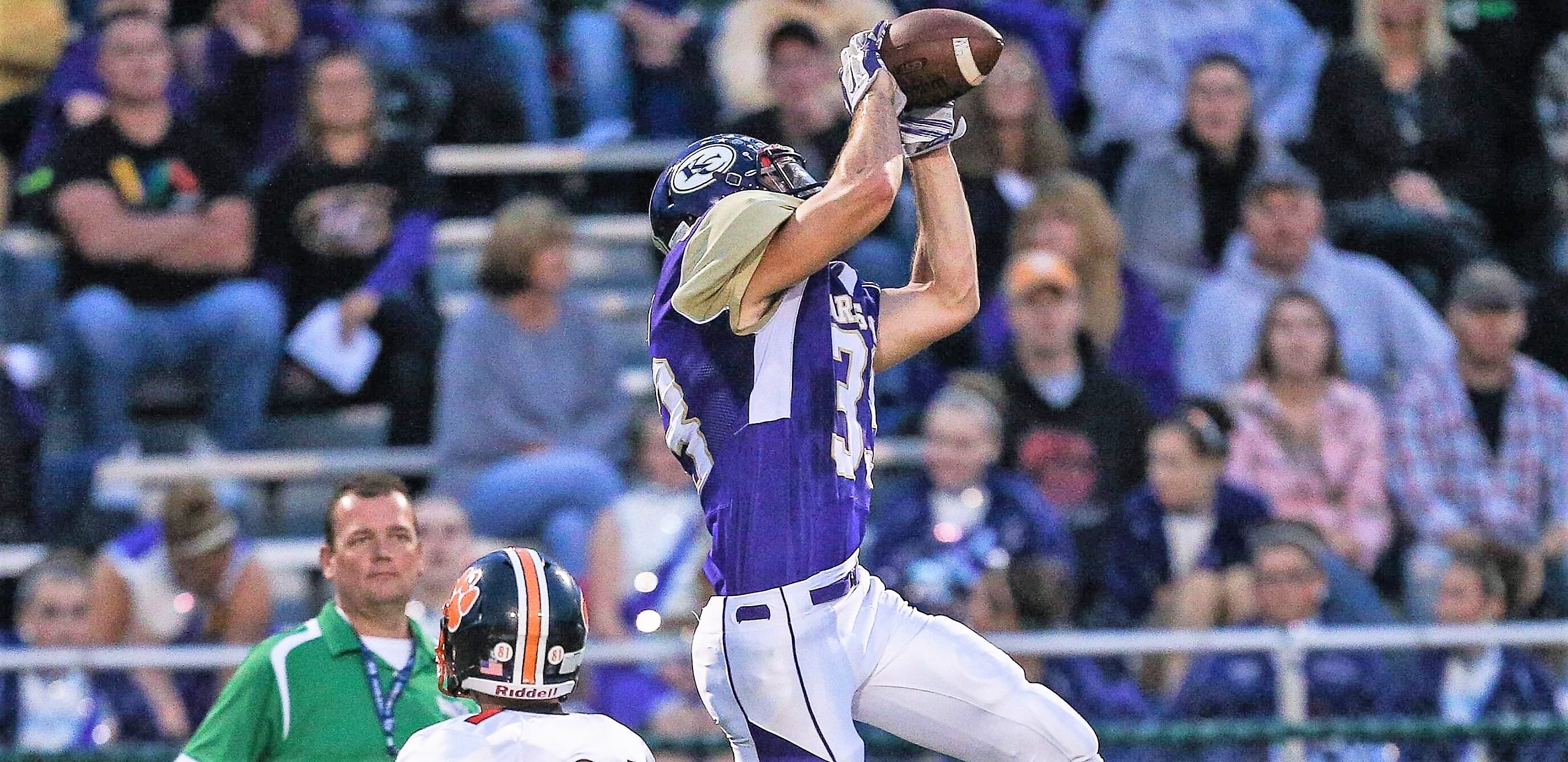 SLIPPERY ROCK, Pa. – The Karns City Gremlins have had some great success on the gridiron over the last decade, and many former Gremlins continued their career at the college level because of the great program they have established.
(Photo of Logan Moroney during his playing days at Karns City. Photo by Mike Schnelle)
Those players have won several District 9 Championships in the storied history of Karns City while also helping develop multiple-sport athletes.
When people think back over the last decade at Karns City football, there are a lot of people to think about. However, one former Gremlins name sticks out when thinking about the football team over the last several seasons.
Logan Moroney, a senior at Slippery Rock University is the athlete that many will remember from their experience watching or playing against Karns City.
Logan was one of the most physically gifted and dominant receivers District 9 has seen in many years. If Logan wasn't faster than you, he was surely stronger or could outjump you. He continually found ways to get it done on the gridiron as a big play threat receiver. His game and athleticism at receiver are comparable to Julio Jones in the National Football League.
Jones will either outrun, outjump or outmuscle opposing defenders much like Moroney would in his high school career.
Logan's abilities in high school helped him get noticed by a lot of colleges including Boise State, Penn State, Pitt, Buffalo, Fordham, Lehigh, Bucknell, Maryland, Michigan, UNLV, Cal, Duke and Robert Morris during his recruiting process.
After looking into the Information Systems majors where he could play football, Moroney decided that Robert Morris gave him the best chance to succeed both on the football field and in the classroom in information systems.
Moroney attended Robert Morris for one full school year while playing football for the Colonials, but it did not take him long to figure out that football at this level was much different and also something he was not willing to dedicate all of his time to.
"I enjoy my free time," Moroney said. "I love to travel, workout on my own, and I love to work with computers. Giving up football allowed me great flexibility to grow as a person."
After his freshman season concluded, Moroney decided it was in his best interest to transfer to Slippery Rock University because it allowed him to major in Information Systems while moving closer to home and allowing him to grow as a businessman.
At first glance, Logan Moroney is truly intimidating because of his physique and pure size.
However, as people being to speak to him, they begin to truly understand that outside of being a great athlete, he is also an extremely driven student and businessman.
Logan operates two extremely popular Instagram accounts including his own personal page he uses to promote personal fitness and another page where he posts about another one of his hobbies, motorized vehicles.
Both of these respective accounts are followed by thousands of people which shows the expertise and work that Logan has put forth to showcase his skills and build up his resume.
Outside of his experience in social media marketing, Moroney has officially begun his career in Information Systems at Apogee where he works as a service desk technician.
"I wanted to get a job related to my field and start building experience to market myself," Moroney said. "In my job at Apogee, I work as a service desk technician where I troubleshoot issues with people's computers and networks. I will be graduating from school in May, and by that time I will have a good amount of experience working in my field."
In addition to his internship at Apogee, Moroney has worked at the YMCA in Grove City, Pa., for three years as a fitness coach and also an after-school program mentor.
The Karns City grad is extremely willing to help people live healthier lives, but where does his knowledge about fitness and weightlifting come from?
Logan opened up about his late step-father David Hiles and the impact he had on him as an adolescent.
"He had the biggest impact on me," Moroney said. "Sadly, most of the impact was when he was no longer living. That was a major motivator for me and the success that I had. I often had his initials on my shoes or gloves so I never forgot what I was playing for. The way he taught me to learn each sport was something that meant a lot to me personally and something that made me work hard each day. This goes to show that you never can predict what will happen in your life and even at a younger age life can be taken from you. He instilled hard work and dedication within me that I still carry to this day."
Moroney's wide receiver coach Jake Dailey was someone who helped prepare him to be a big-time wide receiver and also a sprinter in track and field. Dailey invested a lot of hours preparing him to play football at the next level and become a highly respected high school sprinter. The time these two men invested in Logan paid off as he was able to play Division I football, but the work ethic they were able to instill within him is what will benefit him as he continues along in his professional career.
While Logan's 11 vs. 11 football days are behind him, he still has a lot of memories to reflect on and remains active in flag football at Slippery Rock.
"My team and I have won the Slippery Rock intramural championship each year we had a flag football team and even have been invited to the flag national championships multiple times," Moroney explained.
As for his favorite memories from competitive sports, Moroney found it difficult to pick just one and decided to pick one from football and one from track and field respectively.
His favorite football game was the District 9 championship game from his junior season in which the Gremlins squared off with the Kane Wolves in an absolute classic.
"It was a close game through the first quarter, and it was one of those games I really showcased what I was capable of," Moroney said. "I had over 123 yards receiving on eight receptions and two touchdowns. We really came to play and it was such a fun game to play in."
Moroney listed the PIAA track and field state championship meets as another one of his favorite experiences from his competitive career. Moroney admitted one year did not stick out more than another at the state meet, but it was an environment unlike any other that he has competed in.
"The overall experience of individually running good times against the fastest kids in the state was an awesome and competitive experience," Moroney said. "The environment was nothing short of amazing and so many people were always spectating. The adrenaline rush was like no other I have ever felt and I loved the feeling and the push to do well that came along with those times."
Logan was a six-time state medalist in track and owns the 100-meter and 200-meter dash records at Karns City. Moroney was named all-state as a receiver as well as all-conference as a kicker in his high school career. Moroney was also a KSAC All-Star in basketball, but elected to step away from basketball in his senior season to focus on preparing himself for football at the Division I level. Moroney was known around District 9 for his great rebounding ability and still stays active in basketball to this day. He dunks a basketball with relative ease which showcases all the time he spends in the weight room can transfer to a variety of sports and activities.
While Logan Moroney's collegiate football career was short-lived, all of the things he is able to do off the field far outweigh his experience as a high school wide receiver converted to college tight end. Moroney has given back a lot of knowledge to future generations about how to become a better athlete and live a more active and fit lifestyle. In addition, he continues to establish himself as a great businessman. The move from Robert Morris as a Division I football player to Slippery Rock University has unquestionably been the best move Logan could have made, and the former Gremlin is making the most of the opportunities he has been presented with.