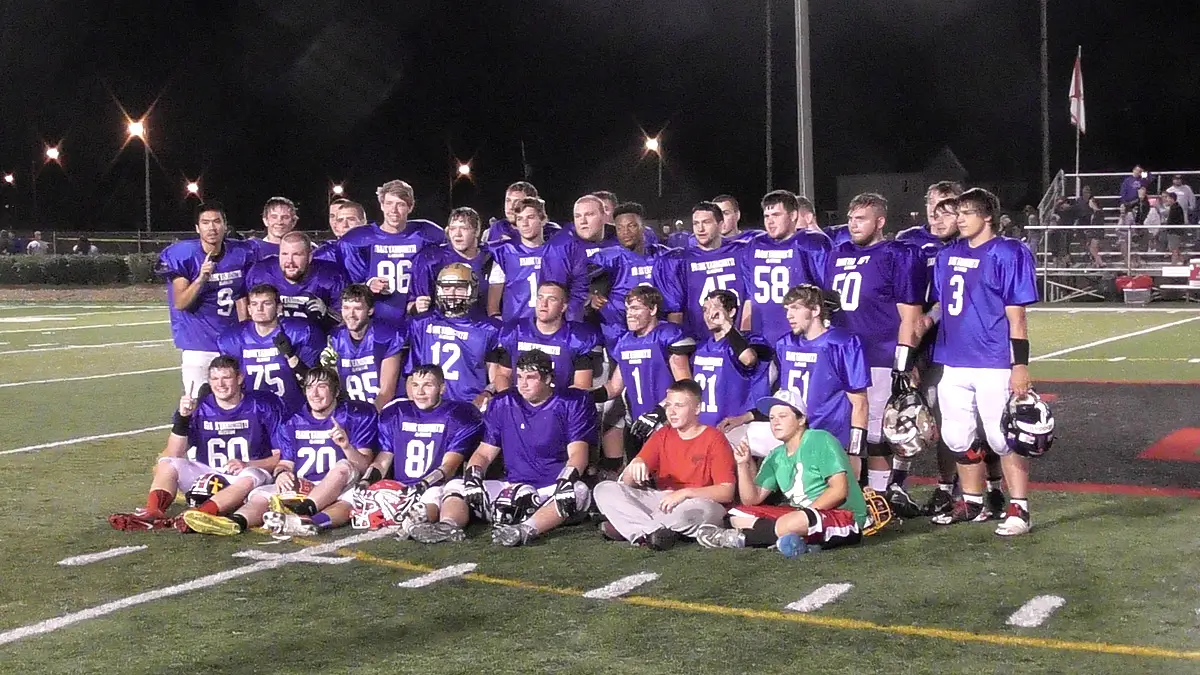 By Scott Shindledecker
BROCKWAY, Pa. —  (EYT) — The Allegheny Mountain League football team beat the Keystone Shortway Athletic Conference squad, 27-20, Friday night in Brockway in the inaugural Frank Varischetti All-Star game.
It wasn't a work of art by any means as personal fouls and turnovers marred the game.
But the players settled down toward the end and the AML All-Stars put the finishing touches on the win as Kane's Shane Rolick scored on a 1-yard touchdown run with three minutes left to give his team a 27-20 lead.
Rolick was named the AML Defensive MVP after picking off three KSAC passes. Rolick scored three touchdowns, too. He ran 13 times for 57 yards and two scores while adding 5 catches for 55 yards and one TD.
Curwensville quarterback Jake Terry had a big game throwing the ball as he hit 23 of 35 passes for 340 yards, two TDs and two interceptions. Terry earned AML Offensive MVP honors. Terry hit Rolick for a 5-yard TD and then hit high school teammate Quamone Newkirk for a 73-yard TD.
Tyler Rolick, Shane's twin brother, caught six passes for 99 yards and added an interception on defense.
Also leading the AML team was Brockway's Tony Isabella, who had three catches for 53 yards and Elk County Catholic's Noah Werner, who had five catches for 29 yards and a good defensive game.
Ridgway's Dane Cappiello was a key player in the defensive backfield as he picked off two passes.
For the KSAC team, Clarion-Limestone's Anthony Louder led the offense with 69 yards rushing on 11 carries and he hit 12 of 23 passes for 90 yards, but four interceptions. Louder was the KSAC Offensive MVP.
Union's Dugan Gallagher had 47 yards rushing on eight carries while teammate Cole Morris led the receivers with 57 yards on six catches.
Defensively, Brookville's Logan Thrush, Redbank Valley's Connor Shoemaker and Moniteau's Garrett Young each had interceptions.
Karns City's Neal Barnhart returned a fumble 55 yards for a touchdown and was named the KSAC Defensive MVP. Punxsy's Larry Yeager also recovered a fumble.
The KSAC opened the scoring when Karns City's Colin Dunmyre scored on a 1-yard run late in the first quarter. St. Marys' Brady Bauer booted the PAT kick to make it 7-0.
The AML drew within one point when Shane Rolick caught a 5-yard TD pass from Terry with 8:01 left in the second quarter. A bad snap foiled the PAT kick and it was 7-6.
The AML forced a punt a few minutes and a bad snap resulted in a big loss as Louder pounced on the ball near the goal-line and made it back to the 3.
But the AML turned the miscue into quick points when Shane Rolick scored on a 3-yard run and Werner ran the conversion in to make it 14-7.
The KSAC came right back and tied the game at 14-14 when Dunmyre scored his second TD on a 6-yard run. Bauer's kick knotted the score, but not for long.
The AML went for broke on first down and Terry's rainbow found his teammate Newkirk for a 73-yard TD. Curwensville's Jared Bakaysa kicked the PAT and it was 21-14.
The KSAC nearly tied the game early in the third when Barnhart picked up a bad snap and ran 55 yards for a TD. But the PAT kick was missed and the AML held the lead.
A bevy of turnovers followed before Rolick's late scoring run made it 27-20. He then capped the win with his third pick of the game.
Notes: Eight $1,000 scholarship winners were announced at halftime for players who are continuing their educations. For the KSAC, they included Clarion's Will Staub, Brookville's Logan Thrush, Redbank Valley's Wyatt Hetrick and Karns City's Reese Barber. For the AML, they were Kane's Jake Shrubb, Brockway's Isabella, Sheffield's Tanner Barr and Otto-Eldred's Heath Stewart.
ALLEGHENY MOUNTAIN LEAGUE 27,
KEYSTONE SHORTWAY ATHLETIC CONFERENCE 20
Score by Quarters
Scoring Summary
First Quarter
KSAC – Colin Dunmyre 1 run (Brady Bauer kick)
Second Quarter
AML – Shane Rolick 5 catch from Jake Terry (PAT failed)
AML – Shane Rolick 3 run (Noah Werner run)
KSAC – Dunmyre 6 run (Bauer kick)
AML – Quamone Newkirk 73 pass from Jake Terry (Jared Bakaysa kick)
Third Quarter
KSAC – Neal Barnhart 55 run (kick failed)
Fourth Quarter
AML – Shane Rolick 1 run (pass failed)
Team Statistics
AML           KSAC
First Downs
16
13
Rushes-Yards
28-39
37-126
Passing:
23-36-3
12-29-6
Passing Yards
340
90
Total Yards             379
216
Fumbles-Lost
3-2
1-0
Punts-Avg.
2-23.5
3-42
INDIVIDUAL STATISTICS
Rushing – AML: Shane Rolick 13-57, Tyler Rolick 3-8, Tony Isabella 4-9, Jake Terry 3-(-8), Hunter Johnson 1-1, Noah Werner 2-2. KSAC: Shonn Kline 1-2, Colin Dunmyre 10-32, Dugan Gallagher 8-47, Anthony Louder 11-69, Connor Shoemaker 1-4, Devon Schimp 4-(-1).
Passing – AML: Jake Terry 23 of 35, 340 yards, 2 TD, 2 Int.; Shane Rolick 0 of 1, 1 Int. KSAC: Anthony Louder 12 of 23 90 yards, 4 Int.; Devin Schimp 0 of 6, 2 Int.
Receiving – AML: Noah Werner 5-29, Shane Rolick 5-55, Tyler Rolick, 6-99, Tony Isabella 3-53, Quamone Newkirk 1-73, Heath Stewart 1-11, Austin Doud 2-20. KSAC: Cole Morris 6-57, Logan Thrush 3-9, Jarod Stewart 1-15, Connor Shoemaker 1-9, Brady Himes 1-0.
Interceptions – AML: Shane Rolick 3, Dane Cappiello 2, Tyler Rolick. KSAC: Logan Thrush, Connor Shoemaker, Garrett Young.