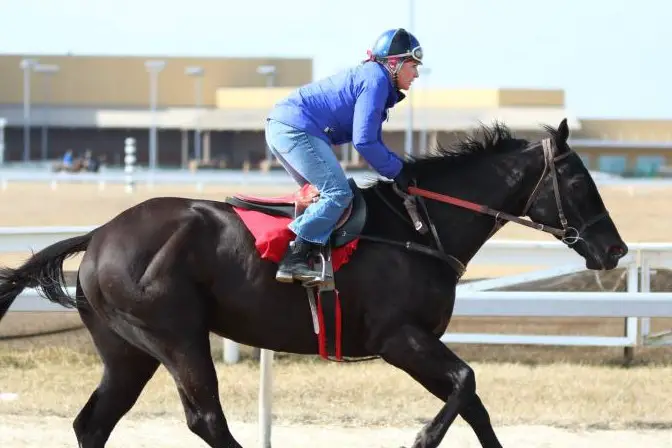 GRANTVILLE, Pa.  – As the horses turn down the home stretch bounding side-by-side, the crowd roars with anticipation of a great finish.
(Photos courtesy of Erika Micklos)
Urging on one of the horses, from a perch few get to see, is 1995 North Clarion graduate Erika Strunk-Micklos.
Micklos' perch is actually from on top of the over 1,000-pound animal.
The diminutive former Leeper resident is a professional jockey, has been for a huge chunk of her adult life.
"I was 28 when I got my jockey's license," Micklos recently told EYT Media in between a morning training ride and a night ride at Penn National Race Course in Grantville, Pa., just outside of Harrisburg and Hershey. "For a short period I had my own horses to race, but, as a jockey, you aren't even allowed to ride your own horse, so anything I rode was under my (ex-husbands) name. As a jockey, you are trying to ride horses for other people."
Micklos, who was born in Brookville before moving to Marienville when she was around two or three and then to the midwest and western parts of the country at age seven before moving to Leeper, has had a successful career as a professional jockey.
In nearly 2,600 career starts, a horse she is riding as finished in the top three 29 percent of the times including 208 victories. This season, through Aug. 24, she had won 13 of her 58 races while placing in the top three 27 times or nearly 47 percent of her starts.
"Things have been going really well this year," Micklos said. "There are lots of ups and downs in a career. Some of it is out of your control. You need a little bit of good luck. You can only be as good as the horse you are one. You need the good fortune to be on a good horse. That's how jockey's win. There is always good luck or bad luck, and there are some things we can do. We can make mistakes too. We can make the best or worse of a situation. Altogether, it's up to the horses.
"This year, the people I'm riding with right now, we have a good situation. They pay me as an exercise rider, and I also ride (the horses) in races. I think that gives me an advantage. I know the horses, and they know me very well. It' a little more of an intimate situation."
Being an exercise rider as well as a racing jockey gives Micklos, a divorced, single mom to 12-year old Aidan, a more stable income than the typical jockey.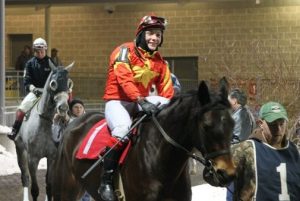 According to Miklos, a jockey gets a flat fee for riding the horse – $75 at Penn National – and a portion of the winnings – 10 percent if you win, 5 percent if you finish in second – which usually is around $8,000 for a victory.
"My situation is a little different than most people," Micklos said. "Generally, jockeys have an agent. The agent is allowed to (represent) two jockeys, and the jockey is allowed to solicit business as well. I do things a little different. Being a divorced mom, I have quite a few responsibilities. I followed (the typical) method for a while but wanted things to be a little more concrete. What happened is I'm hired as an exercise rider – someone who takes horses out for their morning workout – and I'm paid for the horses I take out. I have someone I have worked with for 11 years. I don't have an agent. I prefer that I just have one or two trainers I work for and have a good relationship with. Those are who I ride for."
Being a jockey is a dangerous profession.
"You are going to get hurt," Micklos said. "It's not a matter of will you get hurt but when and how bad. There is a lot of danger and unexpected things that happen and lots of scary situations you encounter. It's hard on the body."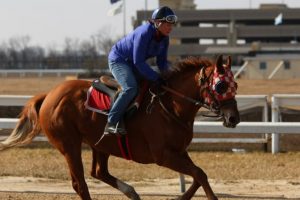 Micklos has had her share of injuries, including a pretty serious one a year-and-a-half into her career.
"I had an accident in the morning where I came off a horse and landed on my feet standing up," Micklos said. "You shouldn't do that. My femur snapped. I knew I broke it in four sports. It took a while to get to the hospital, and the recovery was really long. Through it all, that was when I realized how much I loved it and how much I wanted to come back to it. I think it was nine months before I was able to start working again. I couldn't wait to get back."
Micklos, whose parents Mark and Diana Micklos and youngest brother, Josiah, still live in Knox (her other brother, Nate, lives in Denver), has been involved with horses for a long time.
"I ran cross country in high school, but I was also in 4H," Micklos said. "That was a big part of me getting my start. I also worked at Wet and Wild in Cook Forest guiding trail rides. Later, I got a job in a therapeutic riding school in Foxburg. That's where I got a little more education with horses, showing them, training them and breaking them. I then came down to Lancaster and worked as horse trainer apprentice for a year. Then I started college. I went to Millersville and studied biology and secondary biology education."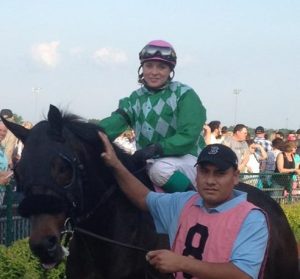 Micklos graduated from Millersville in 2001, and it was during her senior year in college that she got a job at a farm where young thoroughbreds were raised.
"I began to train them," Micklos said. "Then, my ex-husband wanted to breed and raise horses himself. We decided to do that. We had a horse that we raised and bred and the horse had a foal. And I trained the foal and had him ready to race. When it came time to race him, I didn't know anyone at the track, and I didn't know who to entrust him to. There is an option where you can bring horse in for training purposes. You trailer the horse in, train them and leave. We decided to do that and do the training ourself. I feel in love with it."
It didn't take long for Micklos to go from training the horse to riding the horse.
"We raced the horse, but I was still not riding," Micklos recalled. "Watching him race and knowing what I knew about him and all the time that's when I was like I really want to try it myself. I wasn't sure how much I would like it. My son was a year old, and it can be a rough business with a lot of danger involved. But I decided to pursue getting my jockey's license."
In Pennsylvania, it's rather simple for a person to get a jockey's license, according to Micklos.
"There is not a school (some places have schools)," Micklos said. "You just have certain requirements, and a couple of people in authority at the racetrack need to give their ok. You need to get on horses and work every day and develop abilities and skills until they approve of you, and you are ready to go out and safely do the job."
Micklos said one her biggest surprises when she started racing was how much dirt is kicked up during a race.
"I was surprised by how much dirt you get hit by," Micklos said. "But I loved it. It was amazing. It was so exhilarating. I was hoping to make it my career."
And make it a career she has.
Even as challenges have arisen including the number of race horses declining across the country, Micklos has had a good go of it over the last decade.
Most of her career has been at Penn National, although she has traveled to other regional tracks – something she doesn't do a whole lot of anymore – and even went to Peru once.
"I went down there for a female jockey tournament," Micklos said. "I was able to compete with other girls from other countries."
So what does a jockey do during a race?
"We need to try to keep horses out of trouble," Micklos said. "If you took a bunch of horses and had them running around, they probably won't go in the right direction. We have to put them in a good position for them to run and to keep them from harming themselves."
Horses, like distance runners, all have unique personalities, Micklos stated.
"Some want to be in front, if not they get upset," Micklos said. "Some will go too fast at the beginning, so you need to get them to relax and pace. Some horses like to sit behind the pack and run at the end."
Like in most professional sports in the 21st century, technology is used to track what horses like to do what.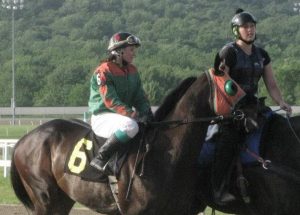 "We have racing programs we look at," Micklos said. "They have detailed charts. When you are in a race, you want to look over the (field) and consider who is with you and think about the best approach to give your horse the best advantage. Still, unexpected thing happen. You have to know the horse and how it feels, how the track conditions are.
"Horses are strong willed. So much that goes into it. So, it's nice to know the horses and talk to the trainers and know what the horse needs. Some horses get distracted. Some horses are easily intimated. There is so much that goes into it. It's very involved. It's also surprising. When you look at a form and have an idea how the race might set up, you never know what might happen. One time, I remember an allowance race (nicer purse) and the horses broke out at starting gate, and my horse broke late. It had me at a little disadvantage. The other horses were going really fast. What worked out for me, was they were really, really fast. They were pressing each other and got tired. I was able to win the race. Me not coming out of the stall, worked to my advantage. My horse was more relaxed."
Micklos isn't sure how much longer she will continue to race. There are certain problems every jockey faces.
"One if weight," Micklos said. "You have to keep your weight at a certain level. As you get older, it gets more and more difficult. I have more muscle mass, and as a female, my metabolism slows down. I start out 10 pounds lighter (than I need to be) and then five pounds. I had to get my weight lower than it was when I graduated high school. Right now, I try to keep it around 115 pounds. Sometimes it has to be less and sometimes it can be a little more. It becomes an increasing challenge. A lot of jockey's face the same thing."
While the job has increasing challenges, Micklos doesn't have any plans to hang up her silks quite yet.
"I don't know when I will be done racing," Micklos said. "I really don't. You never know. You never know when you won't be able to do it emotionally or mentally anymore. I will ride as long as I can do a good job at it and as long as I love it. I'm always keeping my eyes open for a potential career change, but I hope to do this for a quite a while still."