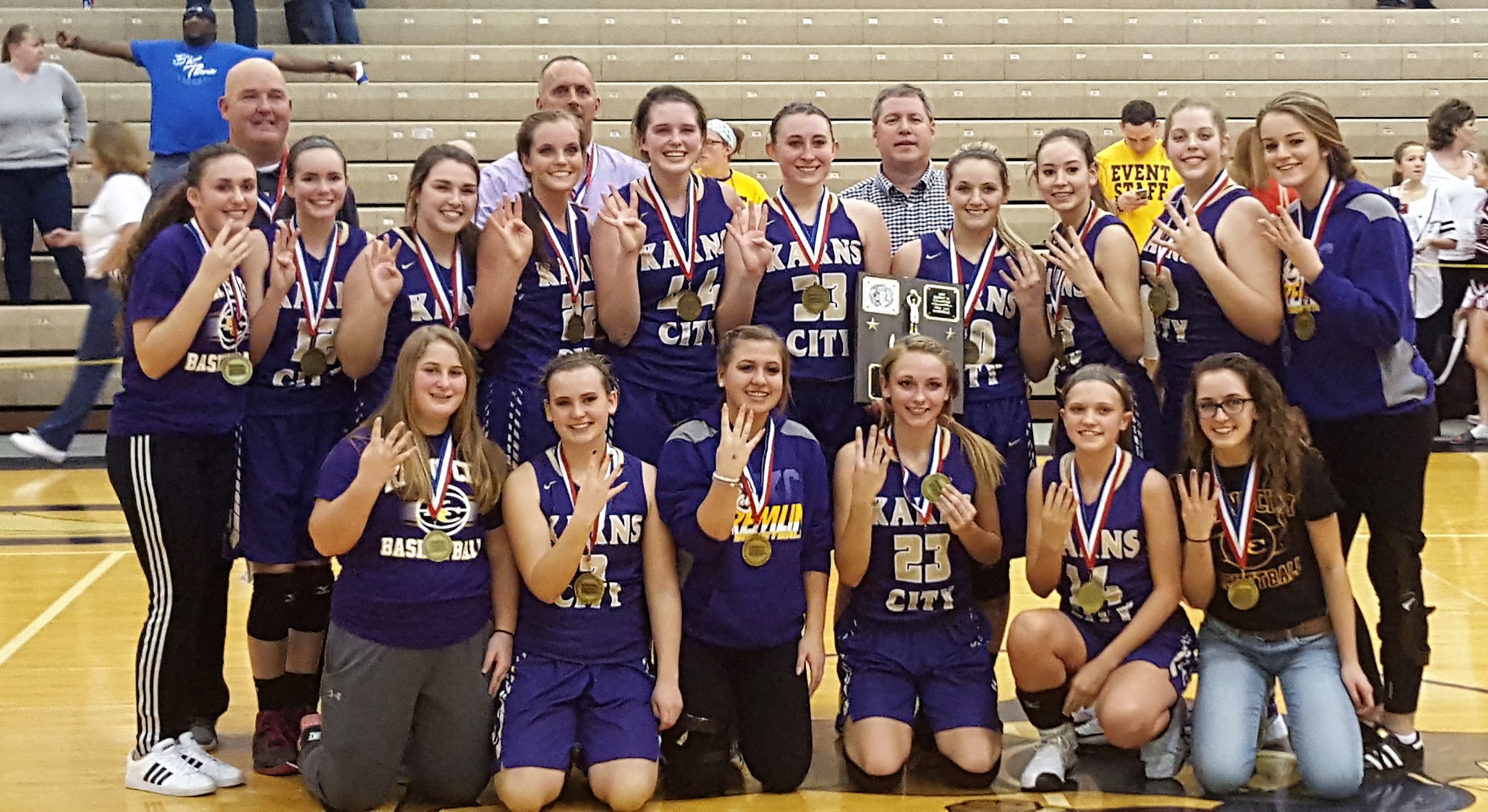 CLARION, Pa. – Livia Andreassi's putback of her own miss hung on the Tippin Gym rim for what seemed like an eternity before finally dropping through at the horn to lift Karns City to its fourth consecutive District 9 title and its first in the new Class 3A, 36-35, over arch rival Moniteau.
View additional District 9 recaps from Friday night
Andreassi got the ball on the left wing and drove into the lane where she threw up a semi-hook shot that was too strong. But the 5-foot-10 junior kept with it, grabbed her own rebound and put up another shot from about six feet out that looked like it was going to roll out before rolling back into the hoop setting off a wild celebration for the Lady Gremlins while Moniteau players and fans were left shell-shocked.
Watch the game-winning shot.
Karns City head coach Dave Kerschbaumer, who won his seventh D9 title as a head coach, said the play didn't exactly go as it was drawn up during a timeout with 13.4 seconds left.
"Obviously not that one," Kerschbaumer said when asked what had been drawn up during the timeout. "We wanted to go to the basket hard. We got the first look and didn't get exactly what we wanted. It then got swung to the opposite side. I thought the two on the other side, Haley Scherer and Livia, still did the thing we wanted the other two players to do. Obviously, it worked out for us."
Andreassi had gotten the ball back for Karns City with 34.9 seconds left when she forced a jump ball with Moniteau's Emma Bair. It was the second Moniteau turnover in the final 1:10 after the Lady Warriors had taken a 35-34 lead on an Andie Arblaster 3-pointer with 1:50 left.
The junior talked about her game-winning shot, the championship and more.
The fourth quarter was a back-and-forth affair that saw the teams tied three times, Moniteau (19-4) hold three leads and Karns City (18-5) three leads.
The Lady Warriors entered the frame up two, 24-22, after outscoring Karns City 11-3 in the third quarter.
But the Lady Gremlins gained a bit of momentum late in the third when Andreassi nailed a 3-pointer 25.3 seconds left in the quarter to cut into a 5-point Moniteau lead while also giving Karns City its first points of the second half.
"It was huge," Kerschbaumer said. "Yes, the last two, were the most important. But those (three) were important. They gave us a breath of fresh air again. It gave us a little bit of breathing room. Our kids relaxed. I could hear murmurs in the crowd 'they haven't scored, they haven't scored.' Just two great big shots for us tonight."
Alyssa Gibson, who had perhaps one of her strongest games of the season with 16 points, which tied for her second-highest total of the year, to go with six rebounds, tied the game on two different occasions in the fourth with free throws first at 24 and then again at 30 before giving Karns City its first lead since the third quarter, 32-30, with a basket with 2:57 to play.
Alazia Greaves tied the game at 32 with two free throws of her own with 2:45 to go before Emily Hegedus put Karns City ahead with a basket at 2:01.
But Arblaster, who hadn't scored all night, pushed Moniteau back in front with her triple.
Moniteau, however, couldn't take care of the ball down the stretch with two key turnovers in the final 1:10 that left the door open for Karns City to walk through.
The first half belonged to Karns City with the Lady Gremlins using a 9-0 run that saw Gibson scored six of her points, to build a 17-8 lead with 4:53 left in the half.
Moniteau stabilized a bit scoring five straight points thanks in part to a Greaves 3-pointer to cut the deficit to 17-13 before a basket by Scherer with under a second left pushed the Karns City halftime lead to 19-13.
But Moniteau, which was looking for its first District 9 title since winning in 2A in 2001, responded with a strong third quarter that saw Greaves score five points and Bair four during an 11-0 run to start the quarter that gave the Lady Warriors their biggest lead of the game, 24-19.
For Gibson and Craig, the victory means they are the only two girls in the great history of Karns City girls' basketball to win four D9 titles.
"Some girls have come up short on the freshman end or the senior end," Kerschbaumer said. "I challenged them at the beginning of the year that they had a chance to do something that no girl in Karns City history at ever done. It took us 32 minutes to get it done tonight. I'm proud of them."
Karns City moves into the PIAA playoffs where it will take on the District 10 runner-up March 11. The District 10 playoffs are only in the quarterfinal round. District 9 was supposed to play a play-in game with the Pittsburgh City League (District 8), but the league doesn't have a 3A entrant.
KARNS CITY 36, MONITEAU 35
Score by Quarters
Karns City 11 6 3 14 – 36
Moniteau 8 5 11 11 – 35
KARNS CITY – 36
Alyssa Gibson 6 4-4 16, Emily Hegedus 3 5-6 11, Haley Scherer 1 0-0 2, Mackenzie Craig 1 0-1 2, Livia Andreassi 2 0-0 5, Emma Clark 0 0-0 0. 13 9-11 36.
MONITEAU – 35
Kristina DeMatteis 4 0-2 8, Alazia Greaves 2 5-5 10, Cambrie Campbell 0 0-0 0, Emma Bair 4 2-5 10, Sara Hull 2 0-2 4, Andie Arblaster 1 0-0 3, Kristin Auvil 0 0-0 0, Izzy Bair 0 0-0 0. Totals 13 7-14 35.
Three-pointers: Karns City 1 (Andreassi). Moniteau 2 (Greaves, Arblaster).