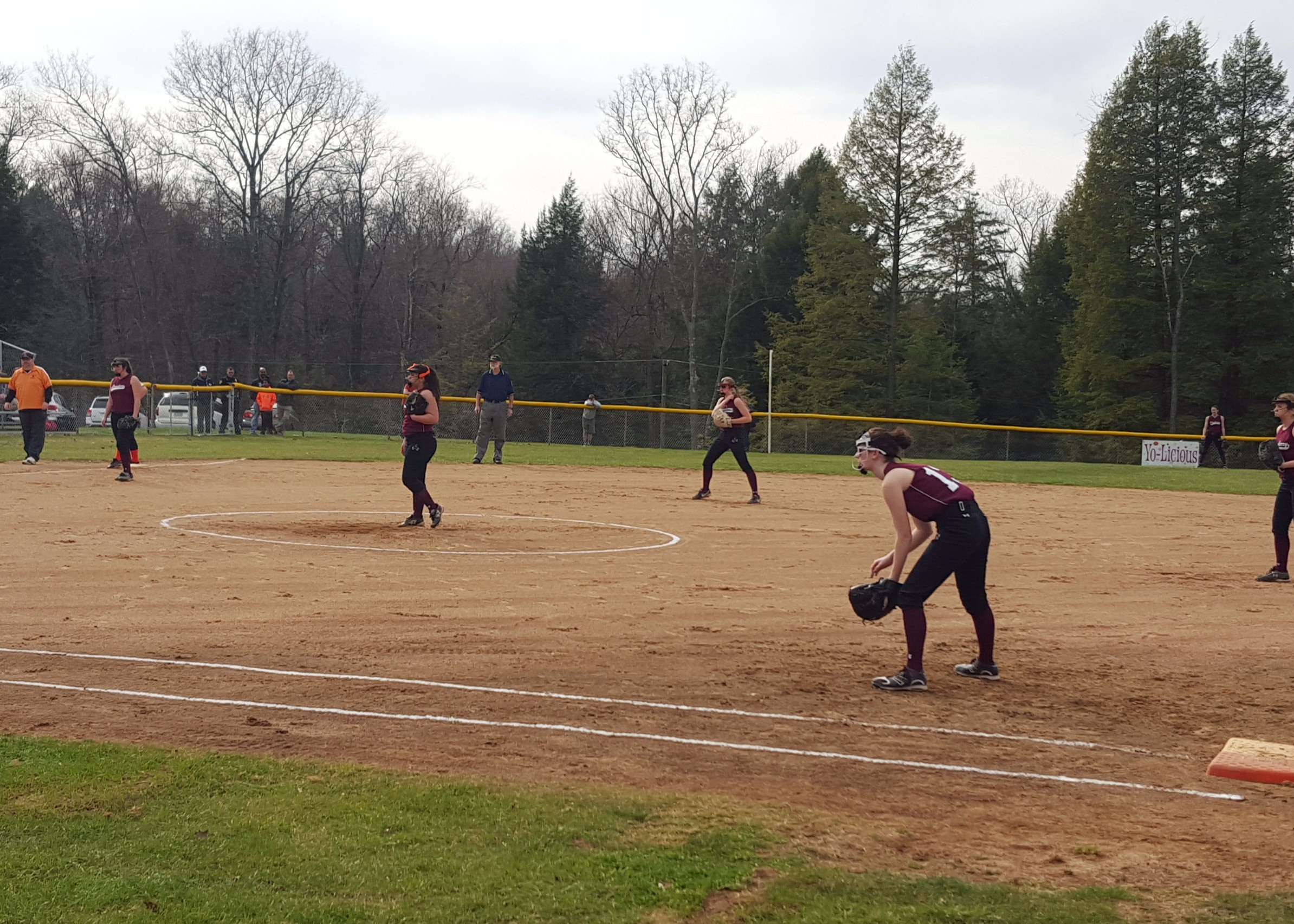 Softball and baseball recaps from Friday. 
SOFTBALL
DUBOIS CENTRAL CATHOLIC 17, CLARION-LIMESTONE 2, 4 INNINGS
DuBOIS – Jordy Frank led a 20-hit DuBois Central Catholic barrage with four hits, including a pair of home runs, as the Lady Cardinals rolled past visiting Clarion-Limestone, 17-2, in four innings Friday.
Frank also drove in seven runs and scored four times.
Macey Hanes added a 3-for-3 performance for DCC with four runs scored, while Riley Assalone had three hits, two RBIs and three runs scored.
Ashley Wruble got the win giving up two runs, one earned, on two hits in four innings of work.  
BASEBALL
PUNXSUTAWNEY 11, ELK COUNTY CATHOLIC 4
PUNXSUTAWNEY, Pa. – John Matthews went 3-for-4 with three RBIs to help Punxsutawney to an 11-4 win over visiting Elk County Catholic Friday.
ECC had taken a 4-1 lead with a four-run second, but the Chucks answered with four in the bottom of the second to take the lead back for good.
Braxton Giavedoni had the big hit in the inning, a three-run home run to center that put the Chucks ahead 5-4. Giavedoni, who also walked twice, scored three runs to go with his three RBIs.
Lance Pennington (2-for-4, 1 RBI), Peyton Graham (2-for-3, 1 RBI, 1 run) and Lucas Ambler (2-for-3, 1 RBI, 1 run) each added multiple-hit games for Punxsy. Pennington and Graham each had doubles.
Pennington got the win in relief of John Matthews throwing four innings of shutout ball. He allowed one hit while striking out six.
Matthews, in his first start of the year, gave up four runs, two earned, on four hits and two walks while striking out four in three innings of work.  
Brad Dippold was 2-for-4 with a double and two RBIs for ECC.
Jordan Nasoni took the loss for the Crusaders.
CLEARFIELD 3, HUNTINGDON 1
HYDE, Pa. – Tommy Hazel's sacrifice fly in the bottom of the fifth inning broke a 1-all tie and helped Clearfield to  3-1 win over visiting Huntingdon Friday afternoon at the Bison Sports Complex.
Huntingdon had taken a 1-0 lead with a run in the second, but Hazel tied the game with sac fly in the third before breaking the deadlock with another sac fly two innings later. Brandon Orsich then singled home an insurance run for Clearfield (2-0).
Ty Bender and Marcus Luzier had a single and a double each for the Bison, while Nick Holesa had two singles for the Bearcats.
Jake Sorbera got the win.
In his first varsity appearance, the sophomore went six innings giving up one unearned run on five hits, a walk and two hit batters while striking out four.
Hazel came in and pitched a scoreless seventh for the save. He gave up a hit but struck out the side.
Landon Fisher took the loss for Huntingdon.
COUDERSPORT 7, JOHNSONBURG 0
COUDERSPORT, Pa. – Austin Saulter threw a two-hit shutout, as Coudersport toppled visiting Johnsonburg, 7-0, Friday.
Saulter struck out six and didn't walk a batter in picking up the victory.
Five Falcons each had two hits to lead a 13-hit attack.
Navada Waterman was 2-for-4 with a run scored, Sheldon Van Pelt was 2-for-4 with two runs scored and an RBI, Kullen Crosby was 2-for-3 with a double, an RBI and a run scored, Hunter Redman was 2-for-3 with an RBI and Chase Whitman was 2-for-4 with an RBI.
Jeremy Breier and Justin Kasmierski had the hits for the Rams.
Johnny Mitchell took the loss going five innings and allowing all seven runs. He struck out seven.  
OSWAYO VALLEY 10, CAMERON COUNTY 0, 5 INNINGS
EMPORIUM, Pa. – Oswayo Valley took advantage of seven Cameron County errors to score 10 runs despite just six hits in a 10-0, five-inning road win over the Red Raiders Friday.
Garrett Babcock and Brandon Brabham each scored twice for the Green Wave with Brabham going 1-for-3 with an RBI and three stolen bases. Grant West and Ryan Graves also had RBIs for Oswayo Valley.
Brabham and Garret Black combined to throw a two-hitter on the mound.
Brabham didn't allow a hit in three innings of work striking out three. Black allowed two hits and two walks while striking out five.
Austin Doud had a double for Cameron County.
Adam Shaffer took the loss giving up seven runs, only one earned, on five hits and five walks in four innings of work. He struck out four.