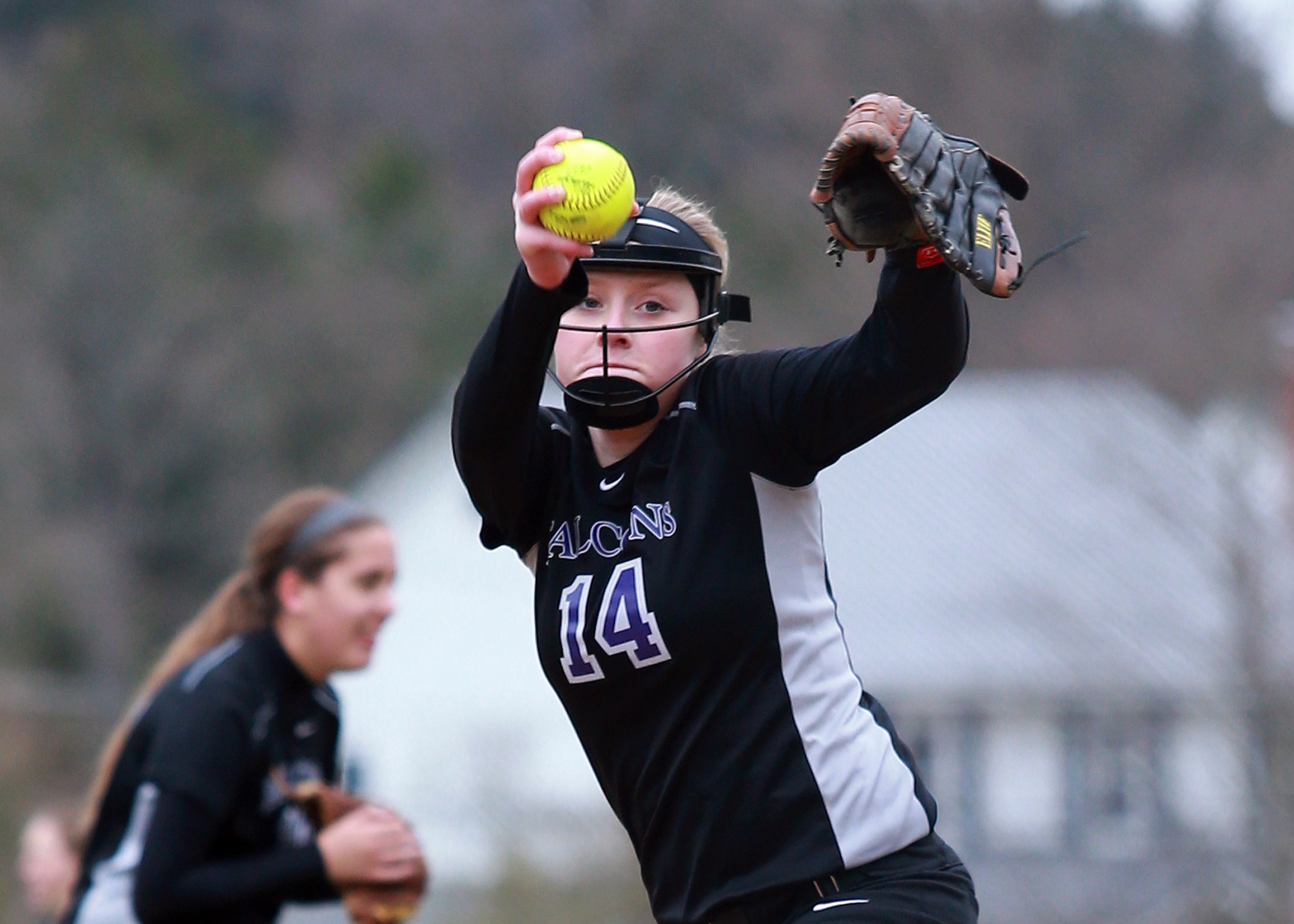 Here are the softball and baseball recaps from Saturday.
SOFTBALL
COUDERSPORT 3, PORT ALLEGANY 1
COUDERSPORT, Pa. – Coudersport picked up a 3-1 win over visiting Port Allegany in the completion of suspended game from April 7 Saturday.
Shaelyn Black was 2-for-3 for the Lady Falcons, while Hannah Lathrop led Port Allegany going 2-for-3.
EmmaRae Easton got the win in relief of Katie Bertrand. Easton went five innings not giving up a run while allowing three hits and a walk and striking out six. Bertrand, who started April 7, allowed one run on three hits and a walks while striking out one.
PUNXSUTAWNEY 5, HOLLIDAYSBURG 2; PUNXSUTAWNEY 7, HOLLIDAYSBURG 5
HOLLIDAYSBURG, Pa. – Visiting Punxsutawney swept a twinbill from Hollidaysburg Saturday taking Game one 5-2 and Game Two 7-5.
In Game One, Kylee Lingenfelter threw another gem allowing two runs, one earned, on two hits and two walks while striking out 14. She was also 2-for-4 at the plate with two runs scored.
Brayden Woodrow also went 2-for-4 with a run scored, while Tessa Winebark was 2-for-4 with an RBI.
Mikayla Foct hit a solo home run for Hollidaysburg and was 2-for-2 with a walk and two runs scored.
In the nightcap, with Punxsutawney serving as the home team, Alli Ishman got the win going 4 ⅓ innings and allowing five runs, one earned, on seven hits and four walks while striking out five. Lingenfelter then came on and got the save throwing the final 2 ⅔ innings allowing a pair of walks while striking out six.
Lingenfelter again was big at the plate going 2-for-4 with a double, two RBIs and a run scored.
Morgan Adamson hit a home run and a double and was 2-for-3 with a walk, an RBI and three runs scored for the Lady Chucks, who also got a 2-for-4 performance with two RBIs from Ishman.
Focht completed a perfect day at the plate for Hollidaysburg going 2-for-2 with two more walks and two runs scored.
DUBOIS CENTRAL CATHOLIC 15, BRADFORD 0, 4 INNINGS
DUBOIS, Pa. – Ashley Wruble threw a four-inning one-hitter and also delivered three hits and six RBIs to lead DuBois Central Catholic to a 15-0, four-inning victory over visiting Bradford.
Wruble walked four batters and struck out four.
Macey Hanes and Jordy Frank each had four hits with two of Frank's being doubles. Libby Maurer also added three hits for the Lady Cardinals.
BASEBALL
A-C VALLEY 15, KEYSTONE 9
PARKER, Pa. – John Anderson, Zach Mulh and Lane Chalmers combined for 10 hits to lead A-C Valley to a 15-9 win over visiting Keystone.
Chalmers had four hits, all singles, while Anderson and Muhl each had three hits including a double apiece. Also for the Falcons, Dylan Stewart added a pair of singles and got the win giving up nine runs, but only one earned run, on eight hits and three walks while striking out seven.
Sawyer Reed and Chad Rogers led Keystone with a pair of hits each.
BRADFORD 10, JOHNSONBURG 6
BRADFORD, Pa. – A five-run fourth inning helped propel Bradford to a 10-6 win over visiting Johnsonburg.
The game was tied at four going to the bottom of the fourth before Bradford's offense erupted for the five runs thanks in large part to shoddy Johnsonburg defense.
On the day, the Rams committed seven errors allowing the Owls to scored the 10 runs despite only having six hits.
Adam Cary and Isaac Gralak each had two hits and two RBIs for Bradford with Cary going 2-for-4 with two runs scored and Gralak finishing 2-for-3 with a double, a walk and run scored.
Connor Veceilo scored three times for the Owls.
Johnny Mitchell, Neil MacDonald, Dave Sallack and Ben Freeburg all had two hits apiece for Johnsonburg with Mitchell doubling and scoring a run, MacDonald, driving home one and scoring one, Sallack scoring once and Freeburg delivering an RBI.
Veceilo got the win going 5 ⅔ innings allowing six runs, three earned, on 11 hits and five walks while striking out seven.
Kyle Kirk came on with two on and two outs in the sixth with the Owls up 9-6 and got out of the jam before pitching a scoreless seventh to earn the save.
Mitchell took the loss in relief of Jeremy Breier.
COUDERSPORT 3, PORT ALLEGANY 2
COUDERSPORT, Pa. – In the completion of a suspended game from April 7, Coudersport grabbed a 3-2 walkoff win over visiting Port Allegany Saturday.
The game was suspended after three innings April 7 with the teams tied at 1.
When play resumed Saturday, Coudersport took a 2-1 lead with a run in the fifth before Port Allegany tied contest with a run in the sixth. The Falcons then won it in the seventh.
Josh Stevens had a pair of RBIs for Coudersport, while Navada Waterman was 2-for-4 and Owen Chambers scored twice.
Dylan Kio and Tyler Lashway had RBIs for Port Allegany.
Waterman was the complete-game winner going seven innings and allowing two runs, one earned, on two hits and four walks while striking out 14.
Tre Garzel took the loss giving up one hit and an unearned run in ⅔ of an inning of work in relief of Garrett Talkington, who went six innings giving up two runs, none earned, on five hits and four walks while striking out four.