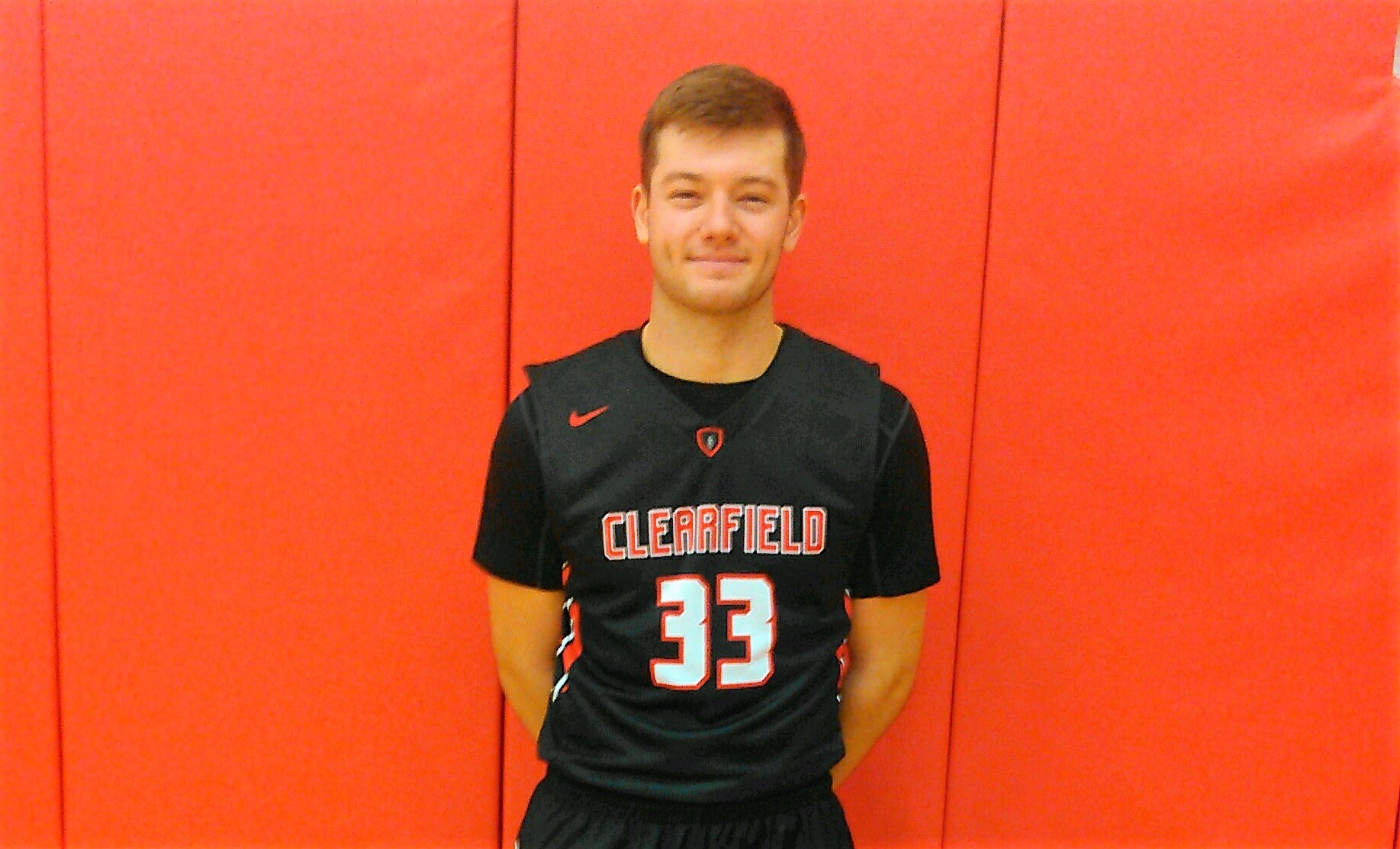 April 17 baseball recaps.
(Cover photo of Clearfield's Will Myers)
CLEARFIELD 3, CENTRAL-MARTINSBURG 2
HYDE, Pa. – Will Myers scored on a throwing error on an Eli Glass ground out with two outs in the bottom of the eighth, as Clearfield earned a split of the season series with Central-Martinsburg beating the Dragons, 3-2.
Clearfield trailed 2-1 going to the bottom of the seventh but tied the game on a Reese Wilson groundout in the seventh after Ty Bender singled, moved to second when Glass walked and to third on a sacrifice bunt by Jake Sorbera.
Then in the eighth with two outs Myers singled and two walks followed before Central-Martinsburg committed the game-deciding error.
Clearfield scored in the first thanks to twin brothers Thayne and Zane Morgan. Thayne tripled and scored on a sac fly by Zane.
The Dragons took the lead on third inning doubles by Alex Hoenstine and Hunter Liebal, who both had two hits on the day.
Bender had a pair of hits for Clearfield, including a double. Zane Morgan added a double, as did Glass.
Tommy Hazel got the win in relief of Myers. He pitched 2 ⅓ innings allowing one hit and striking out one. Myers went 5 ⅔ allowing two runs on four hits, three walks and two hit batters. He struck out three.
Hoenstine took the loss in relief going ⅔ of an inning allowing one unearned run on one hit and two walks while striking out one.
Jarret Imler went seven innings allowing two runs on five hits and three walks while striking out four.
ELK COUNTY CATHOLIC 7, PUNXSUTAWNEY 3
ST. MARYS, Pa. – A six-run first inning fueled a 7-3 Elk County Catholic win over visiting Punxsutawney.
Jared Braun had a double and a triple to lead the Crusaders offense while scoring a run. Brad Dippold was also 2-for-4 with a double, a run scored and an RBI.
Ryan Heary added a 4-for-4 day with a run scored for ECC, Dan Stauffer was 2-for-3 with two runs scored and Jordan Nasoni and Gabe Kraus each drove home two runs.
Dippold, the second of three ECC pitchers, got the win going 3 ⅓ scoreless, hitless innings. He walked two and struck out one. Stauffer added a scoreless inning of relief with one strikeout.
Joey DiPietro had a double and two RBIs for Punxsutawney.
Tyler Richardson took the loss pitching three innings and allowing seven runs on nine hits and two walks while striking out three. Logan Johnston pitched three scoreless innings of relief allowing four hits and a walk while striking out four.
CURWENSVILLE 7, WEST BRANCH 2
CURWENSVILLE, Pa. – Curwensville used a five-run third inning to beat visiting West Branch, 7-2.
Avery Francisco led the Golden Tide going 2-for-3 with two runs scored and two RBIs.
Bryce Timko also drove in a run and scored twice for Curwensville, while Zach McClure and Ralph Evans also added RBIs.
Jimmy Pilosky had two hits, including a double, and two RBIs for West Branch.
Francisco got the win going five scoreless innings allowing three hits and four walks while striking out seven.
Pilosky suffered the loss allowing seven runs, only one earned, in six innings on six hits and a walk while striking out five.
KARNS CITY 12, A-C VALLEY 0
EMLENTON, Pa. – Stephen O'Donnell hit a home run and drove in two runs while scoring three times to lead Karns City to a 12-0 win at A-C Valley.
O'Donnell was 2-for-3 on the day and was one of five Gremlins with two RBIs on the day.
Also driving in two for Karns City were Colton Hutchison (1-for-3, 1 run), Tyler Yough (2-for-3, 1 run), Jacob Weckerly (1-for-4, 1 run) and Jace Ebbitt (1-for-3, 2 runs).
Markus Lantz and Jimmy Thompson also added doubles for the Gremlins with Lantz going 1-for-3 with two runs scored and an RBI and Thompson 1-for-3 with a run scored.
Thompson tossed a three-hit shutout. He went seven innings and walked three while striking out seven.
Jeff Ginn was 2-for-3 to pace A-C Valley.
Austin Kriebel took the loss going five innings allowing seven runs, all earned, on six hits and two walks while striking out six.
Karns City led 8-0 going the seventh before adding four more in the seventh to set the final score.