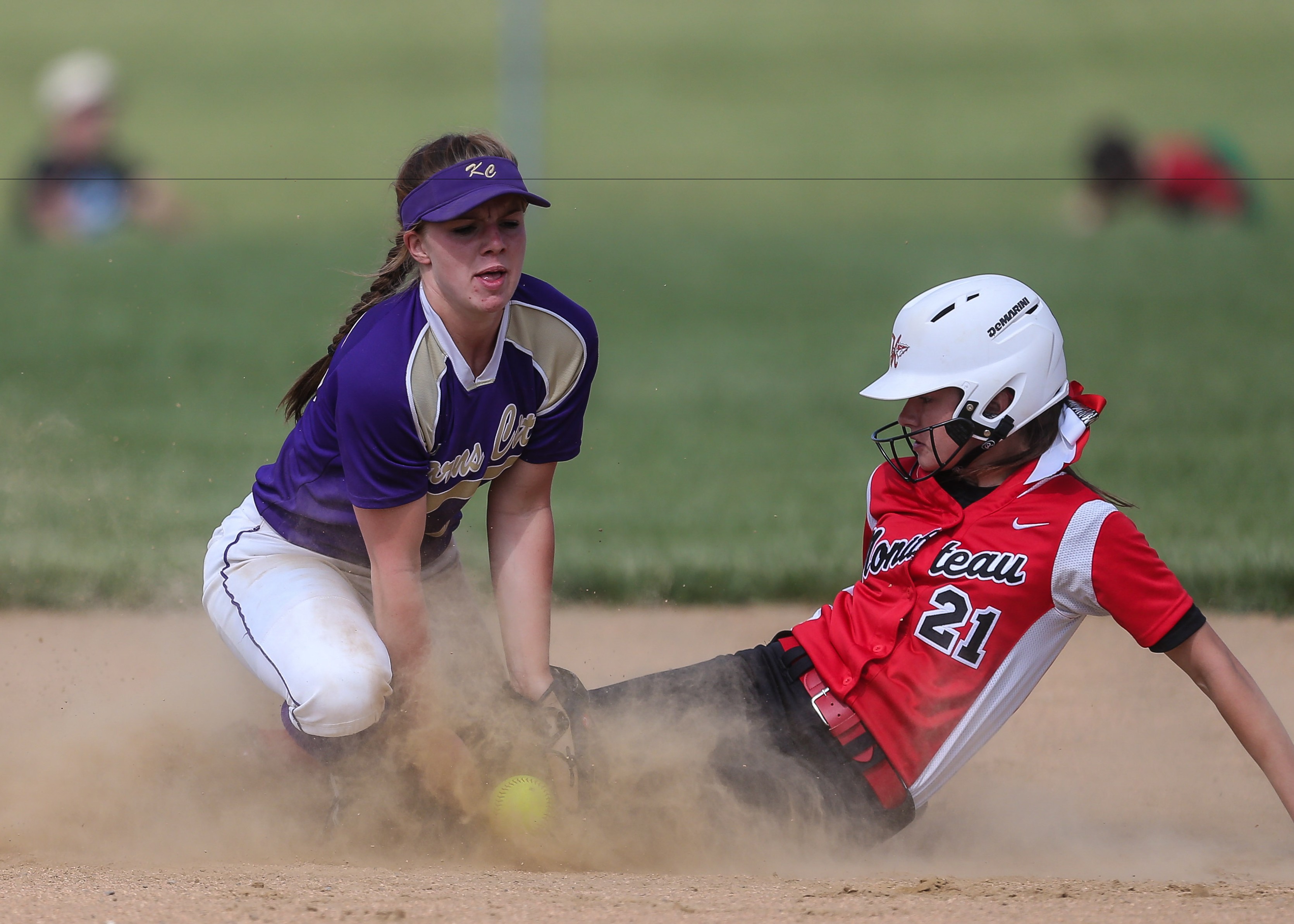 District 9 softball and baseball recaps for Tuesday, April 5. 
SOFTBALL
MONITEAU 10, KARNS CITY 0, 6 INNINGS
WEST SUNBURY, Pa. – Behind another dominating pitching performance from Kennedy DeMatteis, Moniteau cruised to a 10-0, six-inning win over rival Karns City Tuesday at Moniteau.
DeMatteis struck out 10 Lady Gremlins while allowing just four hits and also had a terrific day at the plate with three hits, including a triple, while driving in a run and scoring two.
Gabby Stewart added a triple and two RBIs for the Lady Warriors (4-0), while Cortney Claypoole hit a solo shot in the first inning, the first over-the-fence home run in her career.
Kristina DeMatteis added two singles, two runs scored and an RBI, Sara Hull had a double and two RIs, while Alyssa Dailey had two hits, including a double, with a run scored and an RBI and Alazia Greaves had a pair of singles, two runs scored and an RBI.
DUBOIS CENTRAL CATHOLIC 5, ELK COUNTY CATHOLIC 2
ST. MARYS, Pa. – Visiting DuBois Central Catholic topped defending PIAA champion Elk County Catholic, 5-2, Tuesday thanks in part to solid pitching by Riley Assalone and a nice day at the plate by Stephanie Rossi.
Assalone gave up one earned run despite allowing 11 ECC hits, while Rossi was 3-for-3 at the plate.
Also for the Lady Cardinals, Ashley Wruble clubbed a home run, while Jordy Frank had two hits and two runs scored.
Brianna Weisner, Emily Evers, Josie Smith and Jenna Labant each had two hits for ECC.
BELLEFONTE 8, CLEARFIELD 0
BELLEFONTE, Pa. – A five-run second inning helped lift Bellefonte to an 8-0 win over visiting Clearfield Tuesday.
The five-run inning gave the Lady Raiders a 6-0 lead, which was plenty for Tara Baney and Rachael Bernier, who gave up one hit between them.
Baney gave up one hit and three walks in three innings of work while striking out seven. Bernier then came in and pooched the win going four hitless innings walking four and striking out seven of her own.
Baney added a pair of singles and three RBIs, while Jordan Rockey had two singles and two RBIs and Alexis Wetzler a single and a triple.
Brooke Cline had Clearfield's lone hit, a third-inning single.
Raeleigh Redden took the loss giving up eight runs, six earned, in 5 ⅔ innings of work. She struck out four, walked four and allowed eight hits. Abby Fedder struck out the lone batter she faced for the Lady Bison.
CURWENSVILLE 3, JOHNSONBURG 2
CURWENSVILLE, Pa. – Kayley Harnett had a pair of hits, and Kayli Sedgwick and Rylee Young each drove home runs to help Curwensville squeeze out a 3-2 victory over visiting Johnsonburg Tuesday.
Harnett was 2-for-3 with a pair of singles, while Sedgwick was 1-for-3 with a double and an RBI and Young 1-for-4 with an RBI.
That was enough support for Young, who gave up two run, none earned, on four hits while striking out 11 in getting the complete game win.
Hannah Park almost matched young, giving up three runs, one earned, on seven hits and five walks while striking out seven.
Curwensville moves to 2-0 with the victory.
BASEBALL
BUTLER, Pa. – Capped by an Aaron Marterella game-winning walk-off single that drove home Josh Adamson, Moniteau rallied from a two-run deficit in the seventh inning to pull out 7-6 win over rival Karns City Tuesday night at Kelly Automotive Park in Butler.
The Warriors (3-0) trailed 6-4 going to the seventh but tied the game before Marterella lashed the game-winning hit completing a 3-for-5 performance.
Lake Pry also had three hits going 3-for-4 with a run scored and an RBI, while Wyatt Geibel (2-for-4 with a double and RBI) and Nathan Sosigian (2-for-3 with a run, and an RBI) each added two hits for the Warriors.
Cullen Williams was 2-for-2 for Karns City, while Jimmy Thompson was 2-for-4. Holden Martin added a triple and a pair of RBIs.
Sosigian got the win in relief of an unusually wild Derek Boben. He pitched 3 ⅔ innings allowing one unearned run on four hits and two walks while striking out three.
Boben started and went 3 ½ giving up five runs, only one earned, on three hits while striking out seven. But the senior was also hurt by five walks.
Eric Dodd took the loss in relief of Holden Martin. Dodd pitched 1 ⅔ innings giving up three earned runs on seven hits. Martin went five innings giving up four runs, one earned, on seven hits and three walks while striking out three.