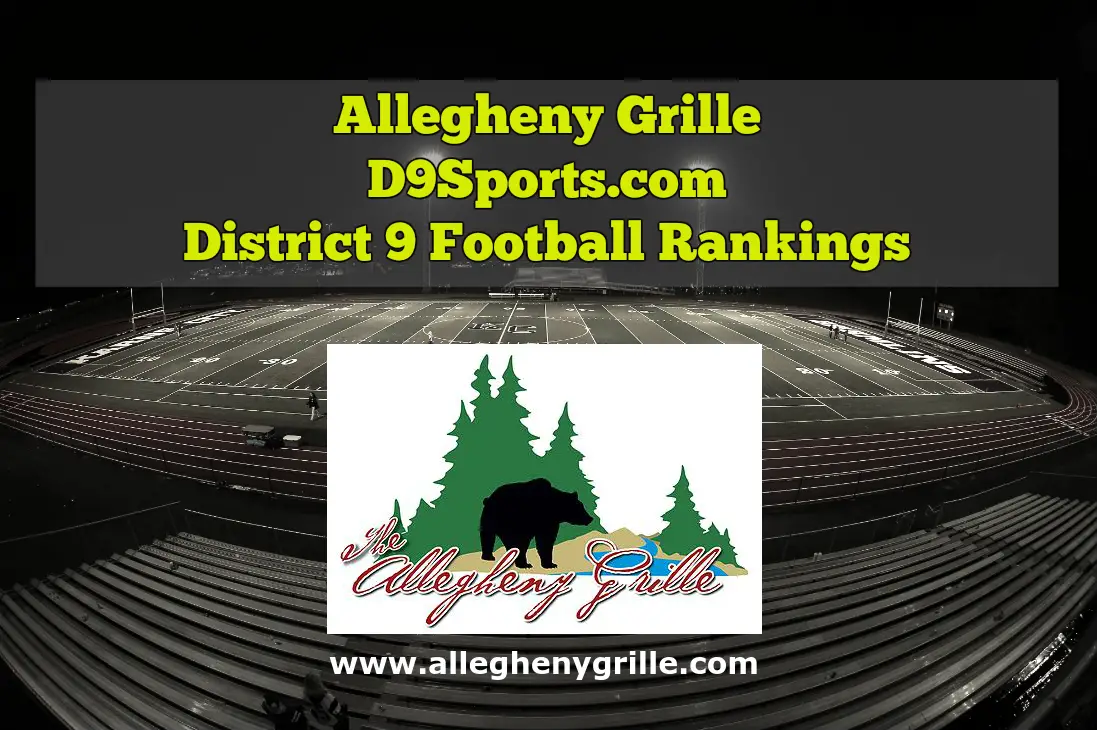 SHIPPENVILLE, Pa. – Clarion-Limestone joins the Top Five in the Aug. 29, 2017, Allegheny Grille of Foxburg D9Sports.com Football Rankings.
The Lions, who were ranked eighth in the preseason poll, steamrolled their way past Saegertown 64-6, in Week Zero and will hit the road this week with a trip to Foxburg to take on Union/A-C Valley.
C-L was the only change to the Top Five with Kane (1-0) remaining in the top spot after an easy win over Port Allegany and Clearfield (1-0) staying No. 2 after posting a 21-0 shutout of No. 6 DuBois (0-1), which drops into a tie at No. 10 this week. Clarion, which was still scrimmaging a week ago, is No. 3, and Ridgway, coming off a 29-8 win at Coudersport in No. 4.  
Brookville (1-0) is the lone new entrant into the Top 10 at No. 9 after opening with an impressive 54-20 win at Warren.
The Raiders will find out if that victory was a precursor to good things to come when they take on Karns City (0-1), which dropped from No. 5 to a tie for No. 10 after a loss to Armstrong, in the lone Top 10 matchup this week at Brookville Friday night.  
The Allegheny Grille is a restaurant situated alongside the Allegheny River in Foxburg with breathtaking views, stellar service and fine cuisine. It's open daily at 11 a.m. and on Sunday's features the "Best Brunch in Town" from 11 a.m. to 4 p.m. Not only that, come on Monday's for Burger Night, Tuesdays are all about Taco, Thursday's are Wing Night featuring their soon-to-be-famous Pun sauce (and 10 other great choices) and Friday's is Fish Night. Also, don't forget about their 10 under 10 menu Monday through Thursday. The Allegheny Grille is the perfect spot for your luncheons, dinner, meetings, wedding or anything your heart desires. For more information or to make a reservation, call the Allegheny Grille at 724-659-5701 or visit it on the web at www.alleghenygrille.com or follow them on Twitter at @GrilleAllegheny.
| | | | |
| --- | --- | --- | --- |
| RANK | TEAM | RECORD | LAST WK |
| 1 | Kane | 1-0 | 1 |
| 2 | Clearfield | 1-0 | 2 |
| 3 | Clarion | 0-0 | 3 |
| 4 | Ridgway | 1-0 | 4 |
| 5 | Clarion-Limestone | 1-0 | 8 |
| 6 | Brockway | 1-0 | 7 |
| 7 | Curwensville | 1-0 | 9 |
| 8 | Bradford | 1-0 | 10 |
| 9 | Brookville | 1-0 | NR |
| 10(T) | DuBois | 0-1 | 6 |
| 10(T) | Karns City | 0-1 | 5 |