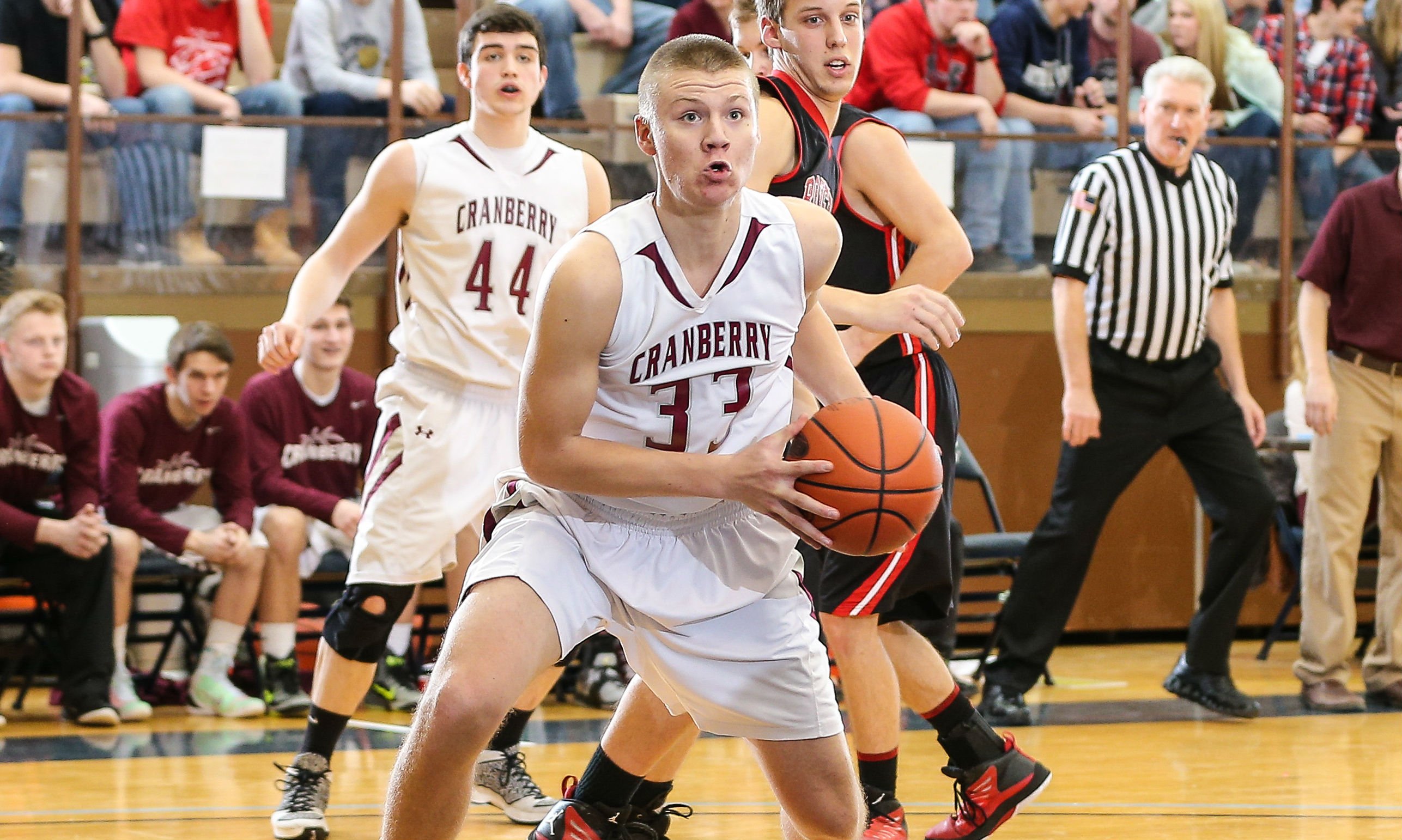 By Chris Rossetti
CLARION, Pa. – Cranberry used a balanced offensive attack and a stellar defensive approach to oust Brockway from the District 9 Class AA playoffs with a 48-32 win in the semifinals Tuesday night at Clarion University's Tippin Gym.
Offensively, the top-seeded Berries (19-4) seven different players score including three reach double digits.
"We were sluggish in the first quarter," Cranberry head coach Pat Irwin said. "I knew the first quarter could be a struggle for us since we haven't played in two weeks. So we kind of got our sea legs under us a little bit. Once we got going. I think we played alright."
Defensively, Cranberry limited fifth-seeded Brockway (10-14) to 34.2 percent shooting (13 of 38) while forcing 11 Rover turnovers. The Berries held the Rovers scoreless for nearly five minutes in the second quarter and used a 9-0 run during that time frame to erase a one-point deficit, 14-13, and take a 23-16 lead into halftime.
"We knew they like to run a lot of ball screens and a lot of curls off their offense," Irwin said. "We tried to hedge, although we didn't hedge as well as I would have liked. But we contested their shots enough that they didn't get a lot of clean looks.
Brockway seemed to have the game at the pace it wanted early on and took the 14-13 lead on a Jared Rogos 3-pointer 1:29 into the second quarter.
But Rogos triple was the last basket the Rovers scored until Andrew Serafini knocked home a layup with 50.3 seconds to play before the half.
During that span, Cranberry was able to score nine points thanks to four from Janco Swart, three from Tim Swartfager and two from Caleb McCandless to take a 22-14 lead on a Zerbe basket with 1:36 to play in the half.
After Serafini closed the gap to six, 22-16, Evan Lutz hit a free throw with 2.4 seconds left to give the Berries the seven-point halftime lead.
Cranberry then quickly expanded the lead to 12, 28-16, a minute into the third quarter on a 3-pointer by Lutz and a basket by Swart.
Brockway got back within six, 28-22, thanks to six straight points by Serafini, but baskets by Brandon Zerbe and Dechlyn Sheffer got the lead back to double digits, 32-22, going to the fourth quarter.
Cranberry was then content to trade baskets with the Rovers for the first five minutes of the quarter and led 42-30 following a Swart bucket with 2:46 left.
Lutz led the Berries with 12 points, his second straight double-digit performance after going 11 straight games without reaching double figures.
"Evan is a scorer,"Irwin said. "There have been periods of times where the numbers haven't been there, but we know he is a good basketball player. On any given night, you know he can pop off for us."
Swart and Zerbe, who are listed at 6-foot-6 and 6-foot-3 respectively, each used their size to their advantage scoring 10 points apiece with Swart adding eight rebounds and Zerbe six helping the Berries outrebound Brockway 27-21.
"We knew we had a size advantage," Irwin said. "We knew if we got the ball inside to our bigs we would have success, and both Janco and Brandon played pretty well tonight."
Jacob Creighton had an overall strong game for Cranberry as well with five points, four steals and at least three assists as did Swartzfager who also scored five points to go with a couple of assists and two rebounds.
"Our guards (Creighton and Swartzfager) aren't the biggest," Irwin said. "I think they are both generously 5-foot-9, more 5-8. But they are both fiery. They both love basketball. They are deceivingly strong for their size. I think that is really what turned the tide for us. Getting easier looks in transition."
Serafini paced Brockway with a game-high 14 points but accounted for nearly half, six, of the Rovers 13 made baskets. He just missed a double-double with nine rebounds. Jake Wineberg, the hero of the quarterfinal win over Karns City, added nine for Brockway.
Cranberry, which is the last KSAC team to win a District 9 title winning the 2008 Class AA crown, will play Redbank Valley in an all-KSAC matchup Saturday at a time to be announced at Tippin Gym. The Bulldogs beat the Berries, 51-45, Feb. 7 in New Bethlehem.
"We are very familiar with Redbank," Irwin said. "They have a real nice ball team. They are pretty well rounded. They can go inside, they can go outside, they can attack you off the dribble. I know it's going to be a good matchup."
NOTES – Cranberry is in the District 9 Class AA title game for the third time since 2008. The Berries beat Kane in overtime to win the 2008 championship then lost on a last-second shot to Brockway in 2009 before dropping another decision to the Rovers in 2013. Irwin was an assistant on the 2008 and 2009 teams and was the head coach in 2013. He won a District 9 Class A title as a player with Keystone in 2002 and was on the Panthers runner-up Class A team in 2000.
CRANBERRY 48, BROCKWAY 32
Score by Quarters
Brockway 9 7 6 10 – 32
Cranberry 10 13 9 16 – 48
Brockway – 32
Corey Carr 0 2-2 2, Andrew Trunzo 0 0-0 0, Hunter Miller 2 0-2 4, Jake Wineberg 4 1-2 9, Andrew Serafini 6 2-2 14, Lex Embleton 0 0-0 0, Carter Adams 0 0-0 0, Jared Rogos 1 0-0 3, Quade Lundberg 0 0-0 0. Totals 13 5-8 32.
Cranberry – 48
Tin Swartfager 1 2-4 4, Jacob Creighton 2 1-3 5, Dechlyn Sheffer 2 1-1 5, Evan Lutz 4 3-9 12, Austin Rex 0 0-0 0, Janco Swart 5 0-0 10, Brendan Zerbe 5 0-0 10, Caleb McCandless 1 0-0 2. Totals 20 7-17 48.
Three-pointers – Brockway 1 (Rogos). Cranberry 1 (Lutz).