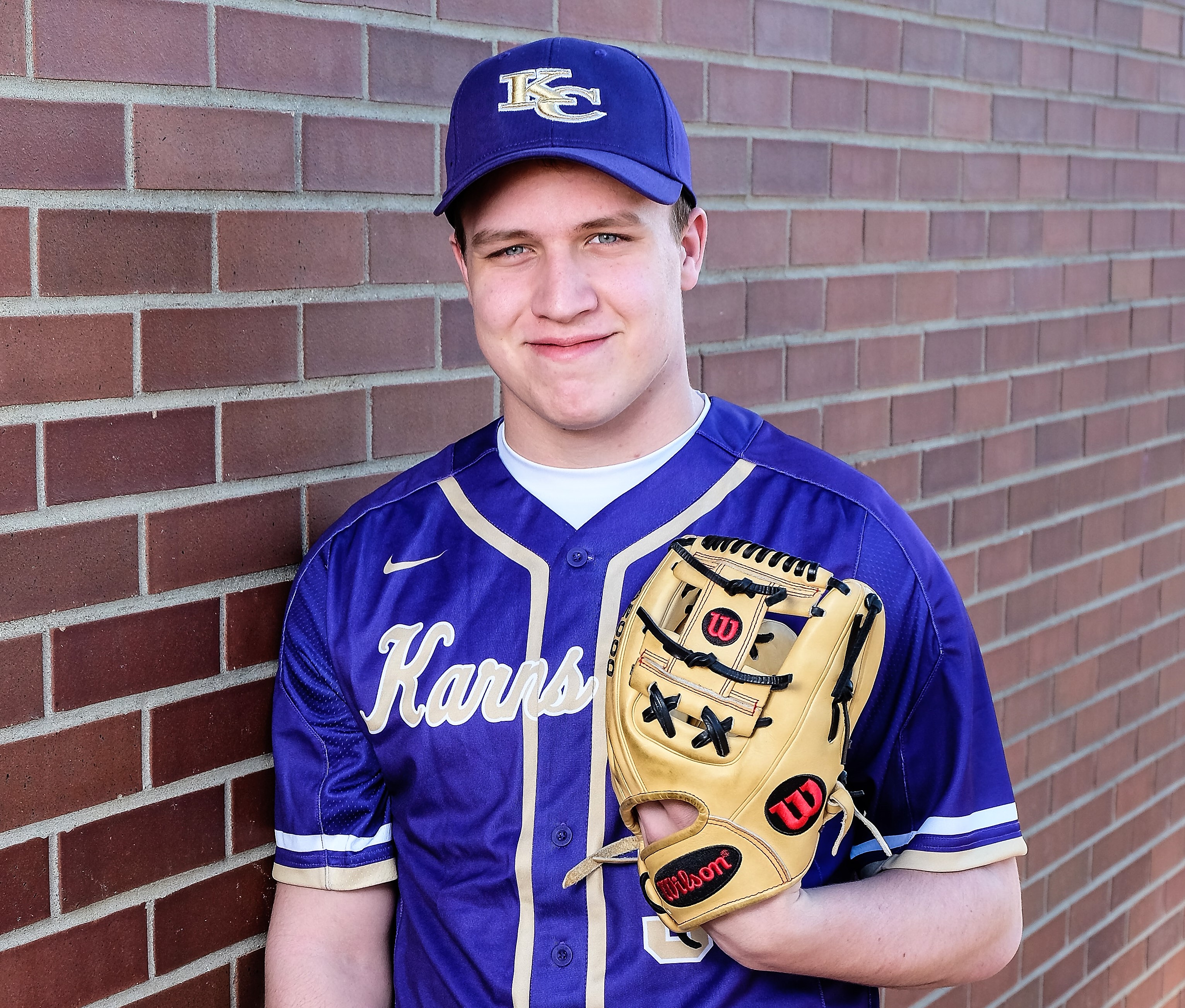 May 24 District 9 Class 4A semifinals and Class 3A semifinals recaps.
(Cover photo: Eric Dodd, Karns City. Photo by Mike Schnelle. Check out more of Schnelle's work here)
CLEARFIELD 8, PUNXSUTAWNEY 7, 10 INNINGS
CLEARFIELD, Pa. – The streak is over.
After winning 13 consecutive District 9 baseball titles, Punxsutawney's streak came to an end in an 8-7, 10-inning Class 4A semifinal loss at Clearfield.
Zane Morgan's soft chopper to third in the bottom of the 10th won the game, as Seth Bumbarger beat the rap at the plate.
"It is great for us to knock them off but I wasn't concerned about the 13 years," Clearfield manager Sid Lansberry said. "This is the year that counts. The other 13 years are gone."
Clearfield rallied from a 7-4 deficit in the sixth to tie the game with a pair of runs on bases-loaded walks in the seventh.
Down 7-5 going to the bottom of the seventh, Johnston took over for Brandon Matthews on the mound and immediately struck out Thayne Morgan to start the inning.
But Reese Wilson and Zane Morgan had back-to-back singles to put runners at first and second before Tommy Hazel flew out to center for the second out.
However, three consecutive Clearfield batters drew walks with a free pass to Eli Glass loading the bases, a walk to Ty Bender forcing home a run and a third walk, this time to Will Myers, tying the game at seven.
With the game tied at four going to the sixth, Punxsutawney seemed to take control with a three-run inning that was finished off by a 2-run single by Joey DiPietro.
The Chucks, who led 1-0, trailed 4-1 before scoring three runs in the fifth to tie the game.
Clearfield will face Bradford in the District 9 title at 4:30 p.m. Wednesday at Showers' Field in DuBois.
Zane Morgan led Clearfield going 5-for-6 with two runs scored and an RBI. Bumbarger was 3-for-5 with a run scored and two RBIs.
DiPietro was 2-for-4 with three RBIs for Punxsutawney with Logan Johnston going 2-for-5 with an RBI.
Tommy Hazel got the win in relief going 4 ⅓ innings allowing two hits and two walks while striking out seven.
Johnston took the loss going three-plus innings allowing three runs on four hits and six walks while striking out.
KARNS CITY 9, MONITEAU 2
BUTLER, Pa. – Tyler Yough had a double, triple, an RBI and two runs scored to lead Karns City to a 9-2 win over Moniteau in the District 5-9 Class 3A semifinals at Kelly Automotive Park in Butler.
Cullen Williams drove in three runs for the Gremlins while going 2-for-3. Winning pitcher Eric Dodd 2-for-3 with two runs scored.
Dodd needed just 86 pitches to throw a six-hit complete game. He allowed two runs while walking three and striking out four.
Hunter Fitzingo was 2-for-4 with an RBI for Moniteau.
Fitzingo took the loss allowing four unearned runs on six hits and two walks while striking out two in four innings of work.
Chance Nagy then went 1 ⅔ allowing four runs on one hit and four walks while striking out one, and Jake Jewart went 1 ⅓ innings allowing one run on two hits and two walks.
Karns City will take on Chestnut Ridge at 4:30 p.m. Thursday at Punxsutawney in the District 5-9 title game.