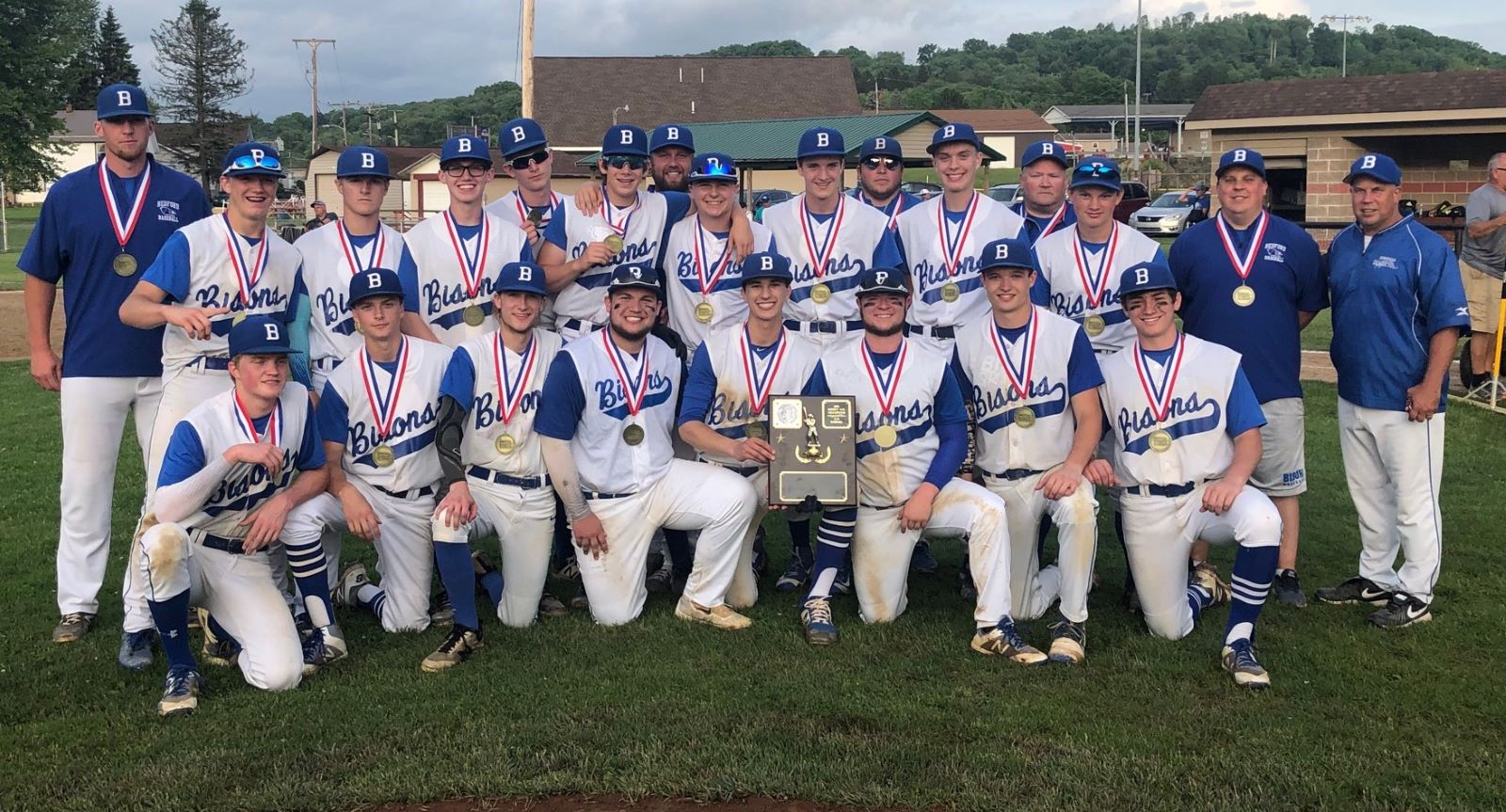 PUNXSUTAWNEY, Pa. — Dylan Arnold scattered four hits over five innings and Bedford's four-run third inning was the difference in a 6-3 win over Brookville in their District 5/9 Sub-Regional Class 3A final at Kuntz Field Wednesday.
More hard rain earlier in the afternoon threatened to swamp the field, but after a 75-minute delay, things got going and it was Arnold who set the tone.
The left-handed senior retired nine of the first 11 batters he faced while he helped his team post the four-spot in the third.
With one out, Drew Hall worked Raiders starter for a walk. Jared Dowey singled and Nate Semanek doubled in Hall for the game's first run. Arnold walked and Dowey scored from third on a wild pitch. After a second out, Jesse Arnold singled in two more runs for the 4-0 lead.
In the fourth, the Bisons went up 6-0 when a misplayed bunt led to two unearned runs.
The Raiders scored first in the fourth inning when Park singled to break up Arnold's no-hitter and advanced to third when the ball was misplayed in the outfield. Brady Caylor singled him in.
Against Dowey in the seventh, the Raiders made things interesting by scoring twice, Hunter Roney leading off with a single and scoring on Park's forceout grounder and Dane Lyle coming home on Caylor's second RBI single of the game.
But Dowey finished off the win and secured Bedford's trip to the state playoffs by getting the would-be tying run Tanner LaBenne to ground out to first to end the game.
Park took the loss for the Raiders, going six innings and giving up six hits with two walks and two strikeouts.
Bedford (12-8) makes its first trip to states since 2014 while the Raiders' season finished at 11-9.
BEDFORD 6, BROOKVILLE 3
Score By Innings
Bedford 004 200 0 — 6
Brookville 000 100 2 — 3
BEDFORD – 6
Jared Dowey cf-p 4121, Nate Semanek c 4121, Dylan Arnold p-cf 1110, Joey Koontz cr 0000, Chase Cessna 3b 3000, Jesse Arnold 1b 4012, Ashton Dull dh 3000, Dodge Bebout lf 0000, David Gresh rf 3000, Mercery Swaim ss 3110, Drew Hall 2b 1200. Totals – 27-6-7-4.
BROOKVILLE – 3
Seth Dunkle ss 4010, Jace Miner cf 2000, Aaron Park p-3b 4111, Brady Caylor 2b 3021, Tanner LaBenne 1b 4000, Cole LaBenne lf 2000, Trenton Gilhousen dh 3000, Hunter Geer rf 0000, Chase Palmer 3b 2010, Jamison Rhoades c 0000, Hunter Roney ph 1110, Dane Lyle c-p 0100, Griffin Ruhlman cr 0000. Totals: 25-3-6-2.
LOB: Brookville 7, Bedford 5. Errors: Brookville 3, Bedford 1. Gresh.  2B: Semanek. SAC: Hall. SB: Semanek, Caylor, Palmer. DP: Bedford.
PITCHING
Bedford
Dy. Arnold 5 IP, 4 H, 1 R, 0 ER, 4 BB, 3 K
Dowey 2 IP, 2 H, 2 R, 2 ER, 3 BB, 1 K
TOTALS: 7 IP, 6 H, 3 R, 2 ER, 7 BB, 4 K
Brookville
Park 6 IP, 6 H, 6 R, 4 ER, 2 BB, 2 K
Lyle 1 IP, 1 H, 0 R, 0 ER, 1 BB, 1 K
TOTALS: 7 IP, 7 H, 6 R, 4 ER, 3 BB, 3 K
Winning pitcher: Dy. Arnold
Losing pitcher: Aaron Park