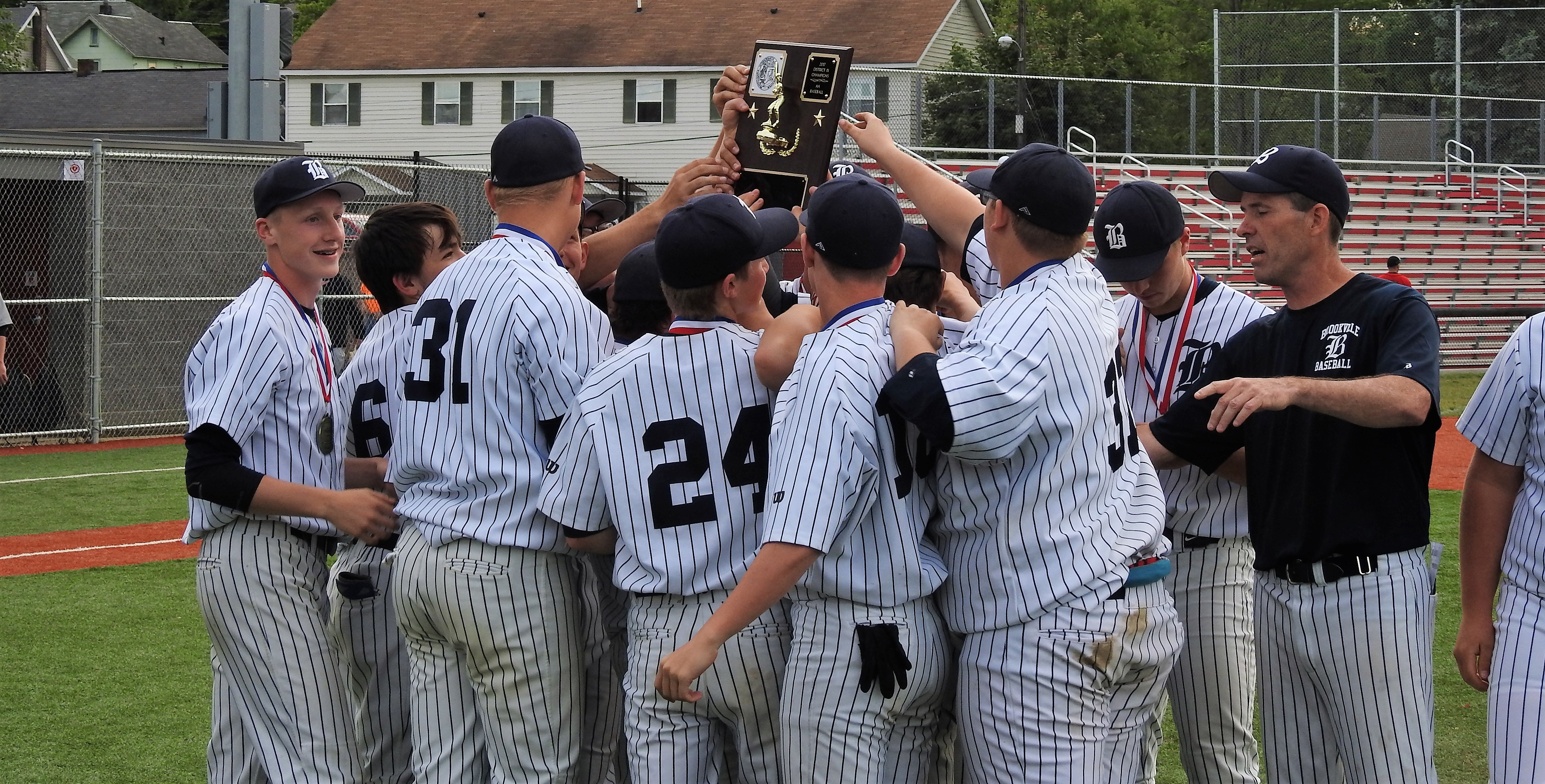 By Cory Geer
BROOKVILLE, Pa. – Behind a strong outing from freshman Aaron Park, fifth-seeded Brookville beat sixth-seeded Brockway, 2-0, in the District 9 Class 2A title game Wednesday evening at Showers Field in DuBois.
"Our players bought into it," Brookville manager Bruce Ferry said. "They are doing everything we've asked them to do.
"We suffered some injuries throughout the year, and I thought, 'this is going to be harder than it should be.' At the end of the year, we started hitting the ball and (our players) kept plugging away."
Park, a freshman, went six innings scattering five hits, walking two and striking out four.
"I just tried to have them put it in play because I had a good defense behind me," Park said. "I mixed in some off-speed pitches to keep them off-balance."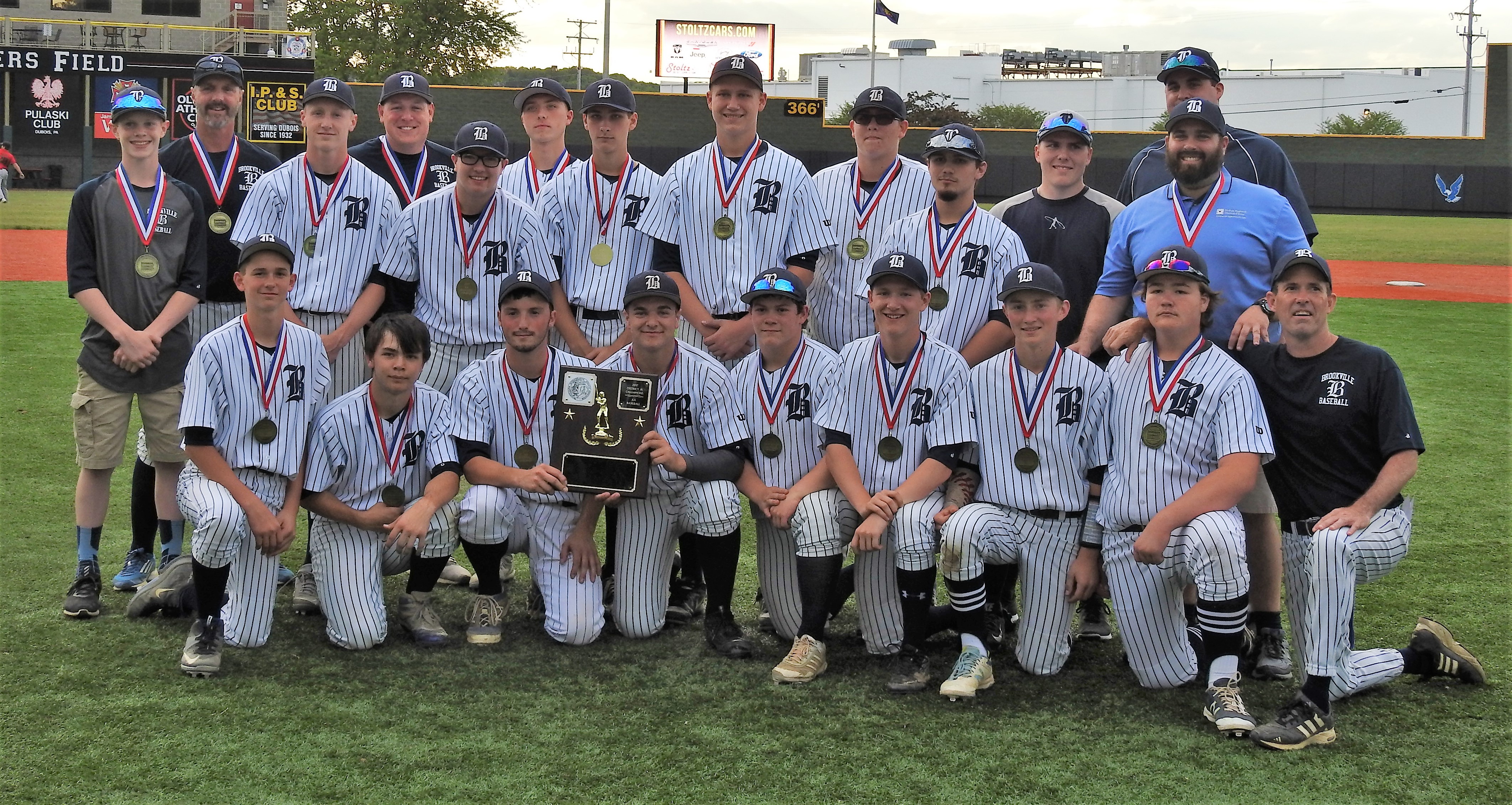 After walking the leadoff hitter in the game, Hunter Antonuccio, his mound opponent, Park retired 11 of the next 12 Rovers batters.
Meanwhile, Brookville got on the scoreboard in the third inning after a leadoff walk to center fielder Bryan Dworek, who then stole second base.
After Antonuccio got Seth Dunkle and Tanner LaBenne to fly out, Park drew a walk putting runners at second and third bringing up Ben Reitz, whose single into left-center field brought home Dworek giving the Raiders the early 1-0 lead.
Park then scored when a sharp-hit ground ball by Ben Caun turned into a run-scoring error when Brockway shortstop Andrew Trunzo tried to make a backhanded play on it only to see it go underneath his glove.
"We knew that Brockway was a tough team, they beat us twice earlier in the year," Ferry said. "Scoring first was big for us."
Brockway tried to answer back in the top of the fourth when, after two outs, Matthew Clark and Angelo Inzana had back-to-back singles putting runners at the corners, and Jarrett Esposito drew a walk to load the bases bringing up Jon Wood. Wood hit a sharp groundball to first baseman LaBenne, who flipped it to Park covering first for the third out of the inning.
After allowing the two runs in the third, Antonuccio got into a groove retiring Brookville's next eight hitters before surrendering a hit to Tyler Park.
The Brockway hurler gave up the two runs, one earned, on three hits and four walks while striking out one.
"He kept us off balance," Ferry said. "We got off on our front foot a few times. Things that should have been line drives turned into pop-ups and fly balls."
With Park at 103 pitches after six innings, Ferry was forced by the new pitch-count rules to make a change in the seventh.
He summed Reitz to the mound, and the senior closed out Brookville's 10th District 9 title and its first since 2012 by striking out the side.
"It felt great to get that last out on the mound," Reitz said. "When I came in as a freshman, we weren't that successful as a program."
Brookville (12-11) moves into the PIAA playoffs where it will meet the District 5 champion, either Conemaugh Township or North Star, that game was slated for Tuesday but was postponed to Wednesday. The PIAA playoffs start Monday.
Brockway finishes the year 9-10.
Brookville 2, Brockway 0
Score by Inning
Brockway 000 000 0 – 0
Brookville 002 000 – 2
Brockway – 0
Hunter Antonuccio p 3000, Erik Botwright lf 3000, Jesse Johnson 1b 3010, Andrew Trunzo ss 3000, Matthew Clark c 3020, Angelo Inzana cf 3020, Jarrett Esposito 3b 2000, Jon Wood rf 3000, Tyler Serafini 2b 3000. Totals 26-0-5-0.
Brookville
Bryan Dworek cf 2110, Seth Dunkle ss 3000, Tanner LaBenne 1b 3010, Aaron Park p/3b 1100, Ben Reitz 3b/p 2011, Ben Caun lf 3000, Tyler Park rf 2000, Dane Lyle c 3000, Brody Caylor 2b 2000. Totals 22-2-3-1.
LOB: Brockway 7. Brookville 5. Errors: Brockway 1 Brookville 0 SB: Dworek (2), A. Park, T. Park
Pitching
Brockway
Hunter Antonuccio – 6 IP 3 H 2 R 1 ER 5 BB 1 K 0 HP
Brookville
Aaron Park 6 IP 5 H 0 R 0 ER 2 BB 4 K 0 HP
Ben Reitz 1 IP 0 H 0 R 0 ER 0 BB 3 K 0 HP
Winning Pitcher: Aaron Park
Losing Pitcher: Hunter Antonuccio
Save: Ben Reitz