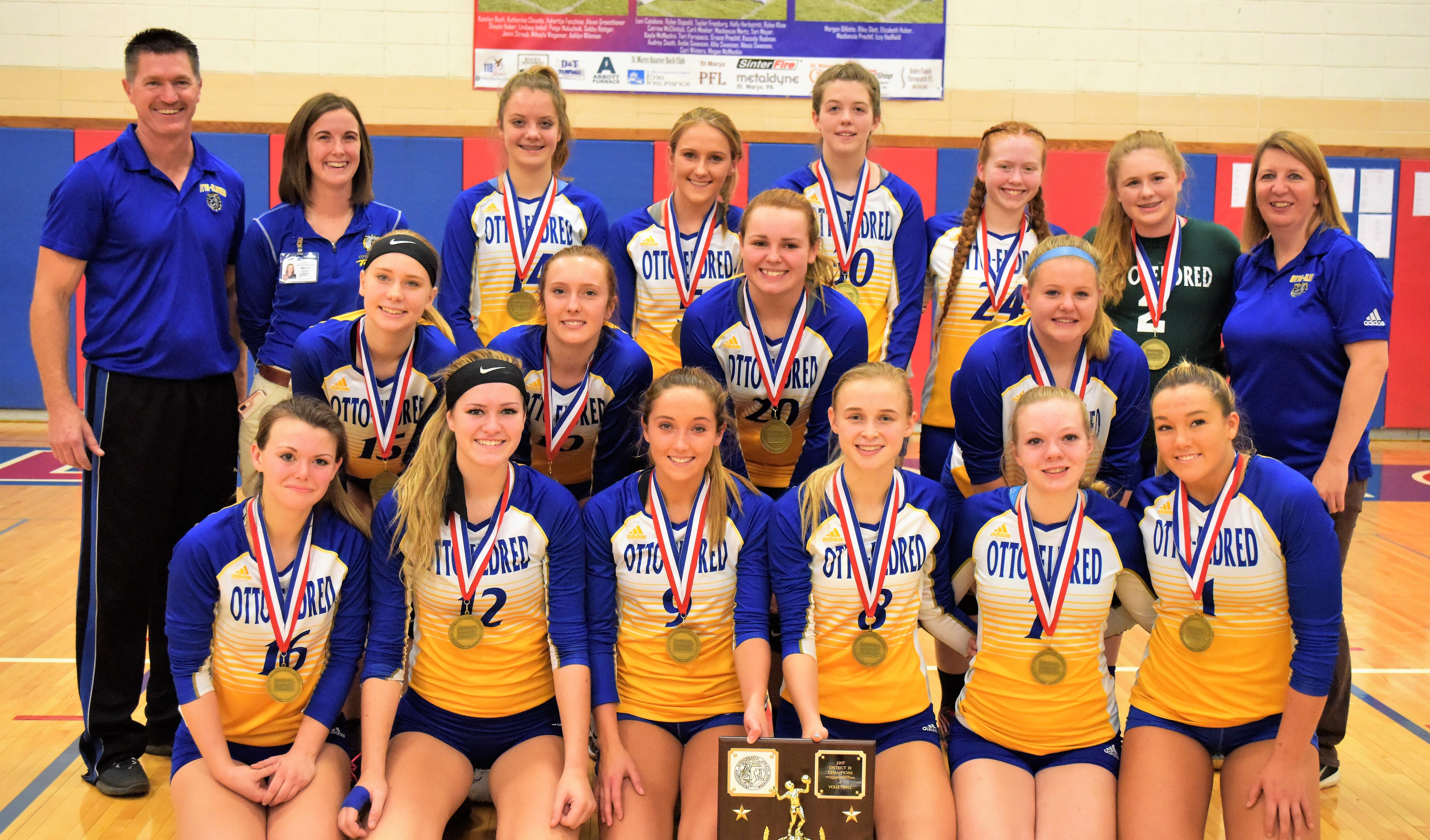 ST. MARYS, Pa. – Behind 22 kills and two blocks from Camryn Thomas, Otto-Eldred won its first District 9 Class 1A volleyball title, 3-1 (25-21, 25-23, 16-25, 25-19), over A-C Valley, which finished as the D9 runner-up for the third straight season.
Championship photo by Ronda Beimel
Thomas was at her best in the fourth set with nine kills and a block, as Otto-Eldred held off a comeback attempt from A-C Valley.
Thomas talked about the victory.
Allison Cousins added 13 kills for Otto-Eldred with Alyssa Shelander chipping in seven and Harlee Van Scoter five kills and four blocks
Watch Otto-Eldred receives its championship plaque.
Josie Terwilliger led A-C Valley with 19 kills, Olivia Boocks added 13 and Kylee Eaton 10. The three combined for all of A-C Valley's offensive attack. Syd Rankin had 24 set assists with Emily Wetzel adding 18. Boocks and Terwilliger both chipped in 11 digs.
SET FOUR
In the fourth set, Otto-Eldred used a 4-0 spurt that included a pair of Cousin kills and a block and a kill from Harlee Van Scoter to open up a 12-6 lead and still led 20-16 following another kill by Cousins, who had three kills in the set.
But a kill from Terwilliger and a block from Eaton got the Lady Falcons back within two, 20-18.
A service error by Terwilliger, however, was followed by a hit out of bounds by Eaton and two kills by Thomas to put the Lady Terrors on the verge of the championship up 24-19.
Then A-C Valley's hit went out of bounds setting off a celebration.
Watch the final point.
SET THREE
Cousins had a pair of kills to help Otto-Eldred close within three, 19-16, but a kill and two aces by Terwilliger helped A-C Valley put the set away.
Boocks had six kills and Terwilliger five to lead A-C Valley.
SET TWO
The second set was close throughout with Otto-Eldred using a 6-1 run that featured a pair of Thomas kills to take a 15-12 lead.
But A-C Valley fought back to tie the set at 19 thanks to three kills from Terwilliger.
A Cousins kills followed by a pair of A-C Valley mistakes made it 22-19 Otto-Eldred, and then Thomas had a pair of kills, including the final one on a tip, to give the Lady Terrors the two-point win.
SET ONE
After a slow start in the first set that saw them down 5-1 and 14-9, A-C Valley used a 10-0 run fueled by a pair of kills from Boocks and two more from Terwilliger to go ahead 19-14.
But Otto-Eldred rallied thanks to three kills from Thomas to get within three, 20-17, and with the Lady Terrors trailing 21-19, Van Scoter took over with two kills, two solo block and a tandem block to make it 24-21, and then Rameal Hulett put the set away with a kill.
UP NEXT
Both teams move into the PIAA playoffs with Otto-Eldred taking on the third-place team out of the WPIAL, Frazier, and A-C Valley playing the District 6 champion Northern Cambria.