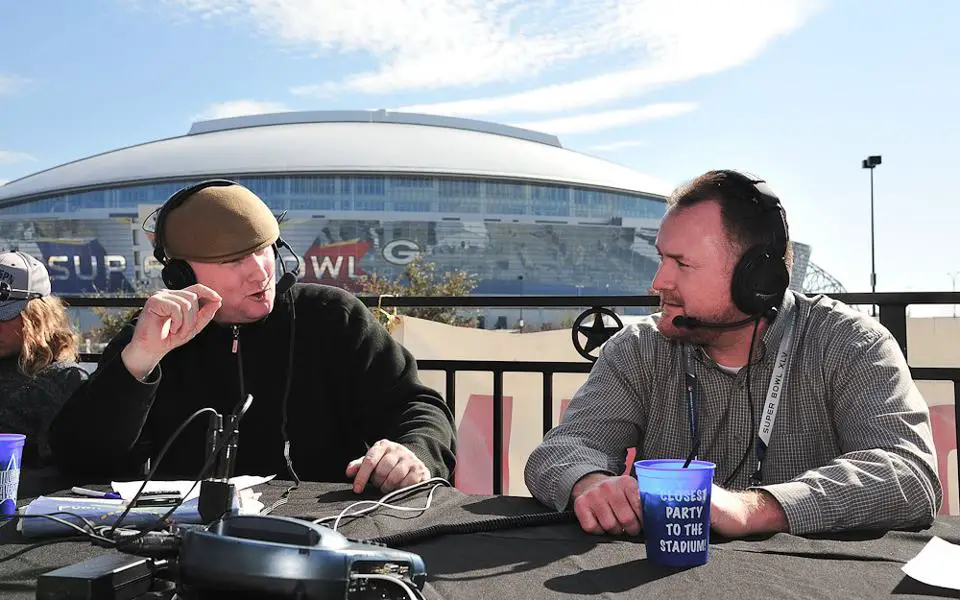 WASHINGTON, Pa. – Sometimes it's about being in the right place at the right time.
Just ask 1986 North Clarion graduate F. Dale Lolley (the F stands for Forrest, and he shares his name with his late dad, a long-time teacher at North Clarion).
Lolley has always seemed to be in the right place at the right time, and it's part of the reason he is the Pittsburgh Steelers beat reporter for the Observer-Reporter in Washington, Pa.
Even his career in journalism was about being in the right place at the right time.
A Biology major at Pitt-Titusville for 2 ½ years before transferring to Pitt-Johnstown in the middle of the school year in 1988-89, Lolley ended up in an apartment with three strangers, one of whom just happened to be the editor of the school newspaper.
"I started hanging out with them for a while, and at the end of the semester I changed majors from biology to journalism," Lolley said. "The crazy thing was I decided I was going to be a sports writer because I had always played. I played two years of basketball at Titusville and played baseball and basketball and all that stuff in high school."
With the decision to become a sports writer came another right place, right time moment for Lolley.
"I went to the journalism professor, they only had one, and told him I wanted to be a sports writer. He said 'that's funny because the Tribune-Democrat (the Johnstown newspaper) just called me and asked me if we had anybody who wanted to work part-time.' So, within six days of being a journalism major, I'm working at the Johnstown Tribune-Democrat as a part-time writer. That really kind of spurred me on to everything else. Because the guys I met there were the guys who recommended me down the road to other people for other stuff. A lot of it is being in the right place at the right time."
Things continued to progress quickly for Lolley after that.
Following his time in Johnstown, he was a stringer at the Uniontown paper before getting a job as a news writer at the Oil City Derrick.
But again, being in the right place at the right time happened for Lolley.
"I wasn't even supposed to be a sports writer," Lolley said. "They hired me as a general assignment report, and I kept bothering the managing editor that I wanted to write sports. I would end up working a lot. I would go in around noon and wouldn't get done until 1 in the morning. Trust me, they weren't paying me for those hours, but I wanted to do it."
While at the Derrick Lolley got to cover Cranberry's run to the Class AA girls' basketball title and Clarion's run to the Class A girls' title game in 1992.
It was during his time in Oil City that he had his first introduction to covering the Steelers.
"Ted Marchibroda from Franklin was coaching the Colts at the time," Lolley recalled. I still had an apartment in Pittsburgh then because my girlfriend, now my wife, was still going to school at Pitt. I told (sports editor) Penny (Weichel) I was going to be in Pittsburgh that weekend and why don't I cover the game. Penn said, yeah go ahead and do it. So, that was the first Steelers game I covered."
Covering that game, Lolley met his future boss, Tom Rose, who was at the game covering the Steelers for the Observer-Reporter.
Another Steelers reporter at the time was Randy Miller, who was working for the Uniontown Herald-Standard. Miller and Lolley had worked together in Johnstown, and Mille was talking to Rose, who said he was looking for someone to be the outdoor editor who could do layout. Miller then told Lolley.
"When I was in Oil City, I wrote all the hunting and fishing stories and stuff," Lolley said. "I hunt and fish and all that stuff. So I sent (Rose) a couple of clips of that and some other stuff I had written, and they hired me as the outdoors editor and layout guy."
Then the right place at the right time stuff hit Lolley again.
"Within three months of me being in Washington, Tom said he didn't want to cover the Steelers anymore. HE asked if anybody on the staff wanted to cover them. I was like, yeah, I'll do it."
That was 1993, and Lolley was all of 23 years old covering one of the best professional football teams of all time full time.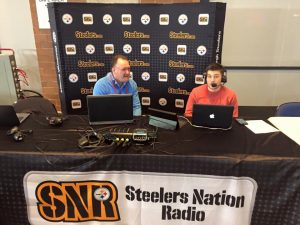 "My first Steelers game on the beat was in Barcelona, Spain," Lolley said. "They had a preseason game against the 49ers, who still had Jerry Rice and were a loaded franchise (The 49ers won the Super Bowl the next year). And the Steelers had a lot of their good players they had during their runs in 1994 and 1995. They are practicing at the Olympic Stadium, and I'm sitting on a bench watching practice and sitting next to me is Myron Cope. And I'm like this is Myron (Freaking) Cope. I'm 23. What I'm I doing here. Vic Ketchman, who is now the editor of Packers.com, Ed Bouchette and Gene Collier were also there as was Bob Labriola, who I owe a lot to for getting me into the radio side of things. I've gone everywhere the Steelers have gone ever since then for the last 23 years. It's really fantastic. I'm really fortunate."
Ironically, despite growing up in Western Pennsylvania, Lolley had never been a diehard Steelers fan.
"It's weird," Lolley said. "Two of my better friends in high school were Cleveland Browns fans. And, when I was in sixth grade to ninth grade, we moved to Sharon. I always watched football. I was always a fan of a lot of sports. But I was always a little different. I was an Oakland A's fan. I was a Detroit Pistons fan. I like the (Detroit) Lions when I was growing up because I was a big Billy Sims fan when I was a kid. I would watch the Steelers because they were on, but it wasn't my passion or anything like that."
Lolley said not being a diehard Steelers fan probably made it a little easier to cover the team and stay neutral. But he also admits that's always a fine line.
"I think the thing you have to watch and be careful about is you develop relationships with guys," Lolley said/ "You can't help but do that. I have done the Antonio Brown show the last couple of years on DVE, and I'm part of the Steelers radio network. You develop a relationship. I like Antonio. He is a good guy. You want to see the guys you like do well, but you also have to walk that line where if they make a mistake in a game or the Steelers lose a game you have to look at it objectively. I talked to Joey Porter (current Steelers coach and former player) during training camp last year. He said he didn't understand that when he was a player. He didn't understand how a writer could come and talk to him and be laughing with him and stuff like that and then he would read the paper two weeks later and the writer is ripping him in the paper. Well, that's part of the job. He said he gets that now. He tells his players that the (media) has a job to do as well. You have to walk that line."
Lolley says there are plenty of challenges to covering a professional team, and the biggest one for him is being a one-man beat competing against papers like the Pittsburgh Post-Gazette and Tribune-Review that can send five guys into the locker room.
"For me, working for a smaller newspaper, when I started we had seven full-time guys and a part-time guy," Lolley said. "Now we are down to four guys on staff, but we still have the same coverage we have to do. There are a lot of times I end up doing stuff on my own time, and I'm one guy. I am trying to produce content on my own.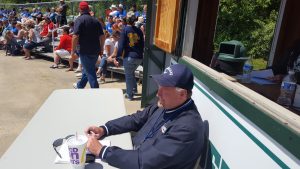 "You come to the realization that you aren't going to win every day. You can't do it. As one guy, I can't win every day against five or 10. And it's gotten much bigger with the .coms and everything out there. When I started covering the team, there were probably 13 or 14 of us, and that was the core of the guys who covered it. Now there are 50 people there. There are a lot more outlets there.
"Management of time is a big thing. During football season, I work 60 to 70 hours a week. I still have to go in for a couple of desk shifts a week. It can be time-consuming."
Lolley has covered four Super Bowls while on the job, including a pair of Steelers victories – Super Bowl XL and Super Bowl XLIII, and those are two of the best stories he has covered.
"The Super Bowl win against Arizona was a pretty special one," Lolley said. "You had the James Harrison play (the 100-yard interception return at the end of the first half). You had the drive at the end of the game (ending in Santonio Holmes' game-winning touchdown catch with just over 40 seconds to play). It was a crazy night.
"But, if I had to pick a favorite I would probably say the Detroit Super Bowl (XL). You had (Jerome) Bettis retiring. You had the Steelers winning their first Super Bowl in 25 or 26 years. I remember that night I wrote seven stories in about an hour and a half. The wanted one for (page) A1 and Bettis retired and you had all that other stuff going on. I remember walking out of there at 11:30 p.m. or midnight, and I'm like I have no idea what I just wrote, but man that was a hell of a ride."
Lolley said one of the challenges of the job is finding new ideas every day.
"That's a big thing," Lolley said.
Social media has also changed the job a lot over the years, according to Lolley.
"Twitter is the big thing," Lolley remarked. "You have to live tweet everything. There is so much stuff out there, and everyone is trying to be first. But being first isn't quite always the big thing. Being accurate is huge. If you start printing inaccuracies or start putting out inaccuracies what do you have? All you have is your credibility."
Lolley is very fond of his childhood growing up in Fryburg.
"I went to St. Michael's School in Fryburg when it was still open," Lolley said. "I knew everybody in my class, and we all moved up with each other every year. A bunch of the guys lived in town, and we would get together. We all played on the baseball team in Fryburg. We would go down to the baseball field on our own and just ply. I rode all over town on my bike. We'd go hunting behind our houses or we'd go fishing down at the streams or what have you. Everything you read about small towns or hear about small towns or see on TV about small towns, that was it. Even in high school, we would all go to Clarion on Friday night or Saturday night. That was the big night. You would see everybody from the other school and stuff. You knew a lot of people from a lot of different schools up there. It was definitely a different feeling, a different vibe. I spent four years in the Sharon area, Clarion County was just so much friendlier. I knew a lot of people, and of course was related to a lot of people."
Lolley is still related to a ton of people in Clarion County, including his mother, Eukie, and numerous aunts, uncles and cousins.
"That is where everyone is from, and 90 percent of them don't leave," Lolley said with a laugh.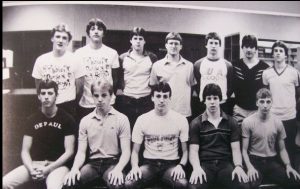 Lolley has great memories of his days at North Clarion High School as well where he was a member of the junior varsity basketball team in when North Clarion won the District 9 Class A title in 1984 and then was on the varsity squad for the 1985 championship and 1986 second-place team.
"My coaches in high school, they were guys that didn't leave and where long-time coaches," Lolley said.
Lolley credits his wife, Amy, for being the rock of a lot of his success.
"She is from Philadelphia. I'm from Clarion. We met in college," Lolley said. "We live in Washington. Neither one of us has any family anywhere near. Our nearest family is my mom. She is basically a single parent a lot of the time during football season. She did a lot of stuff on her own. She has been great. She knew what she was getting into. We got engaged soon after I got the job in Washington, so she knew what she was buying into to a certain degree."
The Lolleys have three children. Noah is a junior at Waynesburg University, Tanner will be a senior at Trinity High School and Madeline is 10. He also has a sister, Sonia Swogger.