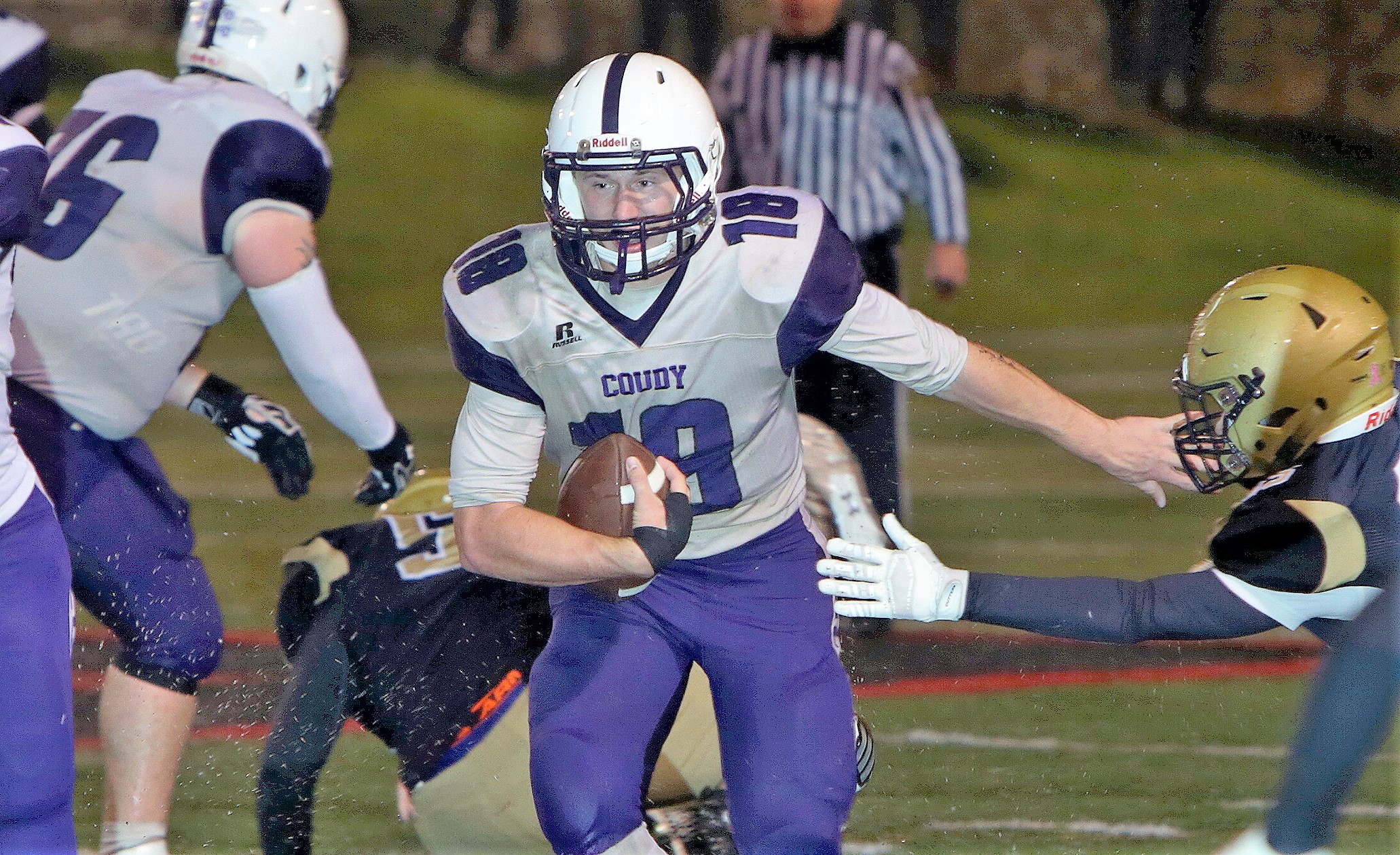 BROCKWAY, Pa. – Two down, one to go.
(Photo: Stephen Kelly of Coudersport avoids a C-L defender during the Falcons win Friday night. Kelly ran for 120 yards in the victory. Photo by Paul Burdick. Check out more of Burdick's work here)
Coudersport's 2018 District 9 Class 1A playoff run has been unofficially dubbed the payback tour, and so far so good for the Falcons.
A strong second half – that was undeniable helped by an injury to C-L star running back Austin Newcomb but also was a credit to some solid halftime adjustments by the Falcons – helped sixth-seeded Coudersport roar back from a 12-0 halftime deficit to defeat second-seeded Clarion-Limestone, 22-12.
The victory turned around a 34-22 loss to C-L earlier in the season and marked the second straight year Coudersport has ended the Lions season.
"I am so excited," Coudersport senior running back Stephen Kelly, who ran for 120 yards and two touchdowns, said. "We just needed to kick it in gear (at halftime) and get the runs going."
Get the runs going is exactly what the Falcons (7-4) did in the second half.
After being limited to 70 first-half yards, including just 12 on the ground, Coudersport punished its way to 146 yards and three touchdowns after halftime including 124 on the ground.
"We needed to execute a little bit better," Coudersport head coach Tom Story said about the difference between the first and second half for the Falcons. "The first half, we were a little timid. But we came out hard. That is what we told them. We have to execute and take it to them. We worked these guys hard all year long to come out that second half and own it and that is what they did."
The absence of Newcomb, who became District 9's all-time single-season rushing leader in the first half when he ran for 185 yards and two touchdowns giving him 2,627 yards on the year, didn't hurt matters for Coudersport even if the Falcons didn't change their game plan with him out.
"No, not a lot," Story said when asked if Newcomb's absence changed what Coudersport was trying to do. "We didn't realize he wasn't coming back out. We noticed when they came back out, obviously. Like we said, in the locker room we just told the guys we had to execute and take it to them. It didn't matter that he wasn't out there."
Watch more of what Story and Kelly had to say about the win.
While Newcomb missing the second half didn't alter what Coudersport was doing, it had an obvious effect on both sides of the football for C-L (9-3).
After gaining 269 yards, all on the ground, in the first half, the Lions managed just 18 second-half yards, two second-half first downs and 16 rushing yards after halftime.
"We just tried the best we could," C-L head coach Dave Eggleton said. "Ayden Wiles is a really good back, too. We thought we could still have success. And we did at times running the football. Even in the second half, our line did a good job. We just had some costly turnovers and some penalties that hurt us."
Eggleton did point out that not having Newcomb on defense, where he plays safety, hurt the Lions' run defense.
"Probably No. 2 (Newcomb) not being at safety flowing up the ally would be my guess," Eggleton said about Kelly's second-half success. "We did a really good job of stopping him up the middle. Where they really hurt us was on those toss plays. Austin is such a big part of our run defense. On those outside plays, he can just cover sideline-to-sideline."
The game really turned about midway through the third quarter after C-L's defense had stopped Coudersport on its first possession of the half by sacking Hayden Keck on fourth down giving the ball back to the Lions at their 36.
But without Newcomb, C-L went three-and-out, and on the subsequent punt try Kyle Bottaro couldn't handle the snap giving Coudersport the ball back around the C-L 35.
Kelly then was able to pick up a first down on a fourth-down run, and that led to a 10-yard Kelly touchdown run that cut C-L's lead to 12-8 with 5:36 left in the third quarter.
C-L appeared to steal the momentum back after the touchdown when Wiles, who ran for 109 yards on the night, picked up a first down around midfield. But a holding penalty on the next play, followed by two runs for nothing and a Coudersport sack of C-L quarterback Colby Himes led to a fourth-and-31 that saw a Bottaro punt go just 18 yards setting Coudersport up inside C-L territory again.
The Falcons then drove inside the 10-yard line, but the drive seemed to suffer a major setback on a holding penalty that pushed Coudersport all the way back to the C-L 26.
Kelly took care of most of that on the next play breaking free to the 1-yard line setting up a 1-yard Keck run with 10:55 to play giving Coudersport the lead, 14-12.
C-L then fumbled the ensuing kickoff, and Coudersport put the game away on a 42-yard run by Kelly with 7:57 left that made it 20-12. Keck's 2-point run then pushed the game to a two-score contest leaving C-L in a hole too deep to climb out of.
The Lions grabbed the 12-point halftime lead despite a sloppy first half from both teams but especially the Lions.
It started with C-L fumbling away the opening kickoff.
But the Lions defense came up big recovering a fumble of its own on Coudersport's second play from scrimmage – the game's first three plays all had fumbles, two of them lost.
C-L then drove down the field only to have Newcomb fumble inside the 20-yard line stopping the drive.
The Lions defense, however, forced a punt, and that led to a 42-yard Newcomb touchdown run that put C-L ahead 6-0 with 3:27 left in the first quarter.
C-L then caught a break when Coudersport fumbled the ensuing kickoff and the Lions recovered along the sideline.
That led to a 9-yard Newcomb touchdown run 1:15 into the second quarter putting C-L ahead 12-0.
The Lions had a chance to add to that lead late in the first half, but Coudersport came up with a big fourth-down stop at the 16-yard line stopping Newcomb a yard short of the stick on a spring up the middle.
Coudersport then tried to gain some momentum before halftime and drove to the C-L 22-yard line before a pair of passes by Newcomb went incomplete on third and then fourth down.
The Falcons will play Smethport, a 28-0 winner over Curwensville, in the title game either Nov. 16 or 17 at a site and time to be announced, most likely Bradford High School. Coudersport lost a heartbreaker to the unbeaten Hubbers at the end of the regular season dropping a 21-20 contest despite leading by 13 points late in the fourth quarter. It is Coudersport first appearance in the title game since 2009 and Smethport's first since 1998.
"We are definitely looking forward to that," Kelly said.