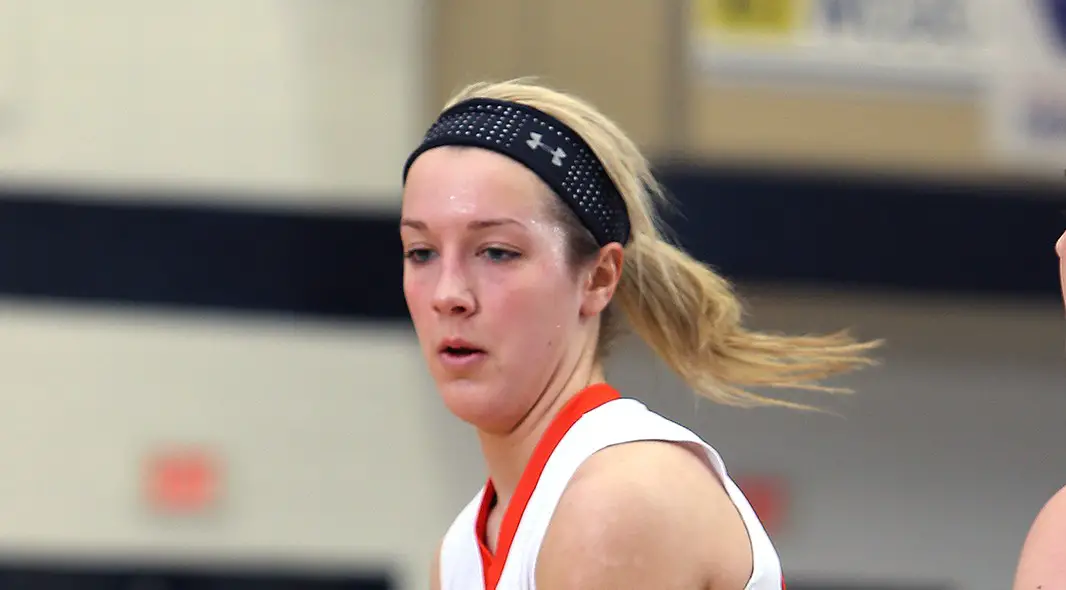 By Chris Rossetti
CLARION, Pa. – Sometimes a great effort goes unrewarded.
And that is basically what happened to the Clarion girls' basketball team and its star player Maci Thornton in a 40-39 loss to Bishop Carroll in the opening round of the PIAA Class A girls' basketball playoffs Saturday afternoon at Clarion University's Tippin Gym.
Thornton had done everything in her power to will the Lady Cats (15-12) to victory scoring a game-high 25 points to go with 11 rebounds, two steals, two assists and a blocked shot.
And when the senior guard got open on an inbounds play with just over five seconds to play and her team down two, it seemed only natural the basketball gods would reward her with a bucket, a foul and a game-winning free throw.
But alas, those basketball gods weren't rooting for Clarion Saturday.
First, Thornton's layup was off the mark. But no worries, she was going to the line with 5.9 seconds left and a chance to tie the game with a pair of free throws.
Expect the first charity shot clanged off the rim and to the side of the hoop leaving Clarion still down two.
But Thornton shook off the disappointment and hit the second one ensuring that the game remained a one possession game.
The same basketball gods who had just seemingly dashed the hopes of the hometown girls, then gave a little life back when Bishop Carroll's Lea Sammarco missed two free throws with 4.2 seconds to play.
Anna Reed grabbed the rebound for Clarion, pushed the ball down court and took a desperation shot that for oh one short second seemed like it was going to bounce high into the air and then back through the hoop for the game-winning basket.
A celebration, though, wasn't to be for the Lady Cats, as instead of the ball falling through the hoop it went off to the side setting off a celebration on the other bench.
And it was a well-deserved celebration for the Lady Huskies (19-6), the third-place team out of District 6, as they overcame an eight-point deficit, 31-23, going to the fourth quarter and somehow escaped a scoreless second quarter that had put them down 16-12 at halftime.
Bishop Carroll started the final eight minutes on a 13-2 run that gave the Huskies their first lead since early in the second quarter, 36-33, on a Sammarco 3-pointer with 2:32 to play.
Thornton tried to rally Clarion netting the Lady Cats first basket of the final quarter on a jumper with 48 seconds left in the quarter – Clarion was 0-for-7 in the frame up to that point – to close the gap to one, 36-35.
But Britt Kurg hit a free throw then got her own offensive rebound off a missed charity shot before Sammarco hit two freebies to put Bishop Carroll up four, 39-35, with just over 30 seconds to play.
Nicki Glenn, who hadn't connected on a shot all day, finally buried one from the far corner with 18.3 seconds left to close the gap to one again, 39-38, before Krug hit one of two free throws with 17.1 left to put the Huskies back up a deuce.
Glenn then nearly won the game for Clarion with a triple with 6.7 left, but the shot was off the mark. The rebound, however, was off a Huskie player giving Clarion another shot that Thornton nearly capitalized on.
Emily Kutskel led a balanced Bishop Carroll effort with 10 points, seven rebounds and three blocked shots. Krug added seven points, 10 rebounds, five steals, two blocks and two assist, while Courtney Link had nine tallies on three 3-pointers to go with five rebounds and Sammarco chipped in with eight points.
BISHOP CARROLL 40, CLARION 39
Score by Quarters
Bishop Carroll 12 0 11 17 – 40
Clarion 10 6 15 8 – 39
Bishop Carroll – 40
Alyssa Martinazzi 1-12 1-2 4, Adison Divido 0-1 0-0 0, Courtney Link 3-4 0-0 9, Lea Sammarco 2-0 2-4 8, Emily Kutskel 4-4 2-4 10, Alivia Borlie 0-0 0-2 0, Britt Krug 1-7 5-9 7, Faith Blake 1-4 0-0 2, Emma Simmons 0-0 0-0 0. Totals 12-41 10-21 40.
Clarion – 39
Gloria Kroh 1-3 3-4 5, Anna Reed 1-7 1-2 3, Lauren Wiser 0-2 0-0 0, Nicki Glenn 1-6 2-2 5, Maci Thornton 9-20 6-8 25, Julie Kenneson 0-1 0-0 0, Alexis Constantino 0-0 0-0 0, Maya Thornton 0-0 0-0 0, Kelly Beveridge 02 0-0 0, Maddy Weaver 0-0 1-2 1. Totals 12-41 13-18 39.
Three-pointers – Bishop Carroll 6-19 (Link 3-4, Sammarco 2-8, Martinazzi 1-7). Clarion 2-14 (Glenn 1-3, Maci Thornton 107, Wiser 0-1, Beveridge 0-1, Reed 0-2).