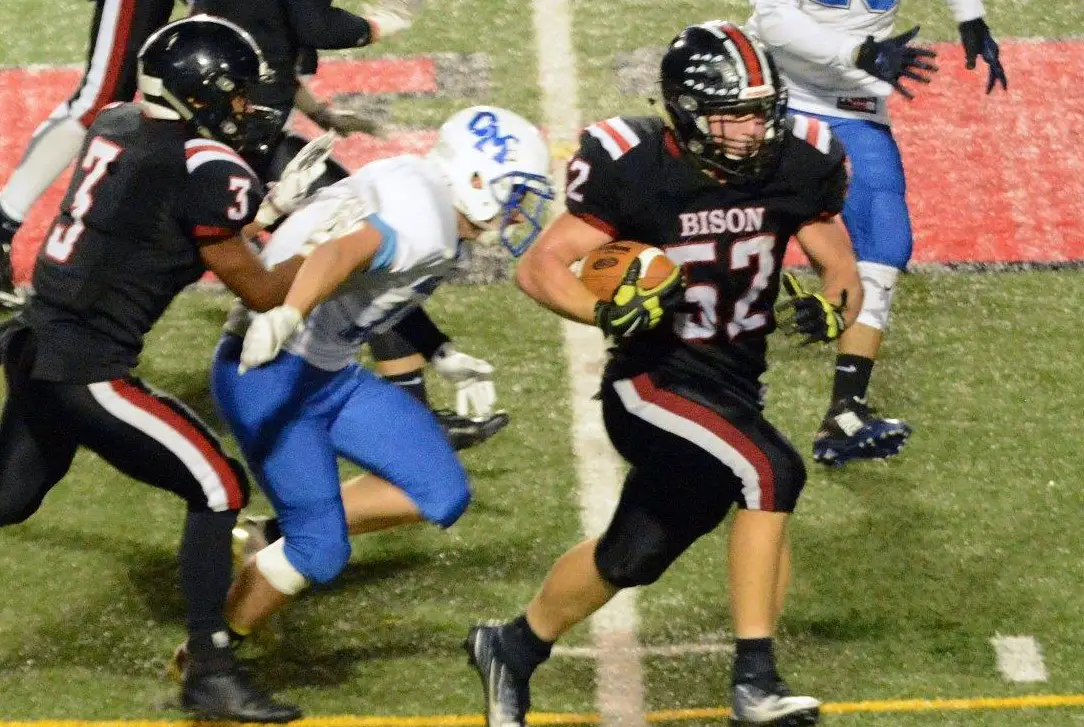 Clearfield Stats; Johnstown Stats
HOLLIDAYSBURG — Perennial playoff foes, the Clearfield Bison and Johnstown Trojans square off for the sixth time in seven years in Friday night's District 5-6-9 Class 4A Championship game.
Matt Collins and the Clearfield Bison take on Johnstown in the District 5-6-9 Sub-Regional Championship game Friday night in Hollidaysburg (Photo by Logan Cramer III)
The one thing new in their sixth postseason matchup is the venue as they'll kick it off at Hollidaysburg High School with a 7 p.m. kickoff.
Both teams are 10-1. Clearfield owns a 10-game winning streak, bouncing back after a season-opening loss to DuBois. The Bison advanced with their second win over Bellefonte this year in a 34-7 win.
Johnstown, its only loss coming to unbeaten Class 1A power Bishop Guilfoyle, blasted its way past DuBois in a 48-24 victory.
After beating the Trojans the first four playoff meetings, twice at the Bison Sports Complex and once each in Altoona and DuBois, the Bison dropped probably one of their most heart-breaking big games in program history in last year's 20-14 overtime loss at home.
The Bison led 14-0 going into the fourth quarter before the Trojans rallied to send the game to OT, then won the game on a broken play off a bad snap on a field goal try.
Tavis Price scored the game-winning touchdown and he's back as one of the team's top receivers, and so is West Virginia recruit Exree Loe, who caught a TD pass in that game.
Last week against DuBois, Loe ran for 90 yards and caught five passes for 204 yards, his TD catch off a Hail Mary play at the end of the first half giving the Trojans the lead for good. Loe headlines a Trojans roster that filled with speed, a big concern for Bison head coach Tim Janocko.
"They're big, fast and athletic and probably one of the better Johnstown teams we've seen without question," Janocko said Wednesday. "They're very athletic with speed everywhere and at this time of the year, that's what you're going to face, great teams."
And with that, the Bison must be ready out of the gate.
"Initially when you get into these games, it's how quick you react to the speed," Janocko said. "You can't wait until the second quarter. You have to be ready and we've been working on that in practice."
Loe, a 6-foot-1, 195-pound senior, initially committed to Pittsburgh, but changed his mind and switched the West Virginia earlier this fall and he'll likely be a defensive back. Statistically, Loe's numbers with the Trojans this year are admittedly modest.
Loe's caught 28 passes for 770 yards with six TDs while rushing for 120 yards on 18 carries with four TDs. Defensively, he's made 69 tackles with no interceptions and in special teams, he's returned a combined 26 punts and kicks for 332 yards.
Don't be fooled by the non-video game numbers from a Division I recruit, says Janocko.
"I don't think the stats tell the whole story," Janocko said. "He makes plays in crucial moments and he had a big catch against DuBois. The Beavers played well in the first half and should've been winning, but a play like that can take something out of you.
"They move him around. Their quarterback got hurt in the third quarter and he took over there and did some things that hurt DuBois. He's versatile.
And defensively, the Bison will know where he's at, like the rest of the Trojans' foes this year.
"Nobody is throwing at him and we expect him to probably latch on to Ryan (Lezzer), so we'll have to look at other things," Janocko added. "That doesn't mean we're not going to look at Ryan though."
The status of Trojans' quarterback, junior Austin Barber, isn't known for Friday. He's had a strong season (78-for-147, 1,751 yards, 19 TDs, 3 Ints.) with his top receivers Price (19-264, 4 TDs) and Theo Tinsley (14-311, 3 TDs). Senior Bryce Gibson (165-1,148, 13 TDs) is having a 1,000-yard rushing season, so the Trojans have some balance with their offense that goes for 344 yards per game — 185 rushing, 159 passing.
Defensively, junior linemen Shamar Jones (7.8) and Jacob Edwards (7.5) lead the team in tackles per game while Jones shares the lead in sacks at 6 1/2. Defensive back Rashaud Jordan-Mainess has a team-best four interceptions.
The Bison weigh in with a balanced offense as well at 381 yards per game — 213 rushing, 168 passing — and it's been keyed by a first-year sophomore starting quarterback Isaac Rumery and senior running back Seth Caldwell.
Rumery (96-for-178, 1,847 yards, 18 TDs, 9 Ints.) has been a dual threat running the ball as well (114-543, 4 TDs) and his coach has seen plenty of progress throughout his first year as a varsity starter.
"He's just grown leaps and bounds from that first game against DuBois and he continues to get better," Janocko said. "His physical ability was there and he competed well over the summer, so we knew the ability was there. He didn't play badly in that first game, but he was nowhere near where he's at now. He's improved."
Lezzer (37-701, 6 TDs) and Micah Heichel (35-842, 8 TDs) are Rumery's top receiving targets.
Caldwell (236-1,228, 17 TDs) is now Clearfield's second all-time leading rusher with 4,368 yards, trailing only Dave Richards (4,641) by 273 yards. He's run for two touchdowns in each of the team's last four games and at least one in all but one game this year.
"Seth has had a great season," Janocko said. "You're not going to put up 300 yards rushing in a game with our offense unless it's a fluke. He's a kid who will turn 3 into 6 or 6 into 15 yards. He has the ability that will make him an excellent college back, getting those yards inside that a college offense would need."
The Bison defense is led by linebackers Matt Collins (15.6 tpg) and Steven Sawyer (8.4). Senior lineman Hunter Bumbarger leads the team with five sacks while Lezzer's four interceptions also heads the unit that has given up 223 yards per game — 141 rushing, 82 passing.
Over the past seven games, the Bison have given up 45 points, 28 in their 35-28 victory over Karns City. For the season, they've spun three shutouts, giving up an average of 11.9 points per game.
Friday's winner advances to next week's matchup against the District 4 champion, similar to previous seasons when both teams were in Class 3A. Top-seeded Jersey Shore (8-3) hosts No. 3 seed Selinsgrove (8-3) Friday night for the district title. Despite being seeded lower, Selinsgrove won their regular-season meeting, 26-6. The winner of that game lands in the state quarterfinals Nov. 25 or 26 against either the District 1 or 11 champion.