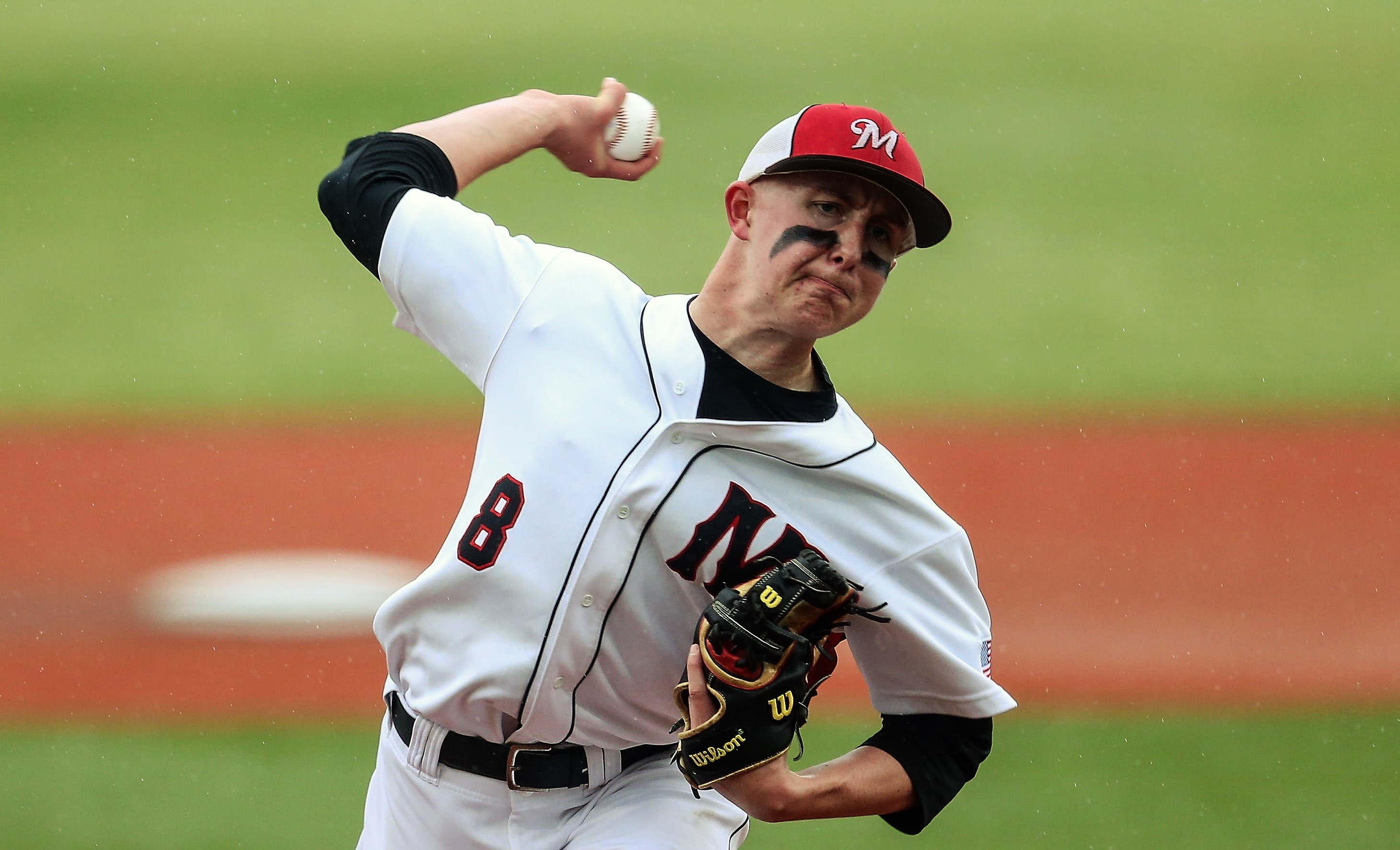 BUTLER, Pa.  – A bloody thumb wasn't going to keep Hunter Fitzingo from making sure Moniteau advanced to a District 9 baseball title game for the fifth time in six years.
(Photo of Moniteau's Hunter Fitzingo. Photo by Mike Schnelle)
Fitzingo pitched 6 ⅓ innings allowing one run on three hits and four walks while striking out 11 in a 6-1 Warriors win over Karns City at Michelle Krill Field at Historic Pullman Park in Butler despite cutting his thumb throwing a changeup to the first batter of the second inning.
"It was a curveball, and my finger slipped and it cut," Fitzingo said. "But I bandaged up. I just had to get used to it."
Fitzingo had to battle the discomfort of the injury as well as the Karns City coaching staff trying to take him out of rhythm by insisting the umpires make him change his uniform pants because of the blood.
"The ball rested right where I kept my finger," Fitzingo said. "It was kind of hard. But I just had to work through it and get out of that uncomfortable zone."
The only time the injury really seemed to affect the Moniteau senior right-hander was in the second inning when he walked Jake Weckerly leading off the inning – it was a pitch to Weckerly that caused the injury – and then gave up back-to-back singles to Ty Belles and Josh Wimer that cut an early 2-0 Warriors lead to 2-1.
"It honestly affected me that one batter (the walk to Weckerly," Fitzingo said. "(There) was so much blood on the ball, and I just sailed it and walked the guy."
Watch Fitzingo's complete interview.
Fitzingo worked out of the jam thanks to some help from his catcher, Jared Lominski, who picked off Belles at second base on a bang-bang play that had Karns City manager Josh Smith out for a long discussion with the second base umpire to no avail, and a pair of strikeouts.
But after giving up the two hits in the second, Fitzingo didn't allow another hit until the final batter he faced in the game, Cameron Blair, who doubled to center.
"I have been in this position for three years, ever since I have actually been starting," Fitzingo said. "I just felt comfortable coming out in big games, especially this one against Karns City because I know I have the defense behind to back me up."
Starting with the strikeout of Blair in the second inning with the runners on first and second and no outs before the Lominski pick off, Fitzingo retired six in a row and 15 of the next 18 batters he faced.
He needed to considering Moniteau was clinging to a two-run lead.
The Warriors scored twice in the first inning on an RBI single to center by Lominski and a bases-loaded walk to Mason Mershimer and had the bases still loaded with one out.
But Steve O'Donnell struck out Tanner Williams and Nathan Tack, both looking, to escape the jam.
Moniteau did get the run that it gave up in the second back in the third when Lominski, who was 2-for-4, tripled and scored on a sac fly to center by Tyler McFadden, one of two sacrifice flies in the game for the Warriors.
Still, O'Donnell settled down after the first inning and kept the Gremlins in the game until the sixth when Moniteau added to its lead by scoring three times.
The first run was a gift run, as O'Donnell struck out Williams for the second time in the game. But the ball was in the dirt and got away from Weckerly, the Karns City catcher, whose throw to first was high and wild allowing Williams to go all the way to third.
Tack then lofted a sac fly to center to make it 4-1.
An out later, with two outs, Fitzingo and Chance Nagy had back-to-back doubles – Fitzingo's nearly cleared the fence out in left field over 345 feet from home plate – to make it 5-1 and end O'Donnell's day.
Fitzingo was 2-for-4 in the game with his courtesy runner Luke Pry scoring twice.
"I felt really good (at the plate)," Fitzingo said. "I was really comfortable in the batter's box. Probably one of the most comfortable I have been all year. I just felt good, seeing the ball real well."
Gage Neal, who was also 2-for-4 in the contest, greeted reliever Colton Hutchinson with a base hit to center to score Nagy and make it 6-1.
"It was huge," Fitzingo said of adding on. "I know, especially coming in there, if it would be a close game the jitters would be up. (With) guys on base, you would just be so nervous. But that is not what happened. We put runs on the board, and (Gage) came in calm and collected and threw a good game."
The good game Fitzingo was referring to was Neal striking ou both Tanner Schaffner and Hutchinson to close out the win after he took over for Fitzingo. Tanner Schaffner, a senior, pinch hit for his brother, Colton Schaffner, a sophomore, on the insistence of his younger brother.
Monitea, which claimed last year's District 5-9 Class 3A title with a 2-1 win over Chestnut Ridgway, will return to the 2A championship game for the first time since winning the 2A title in 2016 when it faces the winner of the Coudersport vs. Johnsonburg game Tuesday, May 28, at Showers Field in DuBois.
Coudersport and Johnsonburg were supposed to play Thursday in St. Marys but that game was postponed until Friday because of weather.
Moniteau also lost District 9 Class 2A title games in 2013 and 2014 to Karns City and in 2015 to Cranberry before beating Karns City for the 2A title in 2016.
MONITEAU 6, KARNS CITY 1
Score by Innings
Karns City 010 000 0 – 1
Moniteau 201 003 x – 6
KARNS CITY – 1
Steve O'Donnell p/3b 2000, Josh Whitmire lf 3000, Tyler Yough dh 3000, Cole Sherwin ss 0000, Jake Weckerly c 1100, Ty Belles 3b/cf 3010, Josh Wimer 1b 2011, Cameron Blair rf 3010, Conner Schaffner 2b 2000, Tanner Schaffner cr/ph 1000, Colton Hutchinson cf/p 3000. Totals 23-1-3-1.
MONITEAU – 6
Hunter Fitzingo p/ss 4020, Luke Pry cr 0200, Chance Nagy cf 3121, Gage Neal ss/p 4121, Jared Lominski c 4121, Tyler McFadden 1b 1001, Mason Mershimer dh 2001, Dean Hershey 3b 0000, Tanner Williams 2b 3100, Nathan Tack rf 2001, Lee DeMatteis lf 3010. Totals 26-6-9-6.
LOB: Karns City 5. Moniteau 6. Errors: Karns City 2. Moniteau 0. 2B: Blair, Fitzingo, Nagy. 3B: Lominsky. SB: Nagy, Lominski. PO: Belles (by Lominski). DP: Karns City 1 (Belles to Conner Schaffner to Wimer). SF: McFadden, Tack.
PITCHING
Karns CIty
Steve O'Donnell 5 ⅔ IP, 8 H, 6 R, 5 ER, 3 BB, 3 K
Colton Hutchinson ⅓ IP, 1 H. 0 R, 0 ER, 0 BB, 1 K
TOTALS: 6 IP, 9 H, 6 R, 5 ER, 3 BB, 4 K
Moniteau
Hunter Fitzingo 6 ⅓ IP, 3 H, 1 R, 1 ER, 4 BB, 11 K
Gage Neal ⅔ IP, 0 H, 0 R, 0 ER, 0 BB, 2 K
TOTALS: 7 IP, 3 H, 1 R, 1 ER, 4 BB, 13 K
Winning pitcher: Fitzingo
Losing pitcher: O'Donnell