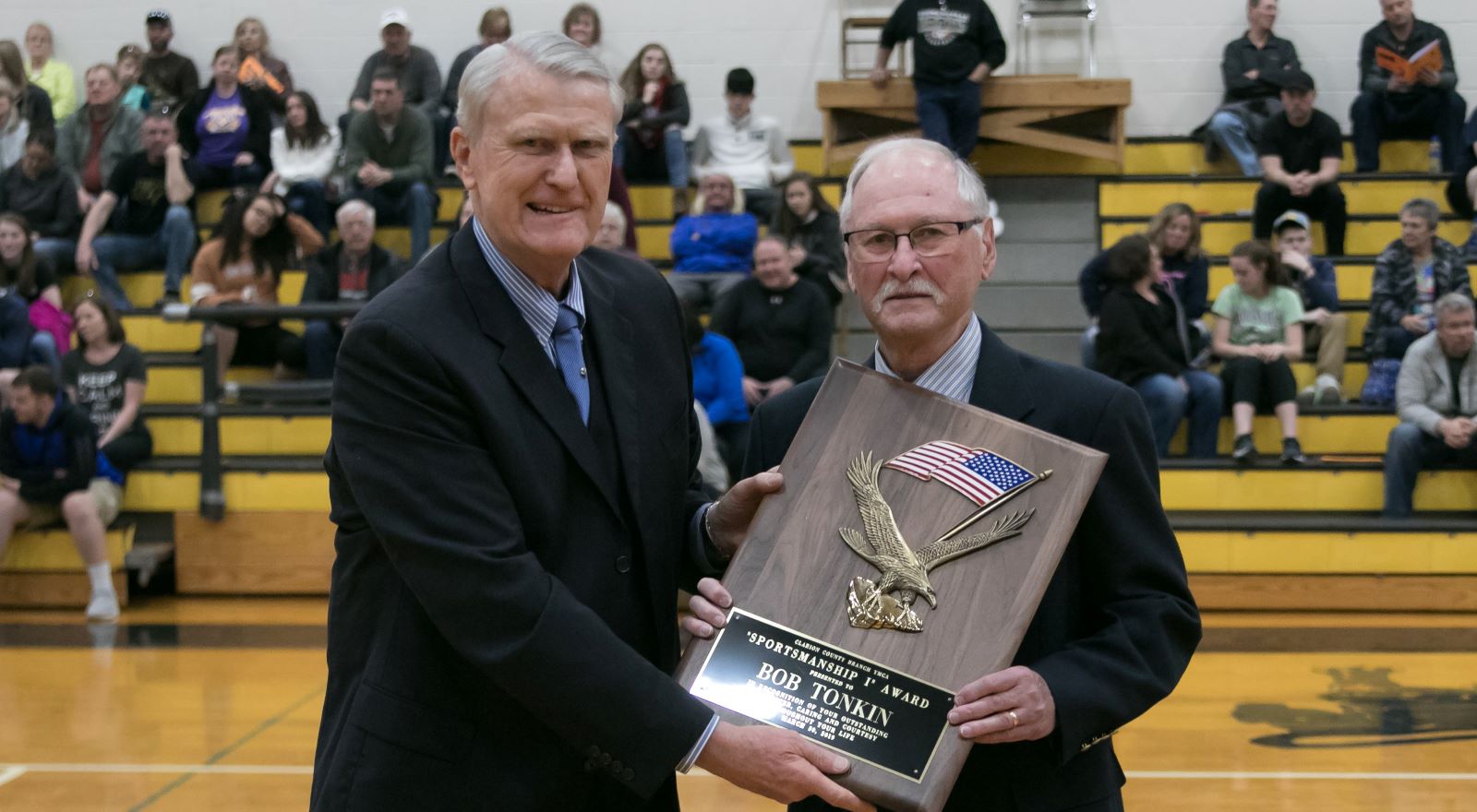 KNOX, Pa. – Bob Tonkin was named Clarion County YMCA Sportsperson of the Year in Western Pennsylvania at the Clarion County YMCA Sportsmanship 1 All-Star Basketball games held March 30 at Keystone High School.
(Photo: Bob Tonkin (right) with game director Norb Baschnagel at the Sportsmanship 1 All Star Games held March 30. Photo by Jared Bakaysa of JB Graphics. See more of Bakaysa's work here)
This prestigious award is only held by a handful of others including Bonnie Wolbert (2018), Norbert Baschnagel (2017), Dr. C. Ron Galbreath (2016), Aaron Straub (2015), Greg Heath (2014), Larry Wiser (2013), Frances Mae Shope (2012), and others who have represented the meaning of sportsmanship.
"I believe Bob Tonkin has demonstrated great organization skills, respect, and leadership skills to all players, coaches, administrators, and the community," said Norbert Baschnagel, Director of the "Sportsmanship 1" District 9 Basketball All-Star Games. "He continues to show great fairness, honesty, responsibility, and sportsmanship to our youth by increasing the classes for PIAA Championships contests to (six) and he remains committed in his work to establish level playing fields for all student-athletes in Pennsylvania
"I believe Bob is a great example of sportsmanship in our society because he always gives his best, never makes excuses, or complains, and does what is right for our players and coaches in District 9."
Tonkin graduated from West Pittston High School (now Wyoming Area High School) in 1961. Between 1961 and 1965 he attended East Stroudsburg State College and majored in geography and social studies. While there he played four years of football and was the starting center on the 1964 football team that won Pennsylvania State College Athletic Conference. In October 2012, the 1964 team was inducted into the East Stroudsburg Hall of Fame.
Bob's first professional position was teaching social studies and coaching football and track for one year at West Pittston High School. The following year he taught and coached football at Stroudsburg Area High School. His next position was teaching and coaching football and track at Newport High School. Subsequent positions were teaching and coaching football at Redbank Valley High School for four years followed by teaching and coaching football and track at Cameron County High School. Also while living in Emporium, Pa., he coached football at St. Marys Area High School for many years. Twice Bob was selected to coach the Big 30 All-Star Football game between Pennsylvania and New York. He also officiated PIAA basketball for 18 years.
Tonkin's last professional move was to Brookville Area High School where he taught social studies and coached football and track for two years. Then he served as the athletic director at Brookville Area High School for 15 years. While serving as the athletic director he was a member of the Pennsylvania State Athletic Directors Association. In 2000, he was fortunate to be selected the Region III Athletic Director of the Year.
In 1986, Bob was elected to serve on the PIAA District 9 Committee. While no longer on the committee proper, he still serves as the District 9 football and track and field chairman, as well as, the District 9 Secretary/Treasurer. Between 2008 and 2009 he served as the Junior High/Middle School Representative on the PIAA Board of Directors. He continues to serve on the PIAA Football and Track and Field Steering Committees. One great accomplishment was to increase the number of classes for PIAA championship contests. He remains committed in his work to establish "level playing fields" for all student-athletes in Pennsylvania.
Bob is married to Patty Edder Tonkin and they have three children. Michael who lives in Pittsburgh, David who lives in Springfield, Missouri, and Phyllis who lives in Knoxville, Tennessee.
The Sportsmanship Award was the 19th year for the award, which is voted on by a committee of YMCA volunteers and requires two letters of recommendation on behalf of the nominee. Candidates must be a five-year resident of Western Pennsylvania, completed a five-year career as player, coach, official or administrator, have five years of excellent volunteering within the community and must demonstrate excellence in sportsmanship, fairness, leadership, trust and integrity among many other admirable qualities.