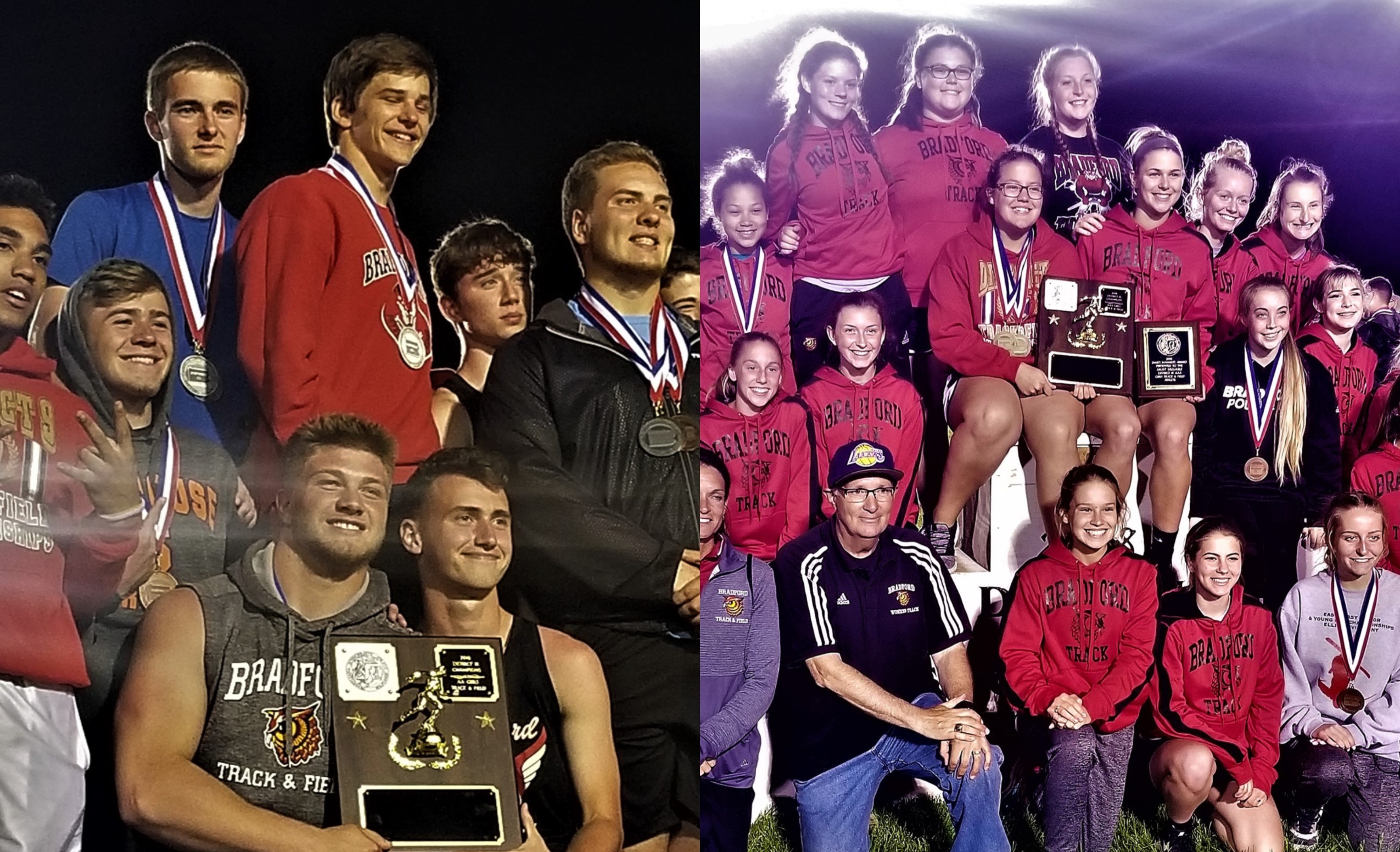 BROOKVILLE, Pa. – For the second straight year, the Bradford boys' and girls' track and field teams took home District 9 Class 3A championships Friday at Brookville High School.
Full Results • See the meet photo gallery 
The Owls boys' squad won its fourth straight title and its 19th in 20 years by taking home the four-team meet with 92.50 points. Punxsutawney was second with 78 points, DuBois was third with 57 and Clearfield was fourth with 50.50.
The Bradford girls' edged St. Marys 94-84. DuBois was third in the four-team meet with 69 points and Clearfield was fourth with 32 points.
DuBois' Jordan Meinert was the boys' James Manners Award winner as the meet's MVP winning both the high jump (6-2) and the long jump (20-6) while taking second in the triple jump (39-10 ½).
Bradford's Ashton McGriff was the girls' James Manners Award winner as the meet's MVP winning the 200-meter dash (26.24), the 300-meter hurdles (45.64) and the triple jump (34-feet) while running a leg on the District champion 4×400-meter relay team that won in a time of 4:06.93 and also consisted of Emily Bosworth, Erica Marshall and Mikah Watkins.
Only champions in each event automatically qualified for the PIAA meet.
Bradford's John Eakin was the only other individual double-winner in addition to Meinert taking home titles in the shot put with a meet-record throw of 61-6 ¾, which broke a record that had stood for 49 years (Barry Johnson of Kane 55-10 in 1969) and the discus with a throw of 147-0.
Eakin talked about his titles.
Three Punxsutawney runners won an individual title and a relay title.
Owen Bartlebaugh won the 3,200-meter run in a time of 10:07.58 and also ran a leg of the 4×800-meter relay team that won in a time of 8:28.49. He was joined on that team by Emmet Jamieson, Andrew Wehrle and Matthew Wehrle.
Matthew Wehrle actually had three golds as he ran a leg of the 4×400-meter relay with Jake Pearce, Ty Knarr and Alex Gianvito that won in a time of 3:31.90 and also won the 800-meter run in a time of 2:02.18, while Antonio Stello was joined on the 4×100-meter relay team that won in a time of 43.70 by Pearce, Gianvito and Bayen Lyle.
Stello also ended up winning the 100-meter dash, although there was a bit of a hiccup with results from that race.
At the line, it appeared Stello had edged DuBois' Kenny Garvey by a nose, but Garvey was declared the winner and given the gold medal on the podium with Stello given the silver. But about an hour later, it was discovered Stello actually won the race in a time of 11.61 to Garvey's 11.65 and a new medal ceremony was held for those two.
Stello, who unbelievable was running on a torn ACL, talked about the belated victory.
Garvey didn't go home empty handed winning the 200-meter dash in a time of 23:49.
Clearfield had three champions with Trevor Franek winning the 400-meter dash (52.18), Tayle Lynch taking home the triple jump (42-7 ¾) and Gray Yager winning the javelin (161-7).
Bradford also had champions in Logan Caruso (1,600; 4:37. 23 – he was second in the 3,200), Matthew Stafford (110-meter hurdles; 15.64), Jaron Ambrose (300-meter hurdles; 41.26) and Steven Kellam (pole vault; 12-3).
In the girls' meet, St. Marys Amanda Foster took home titles in the 800 (2:25.02) and the 1,600 (5:15.28), while Abby Coffman of Bradford won both the shot put (35-5 ½) and the javelin (102-6).
St. Marys had plenty of success on the track with Arianna Kleppinger winning the 100 (12.94), Summer Herring the 100 hurdles (16.64) and Kyla Johnson the 3,200 (11:53.89).
Kleppinger talked about her victory in the 100.
Additional champions for Bradford including Emily Bosworth in the 400 (59.84), Alexis Huber in the pole vault (8-6) and Regan Johnson in the long jump (17-1).
DuBois had winners in the high jump (Jerica Fischer; 5-0) and the discus (Crystal Clinger; 102-5).
Bradford won the 4×100 relay in a time of 51.89 with a team of Logan Sunafrank, Huber, Marshall and Johnson, while St. Marys took home the 4×800 relay in a time of 10:11.01 with a team of Tessa Grotzinger, Samantha Hayes, Kyla Johnson and Megan Quesenberry.