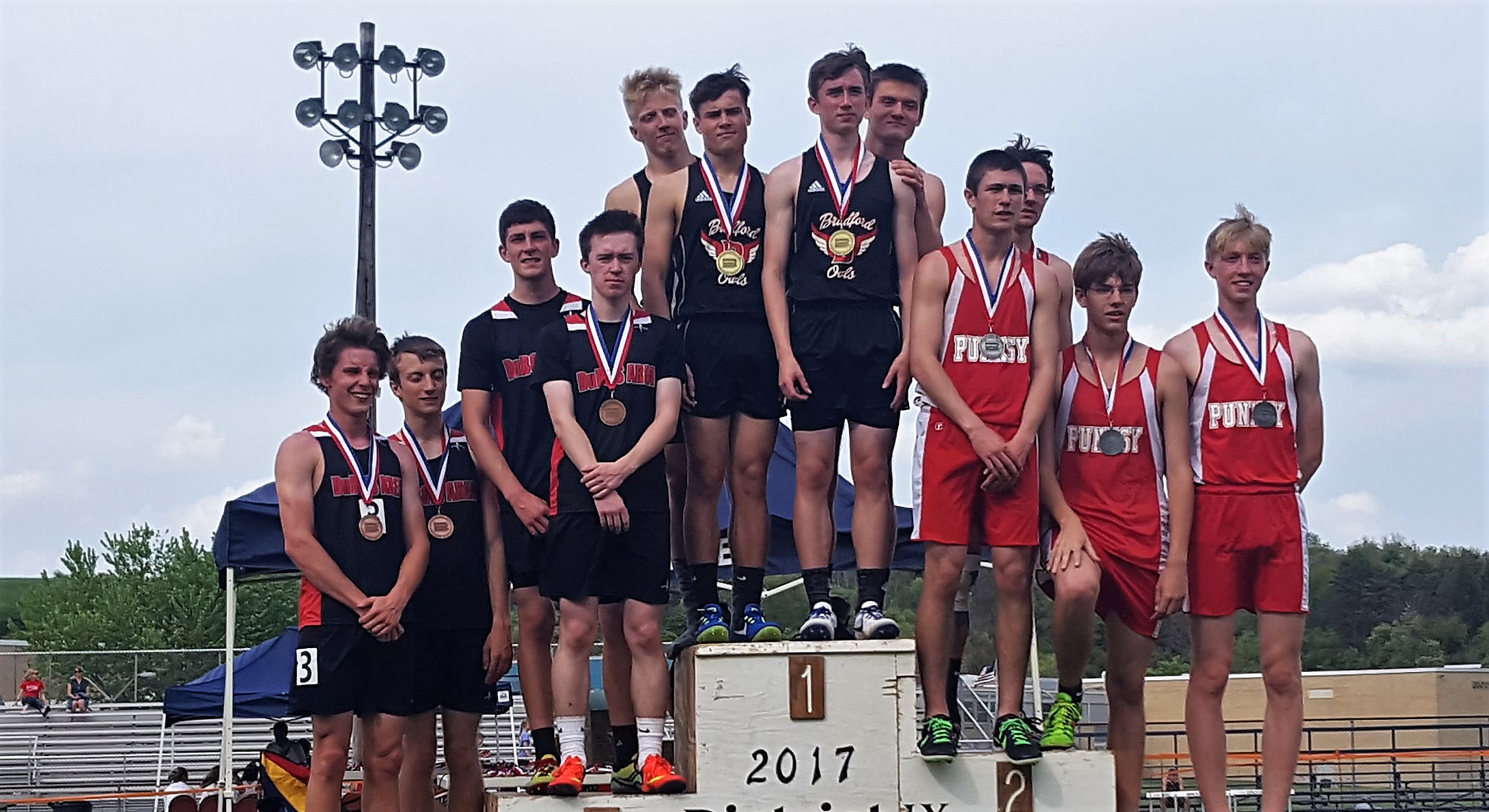 BROOKVILLE, Pa. – Winning all but two of the track events, Bradford cruised to another District 9 Class 3A boys' track and field title Wednesday at Brookville High School.
(Cover photo: The 4×800-meter relay podium)
It is the 18th time in the last 19 years the Owls are District 9 3A champions, and it wasn't close with Bradford scoring 128 points compared to 60 for second-place Punxsutawney.
Mitch Vleminckx won three individual titles while adding a relay title to his name as well to lead the Owls.
Vleminckx won the 100-meter dash (11.22), the 200-meter dash (22.67) and the long jump (21-feet, 1-inch) while running a leg on the winning 4×400-meter relay that won in a time of 3:31.24. He was joined on the relay by Tyler Kraft, Vinnie Bizzarro and Michael Bosworth.
Bizzarro also ran a leg on the championship 4×800-meter relay team (8:32.92) being joined on that won by fellow sophomores Issac Paterniti and Nathan Blauser and freshman Tyler Kraft.
The four of them talked about winning the title.
Logan Caruso and Jaron Ambrose also won a pair of titles for Bradford with Caruso taking home the 1,600-meter run (4:44.95) and the 3,200-meter run (10:09.52) and Ambrose winning the 110-meter hurdle (15.39) and the 300-meter hurdles (41.17).
Also winning individual gold for the Owls were Michael Bosworth in the 400-meter dash (52.60), Jack Kellam in the pole vault (12-9) and John Eakin in the shot put (55-1).
Clearfield had three gold-medal winners, all in the field.
David McKenzie won the high jump (6-2), Taye Lynch took the triple jump (42-7 ½) and Matthews Collins the discus (154-6).
Matthew Wehrle won Punxsutawney's lone individual gold taking home top prize in the 800-meter run in a time of 2:03.64, while the Chucks 4×100-meter relay team of Stone Smith, Jake Pearce, Alex Gianvito and Antonio Stello also took home first in a time of 44.68.
Rick Lines won the lone title for DuBois grabbing the javelin championship with a toss of 157-2.
All the champions advance to the PIAA meet. There were no other PIAA qualifiers.