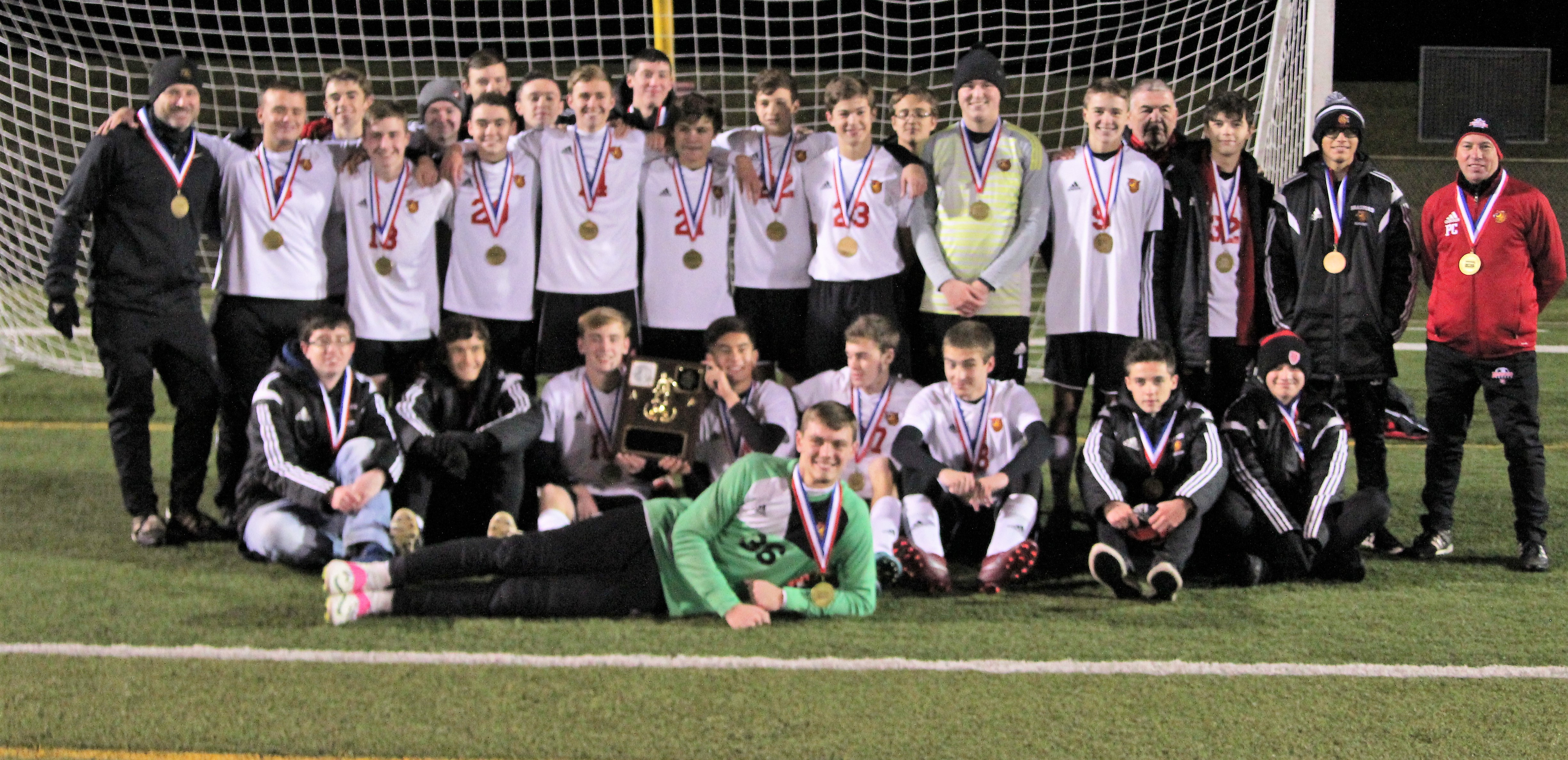 BROCKWAY, Pa. – A strong first half with goals from Colton Swanson and Cayden Sutherland helped second-seeded Bradford secure the District 9 Class 3A title with a 3-0 victory over top-seeded DuBois Monday night at Brockway's Varischetti Field.
(Photo by Jared Bakaysa of JB Graphics. See more of Bakaysa's work here)
The Owls started the game off with multiple scoring opportunities before Swanson netted the first goal at the 17th-minute mark. Swanson picked up a pass from Ian Grady at the top of the Beavers goalie box, drove down the middle and got a shot off with two defenders on him.
"I knew my team really needed a goal, so I just tried to stay composed and put it in the corner, and I was able to do that," Swanson said. "It meant a lot to me because it could bring the energy up for our team and showed us we could get through this game and have a chance of winning."
Watch more of what Swanson had to say.
With three minutes left in the half, Swanson got a free-kick from about 30 yards out along the sideline. The kick went off the post and into a group of DuBois defenders before Sutherland found the loose ball and put it in the net to give the Owls a 2-0 lead that stuck through halftime.
Nick Graeca gave the Beavers their best scoring chance in the second half with a breakaway opportunity in the 52nd minute, however, the shot was too high and went off the crossbar.
In the 59th minute, Grady was awarded a penalty kick after a DuBois defender was called for a penalty in the box. DuBois keeper Jordan Meinert couldn't contest the shot that perfectly hit the top-right corner giving the Owls a 3-0 lead.
"The combination of Ian Grady and Colton Swanson up top provided us with a lot of speed and attacking options," Bradford head coach Wes Lohrman said. "Our wide support from Ryan Miller, Isaiah Pingie and Gavin McGee allowed us to get a lot of opportunities."
Watch more of what Lohrman had to say about the victory.
Nolan Bussell got a couple chances at the end for the Beavers, which included a shot that went off the post and a shot from the middle 20 yards out that sailed over the net.
Evan Schmidt finished with five saves in net for the Owls giving him his second straight shutout in the playoffs.
Bradford moves into the PIAA playoffs where the Owls will face the WPIAL runner-up against the loser of the WPIAL title game between West Allegheny and Franklin.