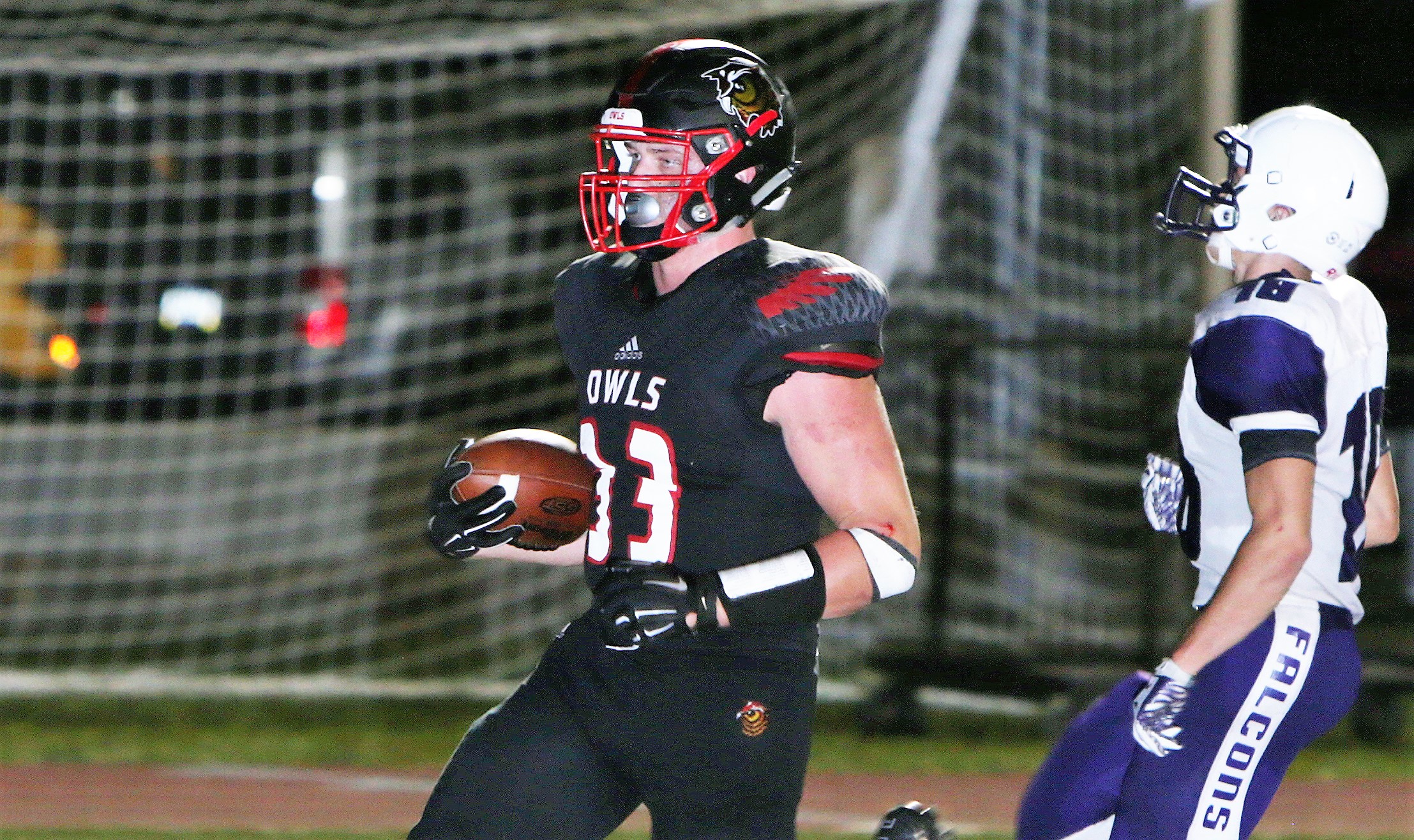 By Cory Geer
JOHNSTOWN – The Bradford Owls couldn't stop the Greater-Johnstown Trojans dual-threat quarterback Austin Barber, who scored three touchdowns, in a District 5-6-9 Class 4A semifinal matchup won by Johnstown 35-13.
(Cover photo of Bradford's John Eakin. Photo by Paul Burdick. Check out more of Burdick's work here)
Barber complete 8 of 18 passes for 95 yards and two touchdowns and added 40 yards on five carries and a touchdown.
"Barber was tough to bring down and overall we didn't tackle well and their team speed took over," Bradford head coach Jeff Puglio said.
The up-tempo offense of the Trojans was something that Puglio said he saw in District 9 play but it was the athletes on the perimeter that made the difference.
"We've seen it before, but the perimeter speed that they had is something that we haven't seen in District 9 play," Puglio said.
Johnstown put the game away before halftime scoring five times in the first half to lead 35-0 at the break putting the Mercy Rule into motion.
The Trojans first score came on a short field that had them starting at the Bradford 32-yard line. Johnstown moved the ball down the field running the football and capped off the drive with a 16-yard touchdown pass from Barner to Darrian Berkins to make it 7-0 4:20 left in the first quarter.
Bradford methodically moved the ball down the field and looked ready to answer the score, but on second-and- 7 on the Johnstown 20, Trojans defensive-lineman Shamar Jones got into the backfield for a four-yard loss to make it third-and-11. After two incompletions from Bradford QB Donny Pattison, the Trojans took over with the ball on their 24-yard line.
"It was just frustrating," Puglio said. "The things we worked on, they didn't do anything we didn't plan for. It was just the execution."
The Trojans quick-strike offense made it 14-0 on a 57-yard run from Imil Britt.
Johnstown didn't let up recovering an onside kick and made it 21-0 on a 15-yard Trevor Fields touchdown run.
The Trojans athletic defense got back to work and forced a Bradford Owls three-and-out, and with the ball on the Owls 42-yard line Barber took over, completing a pass to Britt for 14 yards then eventually running a QB-draw for a 10-yard touchdown run.
The Owls drove the ball down the field on the ensuing drive before Pattison threw an interception in Trojans territory, but Bradford defense stepped up on the second play of the drive and picked off Barber. With the ball on the Owls 16-yard line, Pattison threw three straight incompletions leading to a punt that was returned to the Bradford 18-yard line.
With 12 seconds remaining in the first half, Barber got charged with an intentional grounding penalty. With the clock running, and the ball at the 20-yard line, Barber hit Britt streaking down the seam to make it 35-0 Trojans.
In the third quarter, both teams remained off the scoreboard until Bradford's John Eakin took over. Eakin busted off scoring runs of 83 and 57 yards to make it 35-13. Eakin ended the game with 187 yards on 14 carries and two touchdowns.
"It was nice to see (Eakin) in the end zone in his final game," Puglio said. "He worked really hard for us in his final game. It was nice to see him go out that way."
Johnstown will take on Bellefonte in the title game next week. The Owls finished the season 8-3.
BELLEFONTE 62, CLEARFIELD 21
BELLEFONTE, Pa. – Bellefonte outscored visiting Clearfield 35-0 in the second half to roll to a 62-21 win.
The Bison (6-5) trailed by just six, 27-21, at the break but couldn't get on track after halftime in losing for the second time this season to the Red Raiders.
Dylan Deitrich ran for two touchdowns and threw for two more, while C.J. Funk had a pair of rushing touchdowns for Bellefonte.
Isaac Rumery threw two scores for Clearfield, including a 90-yard strike to Taye Lynch, and added a rushing touchdown.
The first-half was a back-and-forth affair with Bellefonte going up 6-0 on a 4-yard Deitrich touchdown run that was answered with a 7-yard Rumery to Spencer Graham touchdown pass to put the Bison up 7-6.
But a 21-yard run by Funk and a 17-yard scamper by Deitrich made it 19-7 Bellefonte before Rumery's 90-yard scoring pass to Lynch cut the lead to 19-14.
Funk answered with a 27-yard run to make it 27-14, but Rumery scored on a 1-yard run before halftime to close the gap to six.
But Deitrich threw a pair of touchdown passes to Stephen Kutches (47 yards and 7 yards) after the break, Dexter Gallishaw added an 11-yard scoring run, Colton Burd an 8-yard touchdown run and Cade Fortney a 65-yard pick six to blow the game open for the Red Raiders.
Rumery was 15 of 32 for 206 yards the two touchdowns and two interceptions, while also running for 31 yards and a score on nine carries. Lynch had eight catches for 164 yards and the two with Graham catching two balls for 34 yards. Brett Zattoni ran 13 times for 59 yards.
BOX SCORES
JOHNSTOWN 35, BRADFORD 13
TEAM STATS
| | | |
| --- | --- | --- |
| Bradford | Team Stats | Johnstown |
| 9 | First Downs | 14 |
| 20- 212 | Rushes-Yards | 43-260 |
| 2-18 | Passing- Yards | 9-107 |
| 2-15-2 | Comp-Att-Int | 9-21-1 |
| 230 | Total Yards | 367 |
| 0-0 | Fumbles-lost | 1-1 |
| 1-5 | Penalties-Yards | 3-25 |
| 2- 25.5 | Punts-Avg | 1-32.0 |
INV. STATS
Rushing – Bradford: John Eakin 14 carries 187 yds 2 TD, Jaron Ambrose 2 carries 16 yards, Jaron Ambrose 3 carries 21 yards, Derek Pattison 1 carry 3 yards, Derek Sudafrank 4 carries, 1 yard. Johnstown: Imil Britt 5 carries 67 yards 1 TD, Austin Barber 5 carries 40 yards 1 TD, Trevor Fields 4 carries 40 yards 1 TD, Ryan Rosiek 4 carries 23 yards, Sammy Barber 3 carries 22 yards, Bryce Yoder 8 carries 21 yards, Darrian Berkins 1 carry 20 yards, Roderick Rosiek 5 carries 10 yards, Te'shon Tisinger 2 carries 1 yard, Tishaun Carmchael 1 carry 2 yards
Passing – Bradford: D. Pattison 2-15 18 yards 2INT's Johnstown: Austin Barber 8-18, 95 yards, 2 TD Sammy Barber 1-3, 12 yards,
Receiving – Bradford: Caleb Nuzzo 2 catches 18 yards. Johnstown: Imil Britt 2 catches 34 yards touchdown , Darrian Berkins 2 catches 24 yards 1 TD, Ryan Rosiek 1 catch 19 yards 1 touchdown, Tyjon Jones 2 catch 24 yards