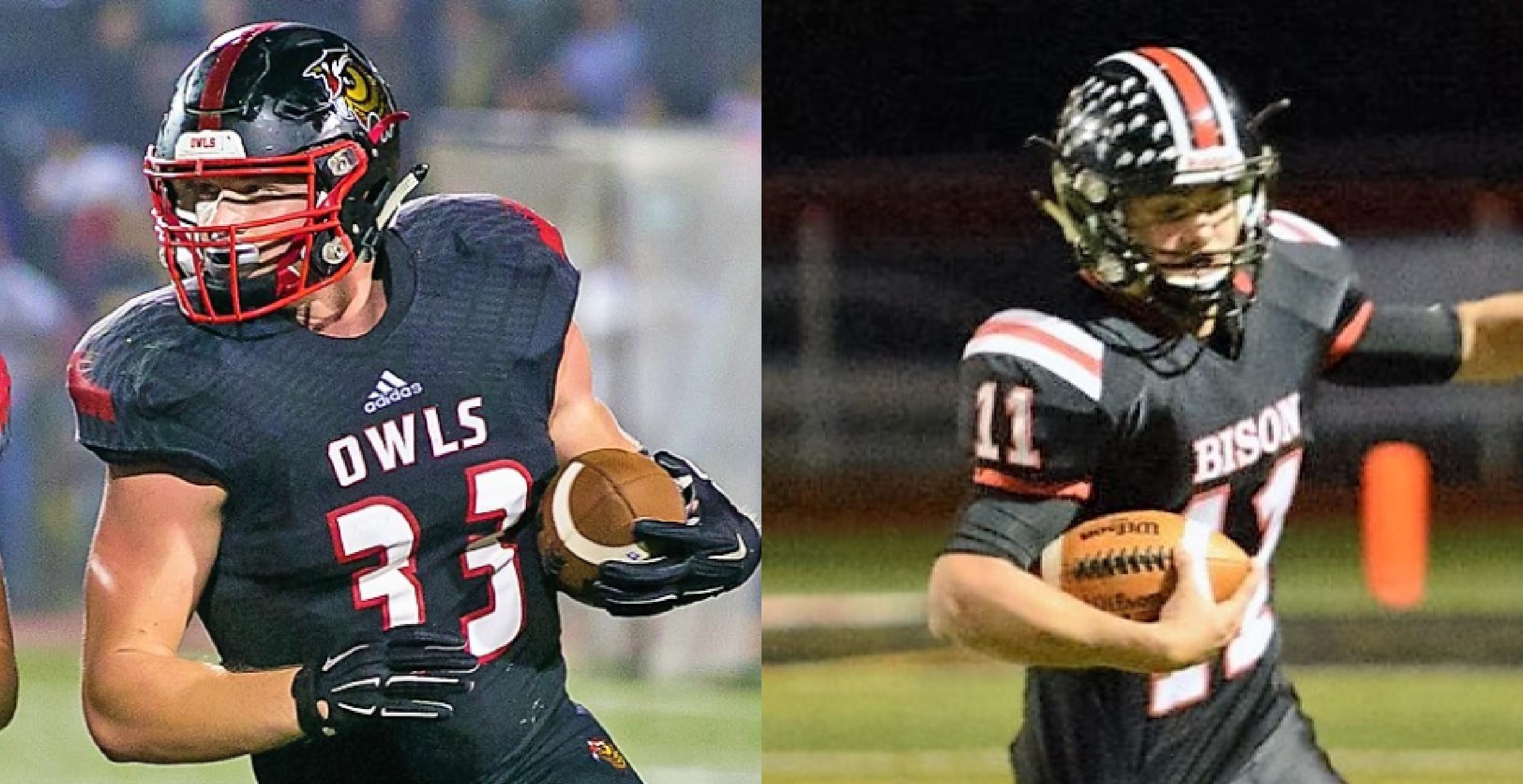 The District 5-6-9 Class 4A playoffs is a four-team bracket with semifinal games this week and a championship game next week.
Bellefonte (8-2) is the top seed and will host fourth-seeded Clearfield at 7 p.m. Friday, while Johnstown (7-3) is the second seed and will host No. 3 seed Bradford (7-2) at 7 p.m. Friday.
Here is a closer look at both games:
(4) CLEARFIELD (6-4) at (1) BELLEFONTE (8-2)
The Set Up
This is a rematch of a Sept. 29 game in Bellefonte won by the Red Raiders, 55-28. The game was close at the half with Bellefonte up 20-14 but a 21-7 third-quarter advantage broke the game open.
At 8-2, Bellefonte, which was 0-10 just four years ago in 2013, is having its best season since going 9-2 in 2005. The win over Clearfield in September was the Red Raiders first against the Bison since 2007, and Bellefonte enters the postseason having won seven of eight with the lone loss during that stretch coming two weeks ago to Chestnut Ridge, 41-21. The Red Raiders beat Bald Eagle Area 42-14 last week.
Clearfield, after losing three of four in midseason with the third loss being the one to Bellefonte, enters the postseason having won three of four including two in a row. Last week, the Bison rolled past Karns City on the road, 45-20. Still, barring winning the PIAA title, Clearfield will lose five games for the first time since going 6-5 in 2005.
In the first game between the teams, Clearfield dominated the plays (73 to 48) and threw all over the Red Raiders (356 yards) but couldn't contain Bellefonte's rushing attack with the Red Raiders running for 409 yards led by 201 from Dylan Deitrich, who ran for six touchdowns in the game. Three Isaac Rumery interceptions and a lost fumble also hurt Clearfield.
The Stats
Clearfield:
Team Passing: 243.6
Team Rushing: 169.4
Top Rushers: Ty Bender (756 yards, 3 TDs), Brett Zattoni (436, 3 TDs), Isaac Rumery (327 yards, 7 TDs)
Top Passers: Isaac Rumery (137 of 215, 2,442 yards, 31 TDs, 10 Ints)
Top Receivers: Micah Heichel (38 catches, 805 yards, 12 TDs), Jake Lezzer (28 catches, 455 yards, 4 TDs), Taye Lynch (22 catches, 444 yards, 6 TDs), Spencer Graham (24 catches, 352 yards ,4 TDs)
Top Defensive Players: Eli Glass (9.1 tackles per game), Spencer Graham (7.5 tackles per game)
Bellefonte:
Team Passing: 108.6 yards per game
Team Rushing: 280.3 yards per game
Top Rushers: Dylan Deitrich (1,268 yards, 19 TDs), Dexter Gallishaw (636 yards, 19 TDs)
Top Passers: Dylan Deitrich (62 of 113, 1,009 yards, 9 TDs, 6 Ints)
Top Receivers: Cade Fortney (30 catches, 583 yards, 8 TDs)
Top Defensive Players: Stephen Kutches (8.2 tackles per game), Dexter Gallishaw 6.0 sacks),
(3) BRADFORD (7-2) at (2) JOHNSTOWN (7-3)
The Set Up
Bradford is making its first true postseason appearance since winning the District 9 Class 3A title in 2007. The Owls did "play" for a District 9 title in both 2012 and 2013 with losing records both years falling to Clearfield. But those games were basically show contests, as District 9 3A was playing in a subregion with Districts 5, 6 and 8 those years with a qualifying system in the regular season to get into that tournament, which was the one used by the PIAA in determining its champion.
Johnstown is the reigning District 5-6-9 champion winning the first championship last year with a 26-21 win over Clearfield.
Bradford enjoyed its best regular season since going 8-2 in 2010 – unfortunately for the Owls that year two teams qualified for the D9 3A playoffs and both Clearfield and Punxsutawney were 10-0 – and enters the postseason having won two in a row with wins over the No. 1 D9 Class 1A seed Curwensville (23-14) two weeks ago and Class 2A No. 4 seed Brockway (40-20) Oct. 13.
Johnstown comes into the postseason having lost two straight including a 31-7 loss to perennial state powerhouse Bishop Guilfoyle two weeks ago and a 49-20 loss to seven-win Central Cambria last week.
The Stats
Bradford:
Team Passing: 49.7 yards per game
Team Rushing: 287.0 yards per game
Top Rushers: John Eakin (1,332 yards, 21 TDs), Jaron Ambrose (339 yards, 2 TDs), Derek Sunafrank (333 yards, 5 TDs)
Top Passers: Donny Pattison (30-for-74, 394 yards, 5 TDs, 1 Int)
Top Receivers: John Eakin (7 catches, 135 yards, 1 TD)
Top Defensive Players: Andy Pantuso (7.8 tackles per game), John Eakin (7.8 tackles per game)
Johnstown:
Team Passing: 178.5 yards per game
Team Rushing: 177.6 yards per game
Top Rushers: Trevon Fields (515 yards, 4 TDs), Austin Barber (397 yards, 11 TDs), Roderick Rosiek (307 yards, 4 TDs), Imil Britt (242 yards, 2 TDs)
Top Passers: Austin Barber (103 of 196, 1,711 yards, 19 TDs, 6 Ints)
Top Receivers: Imil Britt (27 catches, 457 yards, 5 TDs), Darrian Berkins (21 catches, 423 yards, 3 TDs), Elijah Fields (29 catches, 396 yards, 5 TDs)
Top Defensive Players: Shamar Jones (7.3 tackles per game), Imi Britt (4 interceptions), Kahari Perry (4 interceptions)