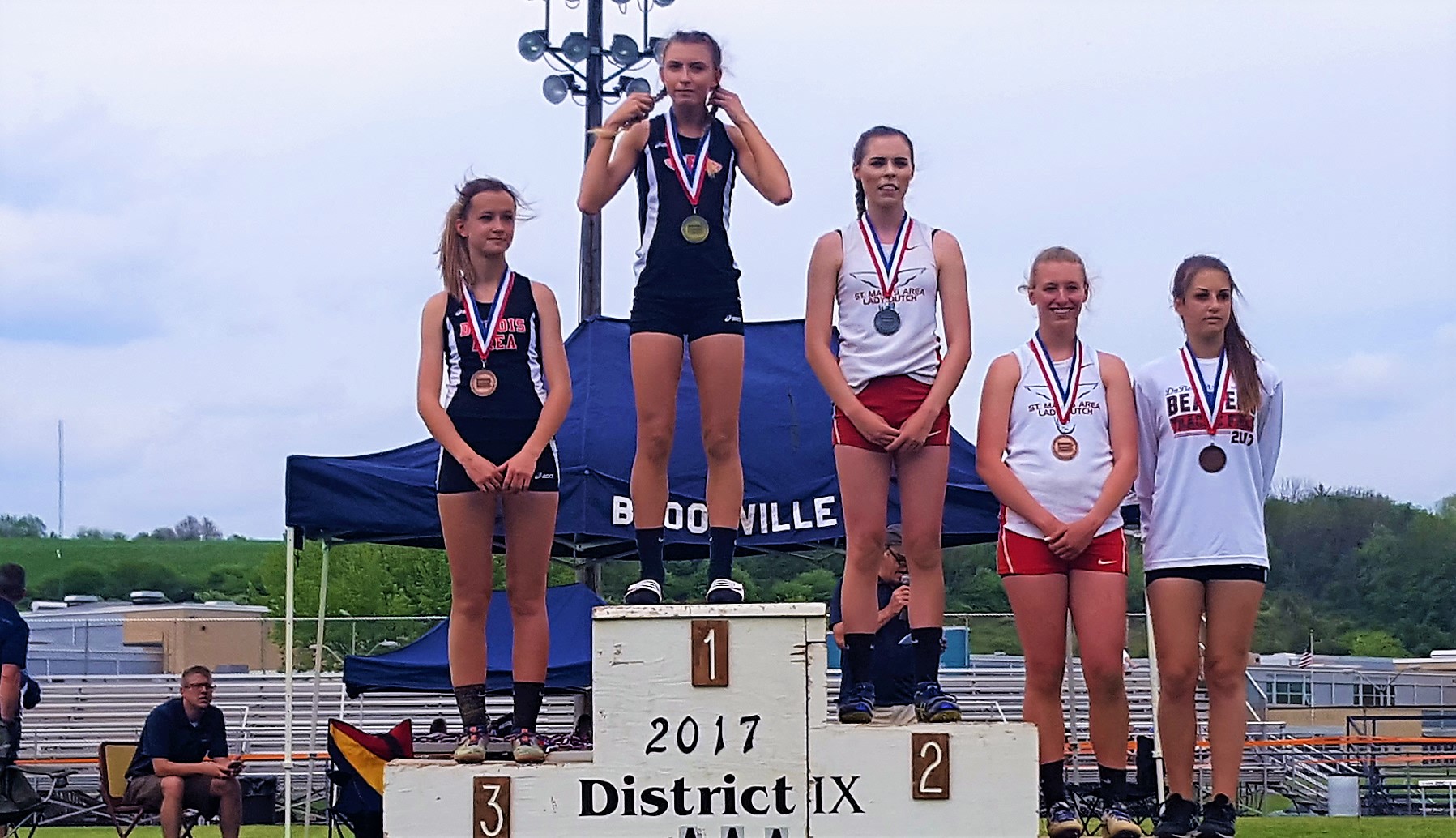 BROOKVILLE, Pa. – Ashton McGriff and Brooke McGriff both won three events to lead Bradford to the District 9 Class 3A girls' track and field championship.
(Cover photo of the place winners in the girls' long jump)
Bradford scored 99.5 points topping second-place DuBois by 16.5 points. The Lady Beavers had 83 points.
Ashton McGriff set a pair of meet records winning the 200-meter dash in a time of 25.74 and the 400-meter dash in a time of 58.62.
Both of those records were long-standing ones having been set in 1996 by Bradford's Jennifer Tessena. Tessena ran a 25.6 in the 200 and the 58.4 in the 400 with both times being handheld that year.
Ashton McGriff also won the triple jump with a leap of 33-feet, 11 ½-inches.
Brooke McGriff won the 100 hurdles (15.93), the 300 hurdles (48.04) and the pole vault (9-6).
The Lady Owls also got win from Regan Johnson in the long jump (16-2 ½) and Abby Coffman in the shot put (34-1).
Johnson talked about her victory.
Bradford also won a pair of relays taking home the 4×100-meter relay and the 4×400-meter relay.
The 4×100 team of Alexis Huber, Payton Kloss, Johnson and Mikah Watkins ran a time of 51.62, while the 4×400 team of Brooke McGriff, Watkins, Logan Sunafrank and Ashton McGriff ran 4:09.23
St. Marys' Amanda Foster won a pair of individual gold medals taking home titles in the 800-meter run (2:25.64) and the 1,600-meter run (5:16.95), while running a leg on the winning 4×800-meter relay team that won in a time of 10:10.72. She was joined in the relay by Michelle Bauer, Tessa Grotzinger and Megan Quesenberry.
Bauer set a meet record of her own in winning the 3,200-meter run in a time of 11:31.53 breaking the previous mark of 11:36.12 set in 2006 by Bradford's Sarah Lonzi.
St. Marys' Arianna Kleppinger also set a meet record in the 100-meter dash finishing in a time of 12.52 better the previous record of 12.57 set in 2014 by Bradford's Ann Confer.
DuBois had three winners in the field with Jerica Fischer winning the high jump (4-9), Crystal Clinger winning the discus (105-1) and Ashley McCluskey the javelin (136-4).
All the winners advance to the PIAA meet. There were no additional PIAA qualifiers.