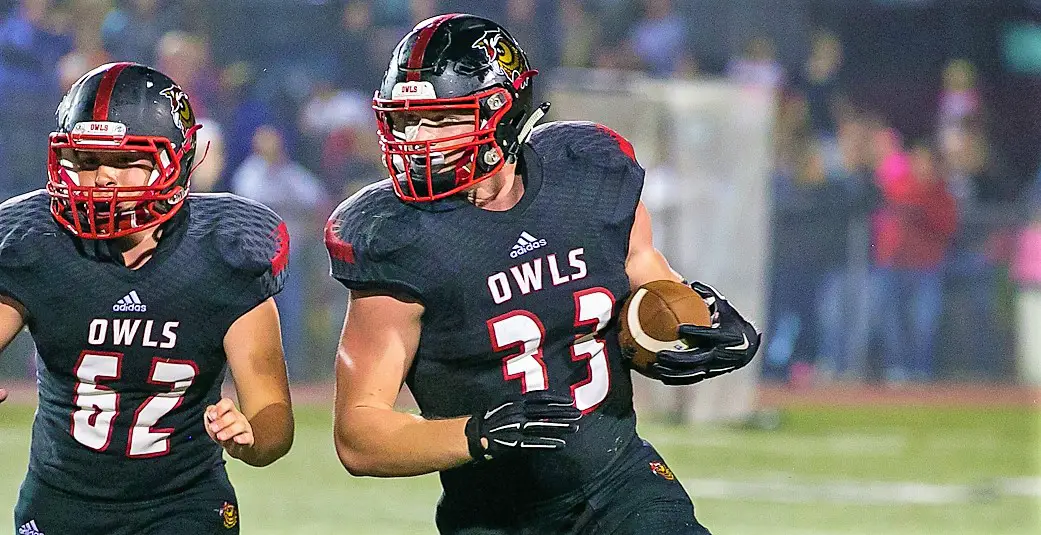 SHIPPENVILLE, Pa. – Putting his team on his back, John Eakin carried the Bradford Owls to a come-from-behind 23-14 road win over Curwensville.
(Cover Photo by Tessa Boschert. Check out more of Boschert's work here)
Eakin accounted for 191 of Bradford's 202 yards of offense on the night rushing 24 times to get to 191 and scored three touchdowns while rallying the Owls from a 14-0 deficit.  
Joining Eakin in being honored are 15 players on the District 9 Honor Roll.
The Player of the Week and Honor Roll honors will continue through the conclusion of the regular season.  
D9SPORTS.COM PLAYER OF THE WEEK
John Eakin – Bradford: 24 carries, 191 yards, 3 touchdowns; Accounted for 191 of the Owls 202 yards of offense – Bradford 23, Curwensville 14
D9SPORTS.COM HONOR ROLL
Jack Krug – Brookville: 10-for-12, 387 yards (broke own school record), 4 touchdowns – Brookville 65, St. Marys 13
Ebon Jackson – Cameron County: Intercepted 2 passes on defense – Cameron County 30, Sheffield 29
Adam Streich – Cameron County: 10-for-22, 162 yards, 2 touchdown, 1 interception; 7 carries, 17 yards, 1 touchdown; Scored the game-winning touchdown with 4:29 to play – Cameron County 30, Sheffield 29
Spencer Miller – Clarion: 7 carries, 76 yards, 4 touchdowns; 9-for-12 passing, 108 yards; Intercepted a pass on defense – Clarion 47, Union/A-C Valley 0
Riley Hummell – Clarion-Limestone: 11 carries, 106 yards, 2 touchdowns; 2 catches, 20 yards, 1 touchdown – Clarion-Limestone 64, Keystone 12
Brenden Makray – Clarion-Limestone: 7-for-11 passing, 129 yards, 3 touchdowns; 1 carry, 7 yards, 1 touchdown; Become the third player in school history with 4,000 yards passing (4,092) – Clarion-Limestone 64, Keystone 12
Isaac Rummery – Clearfield: 7-for-12 passing, 214 yards, 4 touchdowns – Clearfield 49, Philipsburg-Osceola 7
JT Stewart – Kane: 6 catches, 108 yards, 2 touchdowns; Intercepted a pass on defense – Kane 28, Brockway 17
Anthony Kamenski – Karns City: 9 carries, 24 yards, 2 touchdowns; 7-for-9 passing, 155 yards, 1 touchdown – Karns City 33, Moniteau 19
Chance Nagy – Moniteau: 17-for-27 passing, 216 yards, 3 touchdowns; 2 interceptions; 11 carries, 33 yards – Karns City 33, Moniteau 19
Dylan Close – Otto-Eldred: 11 catches, 155 yards, 1 touchdown – Otto-Eldred 32, Smethport 6
Sawyer Drummond – Otto-Eldred: 17-for-29, 231 yards, 4 touchdowns, 1 interception – Otto-Eldred 32, Smethport 6
Clint Thurston – Redbank Valley: 28 carries, 115 yards, 1 touchdown; Kicked a 27-yard field goal; Was 4-for-4 on extra points; Broke Redbank Valley's single-season touchdown record with 24; Helped head coach Ed Wasilowski to his 100th win – Redbank Valley 33, Punxsutawney 7
Josh Agudio – Sheffield: 4 catches, 1126 yards, 3 touchdowns; 13 carries, 54 yards – Cameron County 30, Sheffield 29
Cale Albaugh – Sheffield: 14-for-32 passing, 280 yards, 4 touchdowns, 2 interceptions; 7 carries, 42 yards – Cameron County 30, Sheffield 29
2017 PLAYERS OF THE WEEK
Week Zero: Jack Krug, Brookville
Week One: Clint Thurston, Redbank Valley
Week Two: Sawyer Drummond, Otto-Eldred
Week Three: Nick Stewart, Curwensville
Week Four: Dalton Beham, Karns City
Week Five: Jack Krug, Brookville
Week Six: Erik DeLong, Kane and Clay Garing, Karns City
Week Seven: Matt Miller, DuBois
Week Eight: John Eakin, Bradford
Week Nine: