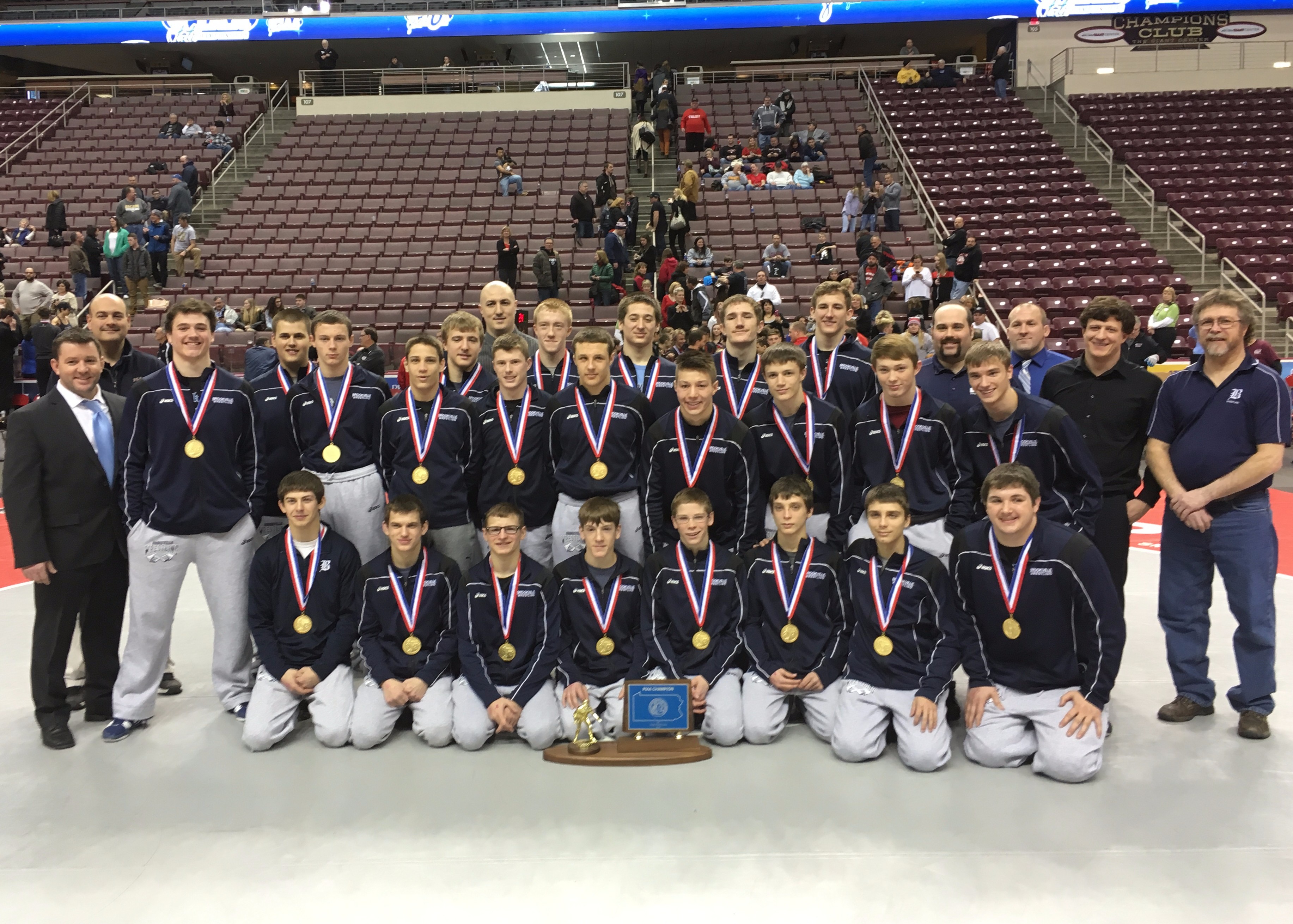 HERSHEY, Pa. – Led by pins from Gavin Park and Taylor Ortz, Brookville defeated Saucon Valley, 33-24, to win the PIAA Class AA Team Wrestling Title Saturday afternoon at the Giant Center in Hershey.
It's the second PIAA dual-meet title for Brookville, which also won the championship in 1999. It also is the 600th win in Brookville history.
"I'm real proud," Brookville head coach Dave Klepfer said. "I'm really, really proud. They went through quite a bit this year, and we just had guys step up in big-time situations. It was crazy how things went down. Our seniors carried us all year long and got it done for us. That's just a
big-time win for our program."
Park pinned Paul Miller at 113 pounds and Ortz took down Joshua Jones at 132 pounds for the Raiders falls.
Brookville also got a technical fall at 106 pounds from Keelan Kunselman, a major decision from Cole Aaron at 138 pounds and four decisions – Caleb Hetrick at 160 pounds, Dane Clever at 182 pounds, Noah Cieleski at 195 pounds and Tyler Cook at 220 pounds.
Cook's 13-11 win over Devin Fontenez 220 pounds clinched the title for the Raiders after Brookville had taken a nearly insurmountable 30-18 lead going into the next-to-the-last bout of the match meaning Saucon Valley would have need two pins and the tiebreaker to go its way to rally for the title.
Raiders react to win title
Brookville started strong taking an 11-0 lead after two matches.
Kunselman got the Raiders off on the right foot when he won a 16-0 technical fall over Nicholas Rosengrant picking up the tech fall at the 5:40 mark.
Park followed up by pinning Miller at the 3:26-mark of the 113-pound match.
Saucon Valley picked up its first two wins of the match at the next two weights – 120 and 126 pounds.
Jack Hill pinned Brodie Joiner at 120 pounds at the 1:40 mark to close the gap to 11-6. Jonah Zyck then made it 11-9 when he beat Kai Sorbin, 7-5, at 126 pounds.
Ortz and Aaron, though, restored the Brookville lead to double digits.
At 132 pounds, Ortz needed just 55 seconds to to pin Jones to move the Raiders lead to 17-9.
Aaron then won a 10-0 major decision over Jason Jones at 138 pounds to make the lead 21-9.
Saucon Valley wasn't going to give up without a fight taking decisions in three of the next four matches to close within six, 24-18.
Angelo Mahaffy got the first of those three victories for the Panthers when he eked out a 3-2 win over Zak Gilbert at 145 pounds.
Nathan Harka then won a 7-5 decision from Dominic Palmer at 152 pounds to make it 21-15.
Hetrick got a big win for Brookville at 160 pounds when he beat Dylan Yonney, 4-0, to move the Raiders leave to 24-15.
But Nate Kehs won a late 3-1 decision over Xavier Molnar at 170 pounds to get Saucon Valley within six, 24-18. The bout was tied at one with four seconds left in the third period when Molnar was hit with a stall charge giving the bout to Kehs.
Clever, though, picked up a mid-bout escape to get a 1-0 win over Blayne Hirschbeck at 182 pounds, and Cieleski then beat Devan VanViley, 6-0, at 195 pounds to put the Raiders on the verge of the title.
NOTES – After Cook's win at 220 pounds, Brookville forfeited the heavyweight match, since it wouldn't affect the outcome of the match … The Raiders finish the dual-meet season 29-0.
Results courtesy of www.pawrsl.com

Brookville 33, Saucon Valley 24
106- Keelan Kunselman , (Brookville) TF Nicholas Rosengrant , (Saucon Valley) 16-0 5:40
113- Gavin Park , (Brookville) Fall Paul Miller , (Saucon Valley) 3:26
120- Jack Hill , (Saucon Valley) Fall Brodie Joiner , (Brookville) 1:40
126- Jonah Zyck , (Saucon Valley) Dec Kai Sorbin , (Brookville) 7-5
132- Taylor Ortz , (Brookville) Fall Joshua Jones , (Saucon Valley) 0:55
138- Cole Aaron , (Brookville) Major Jason Jones , (Saucon Valley) 10-0
145- Angelo Mahaffy , (Saucon Valley) Dec Zak Gilbert , (Brookville) 3-2
152- Nathan Harka , (Saucon Valley) Dec Dominic Palmer , (Brookville) 7-5
160- Caleb Hetrick , (Brookville) Dec Dylan Yonney , (Saucon Valley) 4-0
170- Nate Kehs , (Saucon Valley) Dec Xavier Molnar , (Brookville) 3-1
182- Dane Clever , (Brookville) Dec Blayne Hirshbeck , (Saucon Valley) 1-0
195- Noah Cieleski , (Brookville) Dec Devan VanVliet , (Saucon Valley) 6-0
220- Tyler Cook , (Brookville) Dec Devin Fontenez , (Saucon Valley) 13-11
285- Trey Polak , (Saucon Valley) For , (Brookville) For