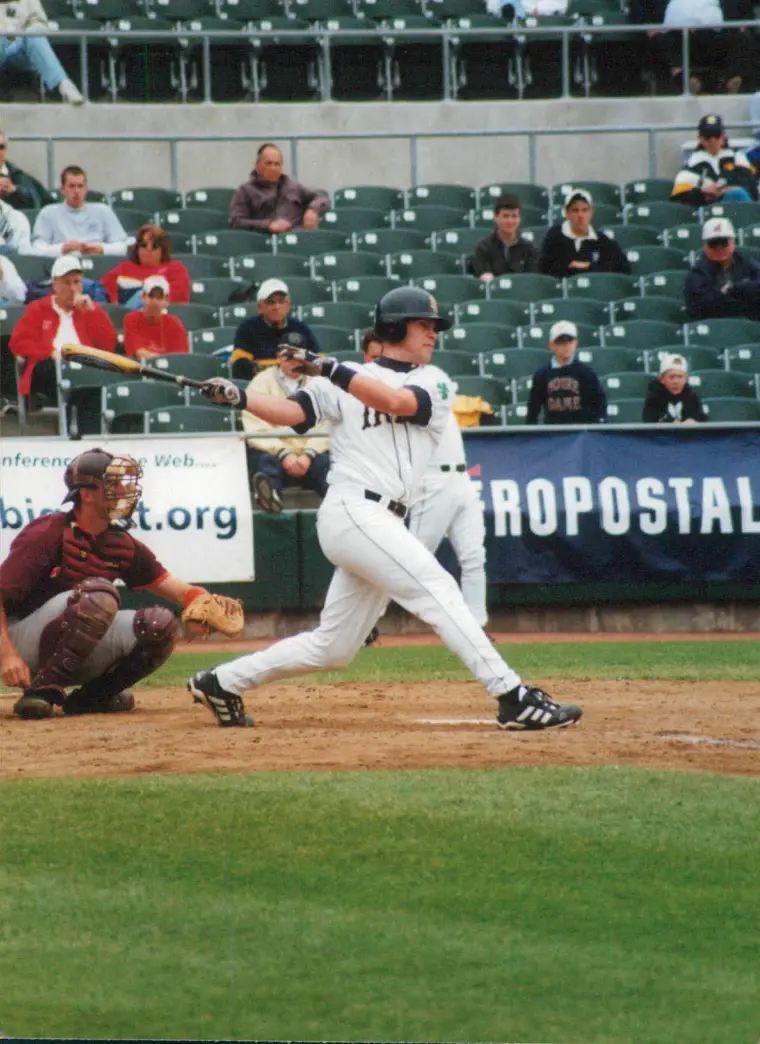 OLEAN, NY. (EYT/D9) – Just over 20 years ago, Brian Stavisky was one of the brightest stars District 9 had. Now, he is one of the brightest baseball minds the Greater Olean, N.Y. area has to offer.
(Photo courtesy of Notre Dame Athletics)
During his high school days, he became one of the greatest athletes District 9 has seen as he scored 1,948 points for the Port Allegany boys basketball team (good for sixth all-time in District 9 history) and also became a Division I baseball player for the Notre Dame Fighting Irish.
The small town kid from Port Allegany was destined to be an athlete as his father was the athletic director and a physical education teacher for the Port Allegany Area School District for many years. This Stavisky says that is what first got him both involved and interested in athletics.
"I would hang out with my dad and I was so close to the athletes and coaches," Stavisky said. "As a little kid, those high school kids were like superheroes to me. Being so close to them motivated me to be a better student and athlete. That exposure and growing up in such a tight knit community where you could identify with almost everyone in the community is what I say helped me become the student-athlete I became."
Unlike many high school athletes today, Stavisky was not involved in travel baseball or basketball organizations that seem to have taken over in the recruiting scene for college athletics, as well as in skill development. This, he says, helped him not get burnt out or sick of one specific sport. Instead, he did what most kids growing up in the 1990s did: he played sports when they were in season, played in summer leagues and pick-up basketball games, and he played American Legion baseball, which ultimately helped him get noticed, not just by college scouts, but professional ones as well.
At 6-foot-3, Stavisky had good size for District 9 basketball, but his talents as an outfielder – and especially as a hitter – would shine through. He made the decision early in his high school career that baseball was the sport he wanted to take him places.
Sure enough, the game of baseball did just that as he became a three-time MLB draft pick and a standout for the University of Notre Dame during his three years as a collegiate student-athlete.
In his final year at Notre Dame (2002), Stavisky helped lead the team from a miserable start to one of the best baseball teams in the country during the 2002 campaign. After a 9-10 start, Notre Dame went 41-8 to end the season. This was with Stavisky out of the lineup at two separate points in the season. One of these injuries included taking a 91 mph fastball to the face, which required some time to heal.
Upon his return, the Fighting Irish would continue to play their best baseball and found their way to Omaha, Neb., in the 2002 College World Series. Though they fell short of their goal of winning a national title, this ballclub still remains as one of the great ones to ever suit up for Notre Dame baseball after ending the season in the Top 10 of all Division I programs that season.
Despite the injuries his junior year of college, Stavisky managed to get drafted after the 2002 season for the third time – this time by the Oakland Athletics. As a high school senior, he decided to honor his commitment to Notre Dame, despite being drafted in the 12th round of the 1999 MLB June Amateur Draft. After his sophomore season at Notre Dame, he was able to enter the 2001 MLB Draft because of his age. In this draft, he became a 33rd round selection of the Chicago Cubs, but decided to stay in school and prepare for his junior year of college.
It became a case of "third time's the charm" for Stavisky as after his junior season with the Fighting Irish, he was picked in the sixth round of the 2002 Major League Baseball draft and elected to sign with the organization that was undergoing their "Moneyball" overhaul during this time. When it came time to sign, he was able to do so alongside former big leaguer and World Series Champion, Joe Blanton, in addition to take part in the pregame routines and warm up on that day alongside the 2002 Oakland Athletics team.
An experience like this is something that surely shines above the rest, but it was far from the end of the road for Stavisky's time as a baseball player. For nine seasons and with three different organizations (Oakland A's, Los Angeles Angels, and Philadelphia Phillies), Stavisky reached as high as the Triple A level and played in 784 games as a pro. His stats for his career across the minor leagues include a .302 batting average, 849 hits, 193 doubles, 78 home runs, 425 RBI's, and 35 stolen bases.
After the 2010 season which he spent with the Reading Phillies, Stavisky elected to retire at the age of 29 and immediately jumped into a new chapter within athletics, but this time, back at the college level.
Growing up near two colleges in Pitt-Bradford and St. Bonaventure University, Stavisky was familiar with the college landscape in the Great Olean Area. Being a former college athlete and also having a degree in Business Administration made him a great fit for compliance for the St. Bonaventure Bonnies athletic department. After a little over two years as a Bonnie, he entered into the baseball world and the business world from the college athletics realm and has worked a variety of jobs since, including a financial advisor, as a baseball instructor, and in outside ticket sales for Darien Lake.
After these experiences, he knew a role in Inside Sales would be the optimal fit for him, and he earned that opportunity with Dresser-Rand, a business under the Siemens conglomerate as an Inside Sales Analyst. October of 2021 will mark six years with the firm and earning a role like this has also allowed him to return to baseball once again. Working the typical first shift job has helped the Port Allegany native find his way back into baseball instruction. He currently serves as an instructor for youth baseball at the Cuba Youth Sports Center in Cuba, New York and had this to say about being able to impact young people in a positive way.
"It has been a really nice thing," Stavisky said. "I have thoroughly enjoyed helping kids out and giving them some direction and instruction in baseball. I really emphasize to them to work hard in school and to become even stronger in the classroom. It is just nice to be involved and to have been contacted to be a part of a place like this that can help kids improve as players and as people."
Looking back on his journey so far, Stavisky says he wishes he would have spent a little more time exploring careers when he was in his college years. For as long as he can remember, he wanted to be a professional baseball player, but he admits that after his playing days, he was unsure what life would have in store for him. While it did take some experimenting and some time to figure out his niche and place after his time as an athlete, he hopes that sharing this may help a current or future collegiate student-athlete know the importance of preparing for life after they no longer can compete.
It is safe to say that Stavisky is one of the better athletes to ever come out of District 9. He was a three-year letterwinner for Notre Dame baseball, played nine seasons as a professional athlete, and even finished his pro baseball career hitting over .300. He was a part of four championships during his time as a minor leaguer and had the opportunity to go to battle with the likes of Nelson Cruz, Mike Napoli, and Andre Eithier while also taking on stars like Stephen Strasburg and Ubaldo Jimenez as a hitter. Up until just a two years ago, there was a major leaguer on all 30 MLB teams who played with or against Stavisky.