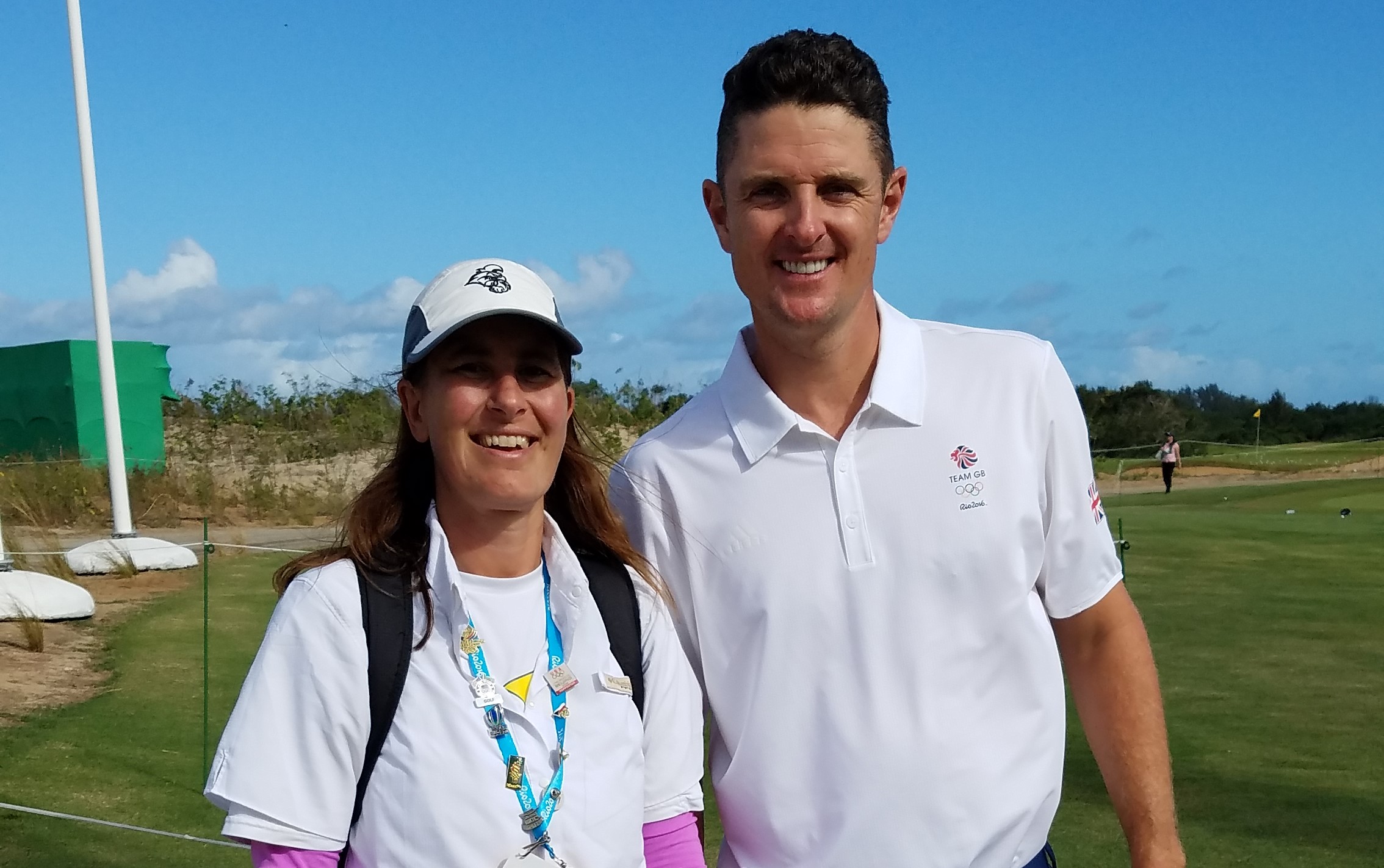 BROCKPORT, Pa. – For some, attending one Olympic Games would be considered a trip of a lifetime, but for Brockport resident, Lori Sabatose, a recent trip to Rio De Janeiro and the Summer Olympics marked her second trip to the Olympic Games in four years.
(Cover photo of Sabatose with Olympic Gold Medal winning golfer Justin Rose. Submitted photo)
Sabatose, the boys' tennis coach at Brockway High School and the manager of the Clarion University Rec Center, was part of a group from Tiffin University in Ohio that was organized by Bonnie Tiell, professor of Sports Management at Tiffin.
"After attending the 2012 London Summer Games, I found the trip to Rio as another opportunity to experience a new culture and great competition," Sabatose said. "Although the language barrier was an obstacle at times, I really enjoyed the sites and establishments through the trip."
During the trip, 15 students and three professional served as official volunteers for the games as well as attended an international sports symposium.
Sabatose said her favorite site was Sugarloaf Mountain, and some of her favorite parts of the trip were watching the United States compete in golf and tennis, watching Michael Phelps win a gold medal, viewing the United States Women's Gymnastics team compete and watching Usain Bolt qualify in the sprints.
"I was overjoyed by conversations with may of the Olympic athletes and volunteers," Sabatose said. "Exposure to such high levels of talent on such a big stage was a great part of my experience."
Sabatose said most of the people she met from Brazil were really friendly as well.
"I got to meet a ball boy from the tennis venue, and some people from OMEGA as well," Sabatose said. "Also, meeting people in communications and operations to track and field athletes to golf caddies was all very nice."
Sabatose was also grateful to Clarion University and her family for supporting her endeavors.
"This was truly a chance of a lifetime," Sabatose said. "There's no doubt my sports and recreation experiences have helped me understand the differences in diversity and cultures that make the world a better place."
Tiell has plenty of Olympics experience coordinating educational programs for groups in Athens in 2004, Beijing in 2009 and London in 2012 before this year. She is recognized for her contributions to intercollegiate athletic administration and global sports governance and collaborates with members of the World Olympians Association to supervise a humanitarian program for underprivileged youth in host cities.