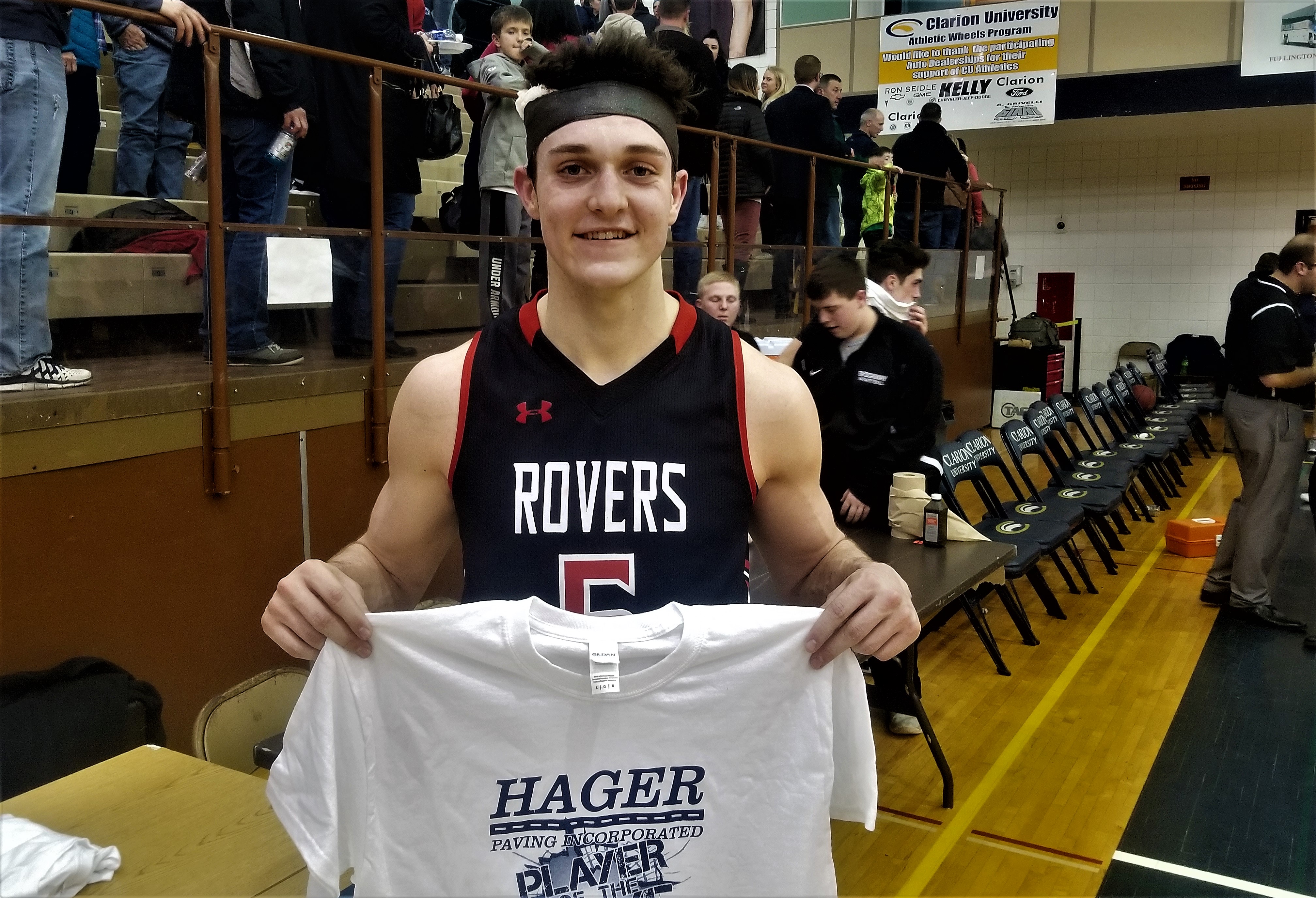 CLARION, Pa. – Brockway built a 12-point fourth-quarter lead then held off a frantic comeback from Keystone to oust the third-seeded Panthers from the District 9 Class 2A playoffs with a 46-42 win in the quarterfinals at Clarion University's Tippin Gym.
(Photo of Noah Vokes of Brockway)
The sixth-seeded Rovers (12-12) led 17-14 at halftime before using an 8-0 run in the third quarter after Keystone had tied the game at 17 to grab the lead for good.
Relisten to the game
Noah Vokes, who had left the game midway through the first quarter after a collision with a Keystone player that gave him a nasty cut to the left side of his forehead only to return later in the quarter bandaged up, scored six straight points during the run and finished the game with a double-double of 12 points and 10 rebounds.
Vokes talked about the win.
Vokes' spurt helped Brockway increase the lead to 28-23 after three quarters, and then Zane Puhala scored four points and Anthony Esposito hit a 3-pointer in the first 2:30 of the fourth quarter to increase the lead to 12, 35-23.
Still down 10, 37-27, with four minutes left Keystone tried to rally behind two quick baskets by Corey Rapp that started a 15-8 run that ended with a Rapp 3-pointer with 18.6 seconds left that cut the Brockway lead to three, 45-42.
But Keystone had trouble fouling the Rovers, and when Puhala was finally fouled with 6.4 to play he hit the second end of a double-bonus situation to put the game out of reach.
Puhala tied two Keystone players with a game-high 13 points while adding five rebounds. Carter Adams also chipped in 12 points and four boards for Brockway.
Dalton Jones and Isaak Jones both scored 13 points for Keystone (16-7) with Rapp adding nine. Nate Wingard had a team-high seven rebounds to go with three points, Max Thompson added seven rebounds and two points and Luke Hurrelbrink had six boards and two tallies.
Brockway will take on second-seeded Coudersport in the semifinals at a time, place and date to be announced.
COUDERSPORT 71, CURWENSVILLE 46
ST. MARYS, Pa. – Using a 30-point second quarter, second-seeded Coudersport blitzed seventh-seeded Curwensville, 71-46, in the District 9 Class 2A quarterfinals at St. Marys High School.
The Falcons (20-3) led by seven, 14-7, after eight minutes before outscoring the Golden Tide (11-12) 30-9 in the second quarter with freshman Hayden Keck scoring nine of his season-high 14 points in the quarter. Owen Chambers and Derek Keglovits each added five tallies in the frame.
Chambers finished with a team-high 19 points, Hunter Ricke added 13 tallies and Jared Green 11.
Josh Terry had a game-high 25 points with 12 coming in the fourth quarter with the game out of reach. Avery Francisco chipped in nine points for the Golden Tide.
Coudersport will face sixth-seeded Brockway in the semifinals at a date, time and location to be determined.
CLARION 61, CLARION-LIMESTONE 43
CLARION, Pa. – Freshman Cal German hit a pair of third-quarter 3-pointers to help Clarion break a halftime tie and beat rival Clarion-Limestone, 61-43, in the District 9 Class 2A quarterfinals at Clarion University's Tippin Gym.
Relisten to the game
The squads were deadlocked at 27 at halftime before C-L, which was playing without leading scorer Ian Callen, who is on a mission trip to the Caribbean, went cold after halftime.
The Lions (17-7), who beat Clarion twice in the regular season, missed their first 16 shots of the second half and finished the third quarter 1 of 18 from the field.
Meanwhile, German, who scored 15 points, hit a pair of triples in the quarter to help the Bobcats (17-6) take a 38-31 lead into the fourth quarter.
German talked about the win.
And despite what could have been a turning point for C-L when Clarion guard Cam Craig was whistled for a technical foul at the end of the third quarter for arguing a walk call when he was trying to get a timeout late in the third quarter – the walk wasn't called until after Craig had asked for the timeout – Clarion wasn't bothered by the possible momentum swing.
After Christian Smith, who had a team-high 15 points for C-L, hit one of two free throws off the technical, the Bobcats got a stop and Nick Frederick, a feel-good story in his own right, scored six of the game's next eight points to push Clarion's lead to 44-34 with just under six minutes left.
Frederick was taken from the Bobcats game with Keystone Jan. 29 to the hospital by ambulance after dislocating his kneecap and was expected to miss the rest of the season. But the 6-foot-3 sophomore was cleared to play this week and contributed six points and four rebounds in the win.
Cam Craig led Clarion with 16 points, including scoring the Bobcats first 13 tallies, while adding eight rebounds. Austin Hummell had a double-double with 10 points and 13 rebounds, while Spencer Miller chipped in nine points.
Hayden Callen, Ian's younger brother, had a double-double for C-L with 10 points and 10 rebounds with Deion Deas also scoring 10 points including a pair of first-quarter 3-pointers.
Clarion will face top-seeded and unbeaten Ridgway in the semifinals at a time, place and date to be determined.