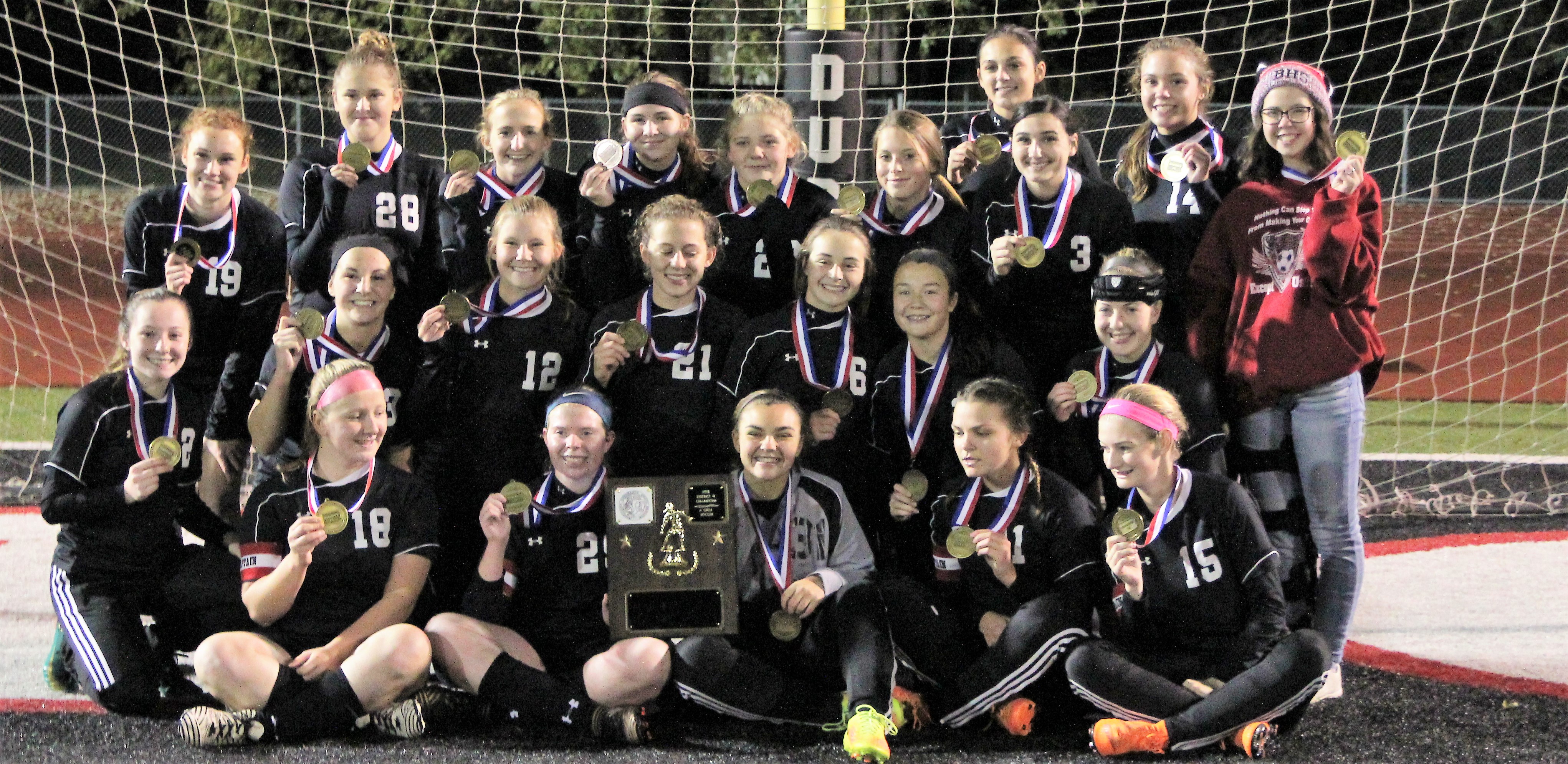 DUBOIS, Pa. – Chanell Britten and a lucky bounce helped Brockway avenge its loss to Ridgway from a year ago with a 2-0 victory over the Lady Elkers to claim the District 9 Class 1A championship Tuesday night at DuBois High School.
(Photo by Jared Bakaysa of JB Graphics. See more of Bakaysa's work here)
Britten put the Lady Rovers up 1-0 after she found the loose ball in the middle and chipped it up and over Ridgway's goalkeeper Lindsey Kocjancic in the 27th minute.
"I actually thought the ball was going out," Britten said about the first goal. "I kept going after the ball, and the way I put it across the goal it had backspin on it so it went to the far post and went in and the feeling was indescribable."
Watch more of Britten's thoughts on the victory.
Prior to the Britten goal, Ridgway looked to be in control of the game early with a couple of scoring chances and was even awarded a free kick in the 23rd minute from 20 yards out, but the kick sailed wide left of the net.
Then after getting the 1-0 lead at halftime, the Lady Rovers quickly went up 2-0 in the 42nd minute after a corner kick from Morrigan Decker bounced off a Lady Elker defender and went in on an own-goal.
"I think that corner (kick) really switched the momentum," Brockway coach Jessica Leadbetter said. "We told them it was 0-0 at halftime, they worked a lot better as a team and I just think that was a big game changer."
Brockway continued an offensive attack by getting nine shots on goal in the second half and its defense did the rest that limited Ridgway to only one shot on goal.
Despite the loss, Kocjancic finished the game with 15 saves for the Lady Elkers.
With the win, Brockway, which won the championship for the second time in three years, improved to 16-0 on the season.
"They've been working for it, this was their year to do it," Leadbetter said about bringing the District 9 title back to Brockway. "Every game they improved, I saw improvement, the fans saw improvement and they never gave up. They wanted it from last year and they got it."
Watch Leadbetter's complete thoughts on the victory.
Brockway moves into the PIAA playoffs where it will face the WPIAL runner-up, either Freedom or Bentworth, in the opening round Tuesday, Nov. 6, at a site and time to be announced.