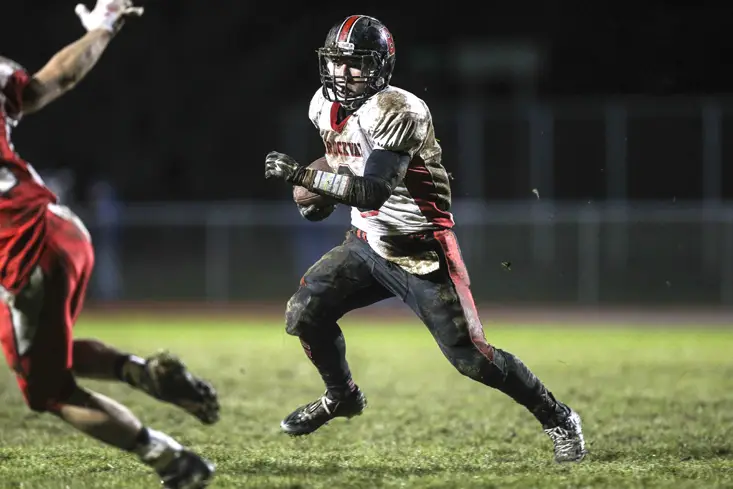 By Rich Rhoades
DuBOIS — As far as turnover ratios go, Brockway Rovers head coach Frank Zocco knew his team didn't have a good one going into Saturday afternoon's District 9 Class A matchup with Union.
You can imagine how he felt after his Rovers — minus-7 for the season before going plus-2 against Union — turned two first-quarter Union turnovers into 14 points. That turned out to be basically the difference in the Rovers' 35-22 win over the Knights at E.J. Mansell Stadium.
"We've been looking for that all year long," Zocco said. "Our turnover ratio has been bad all year and we were looking for something like that to create turnovers. And we created those two. We did a great job. We hit them and punched the ball all. It was good to see. It helped us and we were able to capitalize on it."
The win puts the Rovers in a Class A final for the first time in team history. Largely a Class AA school over the years, the 7-5 Rovers will try to win a district title for the first time since 2010 when they rolled to the Class AA title. They'll meet Kane in next week's final.
"It was a physical football game again and I felt we did a good job on the line on both sides of the ball and we came out victorious. That was awesome," Zocco said.
Anthony Isabella scored three touchdowns, running for 144 yards on 18 carries with two first-half TD runs of 13 and 38 yards. He also caught a short screen pass from quarterback Hunter Miller and raced 30 yards for a back-breaking score to put the Rovers up 28-16 with just 5:56 left in the game.
Union quarterback Lane Cicciarelli had a big game, completing 19 of 24 passes for 255 yards and three touchdowns. He threw TD passes of 41 and 56 yards in the first half to Cole Morris and Chet Carmichael respectively, the latter coming with just 12.8 seconds left before halftime to get the Knights back in the game at 21-16.
But Brockway scored on its first two possessions of the fourth quarter to put the game away, with Miller's 11-yuard TD run putting the Rovers up 35-16 with 2:08 remaining.
"The two turnovers shook us a bit, but we fought back and had opportunities," said Knights head coach Dave Louder, whose team finished 6-6.
"The defense was what stuck us in the hole today," he added. "We had opportunities to take them down for a loss and next thing you know they're getting a first down or have a huge gain. The guys were prepared; we were just missing those tackles."
After the Rovers were stopped on downs at the Knights' 31 on the game's opening drive, the Knights fumbled the ball away three plays later and Jack Glasl recovered Dugan Gallagher's fumble at the Rovers' 39.
It took the Rovers 10 plays to find the end zone on Anthony Benson's 1-yard run at the 3:26 mark of the first quarter.
Then four plays after the ensuing kickoff, Cole Morris fumbled a short pass from Carmichael and Mike Martino recovered at the Knights' 13. Isabella scored on the next play for his first touchdown.
Brockway threatened to bury Union further after forcing a Knights three-and-out by marching to the Knights' 14 before stalling with a short punt. Bottled up mostly to that point, the Union aerial attack struck on Ciccarelli's 41-yarder to Morris, who did a fine job holding on to the ball and getting into the end zone on a third-and-17 play with 3:33 left in the half.
But Brockway answered the score and went up 21-8 when Isabella came up with a big 38-yard run on fourth-and-12 with just 36.2 second left before halftime.
Still not done scoring before the break, Union scored two plays later on Cicciarelli's deep throw to Carmichael who managed to keep his feet after lunging for the catch inside the five over the burned Rovers secondary with 12.8 seconds remaining.
The successful two-point conversion got the Knights within 21-16.
Brockway's defense came up with two key stops on successive third-quarter drives by Union to set up its game-winning fourth-quarter surge. The Rovers stopped the Knights at the Rovers' 46 to start the second half, then forced them to punt from their own 40 at the end of the third quarter.
From there, a 13-play, 71-yard drive essentially put the game away as Miller's screen pass to Isabella on third-and-nine went 30 yards for the touchdown to put the Rovers up 35-16 with 5:56 left.
Union was forced to go for it from its own 15 on the ensuing possession and failed, and two plays later Miller scored on his 11-yard run with 2:08 remaining.
Cicciarelli completed five straight passes to get Union on the board in the final minute as he hit Carmichael for a 17-yard TD with 28.5 seconds on the clock.
BROCKWAY 35, UNION 22
Score By Quarters
Union                        0            16            0            6            –            22
Brockway            14            7            0            14            –            35
First Quarter
B – Anthony Benson 1 run (Jarrett Esposito kick), 3:26.
B – Anthony Isabella 13 run (Jarrett Esposito kick), 1:30.
Second Quarter
U – Cole Morris 31 pass from Lane Cicciarelli (Tyler Wiser pass from Cicciarelli), 3:33.
B – Anthony Isabella 38 run (Jarrett Esposito kick), 36.2.
U – Chet Carmichael 56 pass from Lane Cicciarelli (Cole Morris pass from Dugan Gallagher), 12.8.
Fourth Quarter
B – Anthony Isabella 30 pass from Hunter Miller (Jarrett Esposito kick), 5:56.
B – Hunter Miller 11 run (Jarrett Esposito kick), 2:08.
U – Chet Carmichael 17 pass from Lane Cicciarelli (pass failed), 28.5.
B                        U
First Downs                        16                        15
Rushes-Yards                        43-232                        26-49
Passing Yards                        44                        255
Comp-Att-Int                        7-9-0                        19-24-0
Total Yards                        276                        304
Punts-Avg                        2-23                        2-32.5
Fumbles-Lost                        2-0                        5-2
Penalties-Yards            4-26                        7-71
INDIVIDUAL STATISTICS
Rushing – Brockway: Anthony Isabella 18-144, Hunter Miller 7-38, Anthony Benson 13-34, Mike Martino 2-29, Team 3-(-13). Union: Dugan Gallagher 14-48, Casey Confer 2-6, Chet Carmichael 7-(-1), Lane Cicciarelli 7-(-1).
Passing – Brockway: Hunter Miller 6-for-8, 43 yards, 1 TD; Anthony Isabella 1-for-1, 1 yard. Union: Lane Cicciarelli 19-for-24, 255 yards, 3 TDs.
Receiving – Brockway: Anthony Isabella 2-42, Anthony Benson 3-1, Mike Martino 2-1. Union: Cole Morris 8-116, Chet Carmichael 7-95, Dugan Gallagher 2-22, Tyler Wiser 2-22.
Sacks – Brockway: Alex Verne 2, Zach Tyler, Cody McClintick. Union: Dugan Gallagher.
Punt returns – Brockway: Anthony Isabella 1-21.
Kick returns – Brockway: Troy O'Brien 1-22 Anthony Benson 1-9. Union: Casey Confer 2-11, Jack Glasl 1-11, Tyler Wiser 1-10.
Punting – Brockway: Jarrett Esposito 2-65 (long 34). Union: Cole Morris 2-46 (long 36).