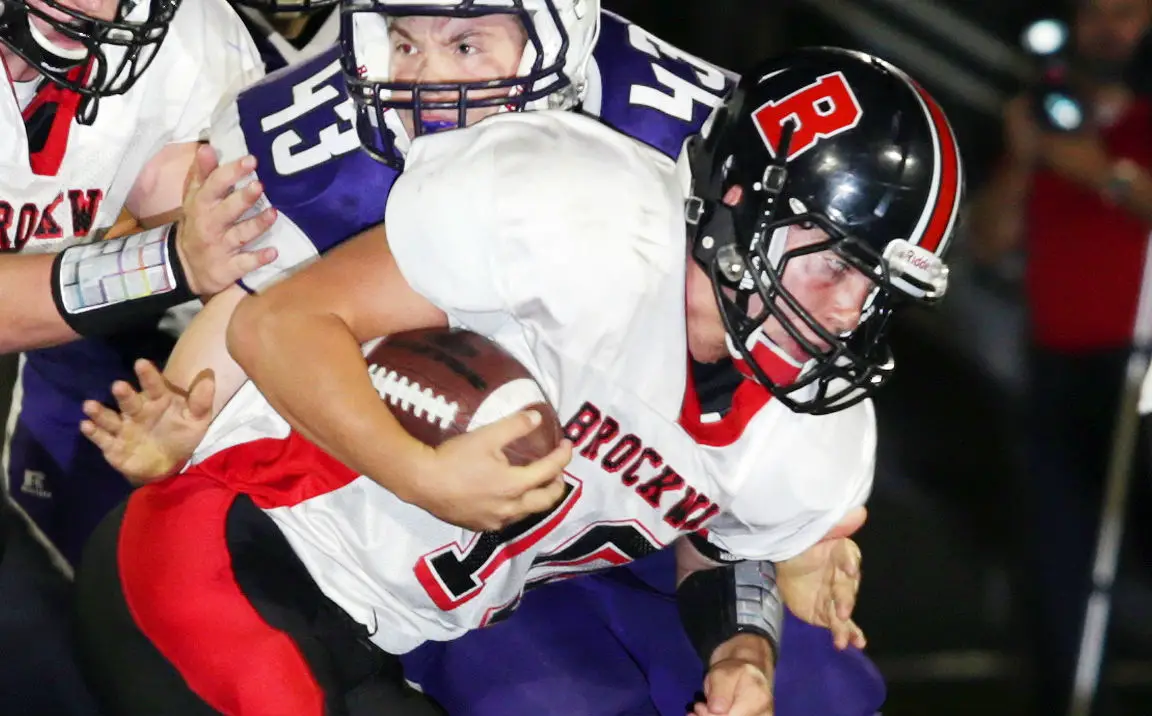 BROCKWAY, Pa. – At a lot of schools across District 9, it's not that uncommon to have an athlete or two playing multiple sports in the same season.
(Cover photo of Andrew Trunzo. Photo by Paul Burdick. Check out more of Burdick's work here)
At Brockway, though, it's becoming more and more the norm.
"Being from a small school, some of our rosters aren't very large, we are only at 20 kids this year" boys' soccer coach Rich Esposito, whose team may be at the forefront of sharing athletes, said. "Being able to share kids not only helps us out but helps the other sports out as well."
Esposito, whose Rovers earned the No. 1 seed in the upcoming District 9 1A soccer playoffs, shares players with football, cross country and golf.
Until this year, most of the football kids were just kickers on the team, but this year Andrew Trunzo is playing a key role on both offense and defense for the football team – he returned an interception for a touchdown two weeks ago and is the Rovers leading receiver – while also scoring two goals and adding a pair of assists for the soccer team.
"It's actually not too hard," Trunzo said of playing both sports. "Thanks to the coaches – (Frank) Zocco (the football coach) and Rich Esposito. They both do very well in distributing me to each side of the practices. The coaches are really calm with letting me go to whatever it is, and they don't fight over having me."
Trunzo said earning the trust of his football coaches is an important component of him doing both sports.
"Every Monday is usually a film day for football," Trunzo said. "Since I am a senior, they trust that I watch the film over the weekend. So I go to soccer every Monday, and I try to go to soccer for every game we have for soccer."
Trunzo said he enjoys being an athlete in both sports.
"I do enjoy soccer, and I do enjoy football," Trunzo said. "If I get hurt in either sport, I don't care, because I'm doing something I enjoy."
Watch the full interview with Trunzo.
While Trunzo is the only position player starting for football and playing soccer, he isn't the only key member of both teams.
Jarrett Esposito, Rich's son, is the starting kicker for the Rovers and is one of the top soccer players as well.
Jarrett Esposito, a senior, has a team-leading 20 goals in soccer and had also hit three field goals going into Friday night's game with Kane while missing just three extra points.
"It's a little different technique from soccer to football," Jarrett Esposito said. "I work on it over the summer and everything. By the time you get from one sport to another, you are use to adjusting to it."
Jarrett Esposito had help in making those adjustments watching his older brother Phil, now the kicker at Clarion University, do both sports while at Brockway.
"He helped with the time management and everything," Jarrett Esposito said. "Everything I have learned from football is from him."
Watch the full interview with Jarrett Esposito.
With Jarrett Esposito being a senior, the football program's kicking game will still be in good hands next year with Zane Puhala, who Jarrett Esposito has taken under his wing in doing both sports.
"It's really a lot different (kicking the two balls," Puhala, who has 11 goals in soccer and who had made two extra points for the football team going into Friday's night game, said. "But once you get it done, it's really simple."
Watch the full interview with Puhala.
Not all of the dual-sport soccer athletes for the Rovers are involved in football.
Angelo Inzana, who has a pair of goals for the soccer team, is also a golfer for the Rovers.
"I really enjoy golf and soccer," Inzana said. "I've been doing it since I was young. So coming into high school, I didn't want to grow up saying I did one or the other, so I decided to do both."
Inzana said he appreciates the support he gets from the school in playing both sports.
"They really strive to help students do multiple sports," Inzana said. "They want students to get involved as much as they can."
View the full interview with Inzana here.
According to Rich Esposito, having student-athletes play both sports is only possible because of the cooperation of the coaches and the support of superintendent Dan Hawkins.
"This is Mr. Hawkins' baby," Rich Esposito said. "He wants the kids at Brockway to do as much as they can. But without the coaches, it wouldn't work at all. If we didn't work together, this would never happen."
Rich Esposito said while sports are important to the school and coaches, the kids' grades are the foremost important aspect.
"We do weekly checks," Rich Esposito said. "We get a report from the athletic office every week. Even if they are struggling with one class, we get a report. We tell our kids tutors are available. If they go to tutors after school that counts as practice. If you are going to study, and we know you are there, that counts. One sport is hard enough, especially with academics nowadays with everything these kids do on the side, they have to stay on the ball. We get them as much help as we can with that."
Watch the full interview with Rich Esposito.