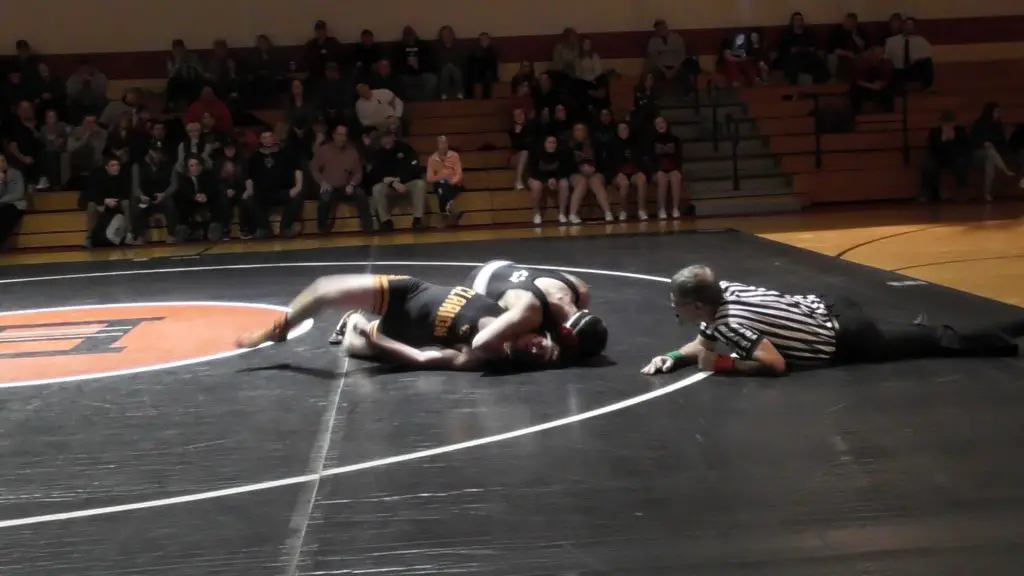 BROCKWAY, Pa. — The Brockway and Clarion High School wrestling teams both competed at last weekend's Redbank Valley Christmas Dual Tournament, but they didn't meet each other then.
(Photo: Eric Johnson, Brockway. Photo by Scott Shindledecker)
And with good reason, considering the Bobcats were set to travel to Brockway Wednesday evening for a regular season match.
When all was said and done, the host Rovers walked off the mat with a 41-15 win. It continued a strong opening for Brockway as it has already won a tournament in Bloomsburg and collected dual meet wins over Ridgway and was 5-0 at the Duals in New Bethlehem.
For the Bobcats, they were 4-1 at the Duals and were 1-1 before then with a loss to Brookville and a win over neighboring Keystone.
The match began at 220 pounds and Bobcat senior Tom Wurster got his team started off on the right foot with a 6-2 decision over Justin Smith.
Wurster's two first-period takedowns were plenty before he added another in the second period and allowed Smith just two escapes.
But after that, it was all Brockway for the next six matches that were contested on the mat.
Rover Hayden Thompson started the run with a pin in 1:02 over Matt Coleman at 285 pounds. Tanner Morelli collected a forfeit win at 106 to make it 12-3. At 113 pounds, Rover Dominic Inzana pinned Clarion's Logan Dehner in 3:59 to make it 18-3.
There was no match at 120 pounds.
At 126, Brockway's Adam Stine grabbed a forfeit win to make it 24-3, then Anthony Glasl pinned Colton Zacherl in just 1:24 at 132 to build the lead to 30-3. Glasl rolled with two takedowns and two sets of fearful points before getting the fall.
Rover junior Tino Inzana made the score 34-3 with a 12-4 major decision over Cutter Boggess at 138.
After no match at 145 pounds, Clarion senior Frank Weber got the Bobcats back on the winning track with a 4-2 win over Linkin Nichols at 152. That win started a three-match run for Clarion.
Clarion 160-pounder Nick Porciello overcame a two-point penalty for an illegal hold to beat Brockway's Bryce Grecco, 11-9.
Porciello and Grecco were tied at 5-5 after two periods of action, but the Bobcat junior had the upper hand in the third with three takedowns while allowing just escapes as he worked to continue scoring.
Clarion junior Cam Boggess finished the Bobcats win streak with a defensive pin of Andrew Hickman in 1:22. The call left many Rovers fans speechless and others yelling, but official Dick Wood was resolute in his call.
Brockway won the final two matches to set the final at 41-15.
Eric Johnson decisioned Seth Nellis, 6-1, at 182 pounds, and Garrett McClintick beat Colt Stimmell, 13-0, at 195 pounds.
Bobcats head coach Brian Luton was hopeful for a better result but took some positives from the match.
"We felt coming into the match, if we could steal a few, we'd have a shot at it, but we seemed a little flat," Luton said. "Some of the guys did some nice things and we'll keep working at it.
"I thought Tom really controlled his match, and Cam got the defensive fall. I didn't see it, but we'll take it.
"Frank came through for us in a tough match and Nick (Porciello) got five or six takedowns, so that was good.
"Fortunately, we are getting healthier. Riley McMasters will be back next match, so that will make it harder for teams to maneuver around us," Luton said.
The Bobcats return to action Tuesday, January 9 at Kane.
Brockway travels to Meadville this weekend for the Tool City Tournament.
Match Summary
BROCKWAY 41, CLARION 15
220 pounds: Tom Wurster, C, dec. Justin Smith, 6-2. (0-3)
285: Hayden Thompson, B, pinned Matt Coleman, 1:02. (6-3)
106: Tanner Morelli, B, won by fft. (12-3)
113: Dominic Inzana, B, pinned Logan Dehner, 3:59. (18-3)
120: No match
126: Adam Stine, B, won by fft. (24-3)
132: Anthony Glasl, B, pinned Colton Zacherl, 1:24. (30-3)
138: Tino Inzana, B, maj. dec. Cutter Boggess, 12-4. (34-3)
145: No match
152: Frank Weber, C, dec. Linkin Nichols, 4-2. (34-6)
160: Nick Porciello, C, dec. Bryce Grecco, 11-9. (34-9)
170: Cam Boggess, C, pinned Andrew Hickman, 1:22. (34-15)
182: Eric Johnson, B, dec. Seth Nellis, 6-1. (37-15)
195: Garrett McClintick, B, maj. dec. Colt Stimmell, 13-0. (41-15)