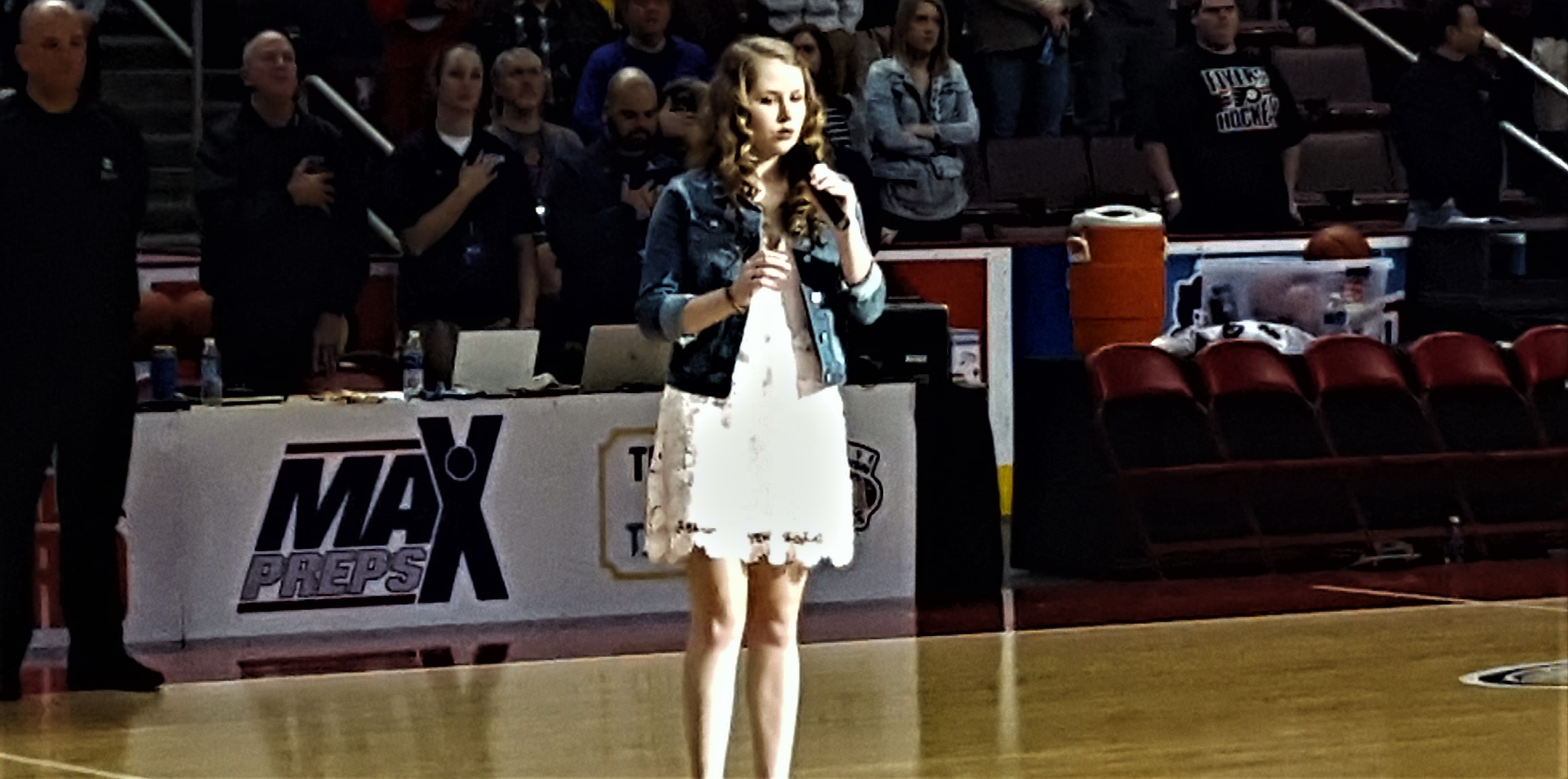 HERSHEY, Pa. – Singing in front of the biggest audience of her life, Brockway's Jordan Faith twice nailed the National Anthem at the PIAA basketball championships Friday at the Giant Center in Hershey, Pa.
"Oh my gosh, I don't even know how to put it into words," Faith, a sophomore, said after singing for the first time prior to the Lebanon Catholic vs. Juniata Valley girls' Class 1A title game. "It was great. I was so nervous, I was shaking."
Faith, who said she was less nervous prior to the second game between Constitution and Sewickley Academy in Class 2A boys, has been singing the anthem before Brockway games for the last two years, and it was her athletic director at the school, Peter Grecco, who had the idea of her singing at the state championships.
"I started singing just at my school my freshman year, and my athletic director decided he wanted to try to get me here," Faith said. "So, we have been working on it for over a year now, and it happened, and I'm here."
Faith said she found out she was singing after belting out the anthem at a Brockway home game.
"They surprised me," Faith said. "It was Cancer Night, and after I sang they had me sit down right where I was and they announced I was coming here.
"I cried. It was great. I didn't think I would get to do this until I was a senior."
Faith joins a growing list of District 9 students who have sung the anthem at the PIAA championships. Redbank Valley's Katherine Crawford sang last year, and a few years back Mackenzie Bart of Brockway also sang when the championships were in State College just to name a couple of others.
"It's huge," Faith said. "Out of all of District 9, I was chosen, as a sophomore to sing for two of these games."
Faith had plenty of practice leading up to her championship appearance singing prior to Brockway's boys' District 9 and PIAA playoff games at Clarion University's Tippin Gym.
"It helped a lot," Faith said of her playoff singing experience. "I was in front of a lot bigger crowds than just at my home school."
Although just a sophomore, Faith has said she has given thought to what she might do in the future.
"I definitely want to go into the medical field," Faith said.
Faith is the daughter or Emory Faith of Brockway and Tanya Faith, also of Brockway.