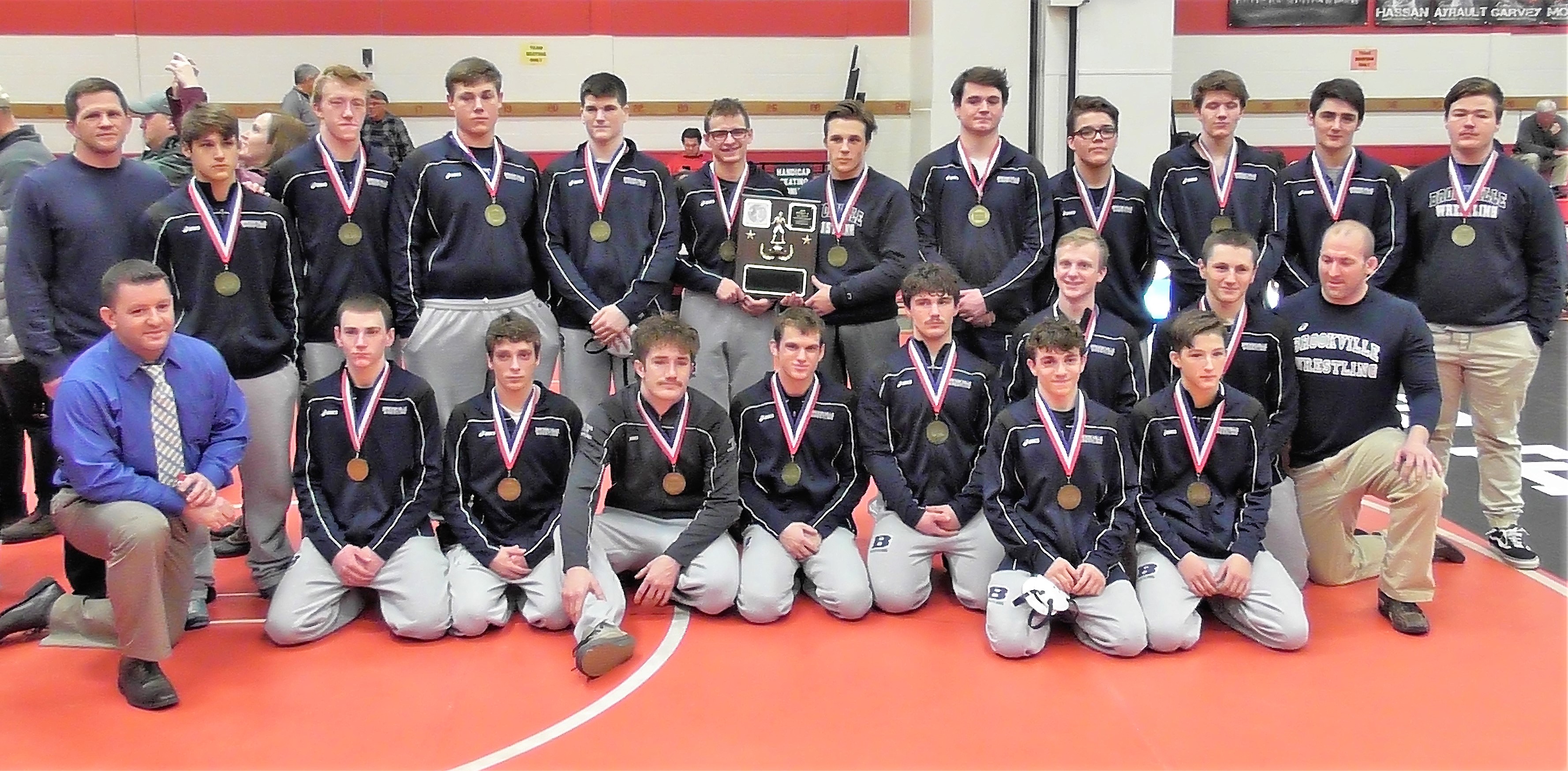 DUBOIS, Pa. – The Brookville Raiders rolled to their fifth straight District 9 Class 2A team wrestling championship Saturday afternoon at DuBois Area High School.
The Raiders, seeded first, beat Brockway, 51-18, for the championship.
Watch Brookville receive its medals.
The five in a row matches the five straight AA championships Ridgway won from 2007-11.
"I thought we put together two of our better dual meets today," Raiders head coach Dave Klepfer said. "We know it was a big for Brockway to try and knock us off this year.
"It just goes back to our training and our work in the room. Some of the kids thought it was kind of easy, but I told them all their hard work leading up to today is what makes this possible."
Listen more from Klepfer
Brookville has won six of the last seven titles and has nine overall.
Brookville's first title was in 1999, the first year team champs were crowned, and it was also the year the Raiders won the state title. Brookville won states in 2016 and was fourth in 2017
The Raiders will face a familiar foe Thursday in the first round of states – Northern Lebanon, the third-place finisher from District 3. Northern Lebanon beat Brookville in the first round a year ago and it propelled them to a runner-up finish.
"We know it won't be easy, but you can bet we will be ready for them," Klepfer said.
Brookville reached the finals with a 60-10 win over Port Allegany.
In the finals, their 33-point win over the Rovers was the fourth straight by a lopsided margin. The Raiders have won the last four titles by a total of 178 points, an average margin of 44.5 points. The biggest win was a 67-6 mauling of Port Allegany in 2017.
For the Brockway Rovers, it was their first appearance in the finals since 2003 when it beat Brookville, 37-30, for its second D9 title.
Brockway reached the finals with a 40-36 win over Ridgway. The Elkers made it to the semifinals with a 37-26 win over Redbank Valley. Ridgway ended up placing third when it beat Port Allegany, 41-30, in the consolation final.
Port Allegany beat Johnsonburg, 34-29, in the quarterfinals.
The finals match opened at 170 pounds with Raider Braden Macbeth edging Eric Johnson, 5-3.
Garrett McClintick gave Brockway its only lead of the day when he pinned Elliot Park in 4:41 to make it 6-3.
But the Raiders then won the next four matches to take a 27-6 lead.
Xavier Molnar pinned Pierce Yahner in 1:31 at 195 pounds and Tyler Cook pinned Justin Smith in 40 seconds to make it 15-6.
The falls kept coming for the Raiders as 285-pounder Colby Whitehill decked Hayden Thompson in 2:16.
At 106, Brockway's Tanner Morelli led Cayden Walter 5-1 before the Raider freshman rallied to take a 10-7 lead and score a late fall with just 12 seconds remaining for a 27-6 lead.
Brockway got back on the winning side when Dom Inzana scored a 4-3 win over Parker Fleming at 113.
The Rovers added another win at 120 when Anthony Glasl scored a 6-4 overtime win over Cabe Park to make it 27-12.
But the Raiders won the next five matches to take a 51-12 lead.
At 126, Kai Sorbin scored a 30-second fall, Wyatt Kulick also scored a pin at 132, Dontae Constable beat Tino Inzana, 5-2, at 138 and Jacob Cable beat Linkin Nichols, 3-0, at 145 to make it 45-12.
Brookville's Caleb Hetrick claimed a forfeit win before Brockway's Andrew Hickman ended the match with a first-period pin of Cole LaBenne.
DISTRICT 9 TEAM CHAMPIONS
2A
2018-Brookville
2017-Brookville
2016-Brookville
2015-Brookville
2014-Brookville
2013-Redbank Valley
2012-Brookville
2011-Ridgway
2010-Ridgway
2009-Ridgway
2008-Ridgway
2007-Ridgway
2006-Port Allegany
2005-Port Allegany
2004-Brookville
2003-Brockway
2002-Brockway
2001-Brookville
2000-Ridgway
1999-Brookville
DUBOIS FALLS SHORT IN 3A
The DuBois Beavers wrestling team lost a heartbreaker to the Shikellamy Braves, 37-31, Saturday evening in the District 4-9 Class 3A Team Championships.
The match came down the final contest and Shikellamy's Noah Suspic pinned Austin Fairman in 3:58 to lift the Braves to the team title.
The Beavers were looking to win back-to-back crowns and claim their seventh team title, but Shikellamy won four of the last five matches to erase a 27-16 deficit.
The Beavers were looking good for the team crown after Ed Scott picked up a forfeit win at 126 pounds to make it 27-16.
Things looked even better for host DuBois when Dalton Woodrow jumped out to a very quick 5-0 lead over Frank Quinones, but the Braves senior rallied and ended up pinning Woodrow to cut Shikellamy's deficit to five points, 27-22.
The Braves continued their comeback at 138 pounds as Cade Balestrini scored a major decision, 21-7, to make it 27-25. The Braves had a team point deducted when Balestrini punched the mat after his win.
At 145 pounds, DuBois' Kolby Ho scored a 21-8 win to give the Beavers a 31-25 with two matches left.
But the Braves won the last two matches by fall to take home the title.
At 152 pounds, Phaelan Wolfe scored a first-period fall over DuBois' Gauge Gulvas to tie it at 31-31, setting the stage for Suspic's win over Fairman.
The match was scoreless until Suspic scored a takedown with 19 left and then got three backpoints right before the first-period buzzer for a 5-0 lead. Suspic got another takedown before the pin.
DuBois opened the match with Lance Henninger winning a major decision.
The Braves then won three straight to go up 10-4.
But DuBois 285-pounder Matt Starr scored a late pin with nine seconds left to tie it at 10-10.
Starr led 1-0 after two periods before notching a takedown with 36 seconds remaining before getting the fall.
The Beavers then collected a pin and a technical fall to grab a 21-10 lead.
At 106 pounds, Chandler Ho completely dominated in a 16-1 win in 4:49.
At 113, Trenton Donahue didn't waste any time in a 24-second pin to give DuBois a 21-10 lead.
Shikellamy opens the PIAA Class AAA Team Championships Thursday with a first-round match against District 10 champ Cathedral Prep.
Watch DuBois' receive its second-place medals.
DuBois won the 2017 District 4-9 Class AAA team title by beating St. Marys, 35-29, in the finals.
Clearfield has the most AAA team titles with seven while DuBois and St. Marys each have six.
3A Team Champs
2018-Shikellamy
2017-DuBois
2016-Clearfield
2015-St. Marys
2014-St. Marys
2013-DuBois
2012-DuBois
2011-Clearfield
2010-Clearfield
2009-Clearfield
2008-St. Marys
2007-DuBois
2006-DuBois
2005-Clearfield
2004-Clearfield
2003-Clearfield
2002-St. Marys
2001-St. Marys
2000-St. Marys
1999-DuBois