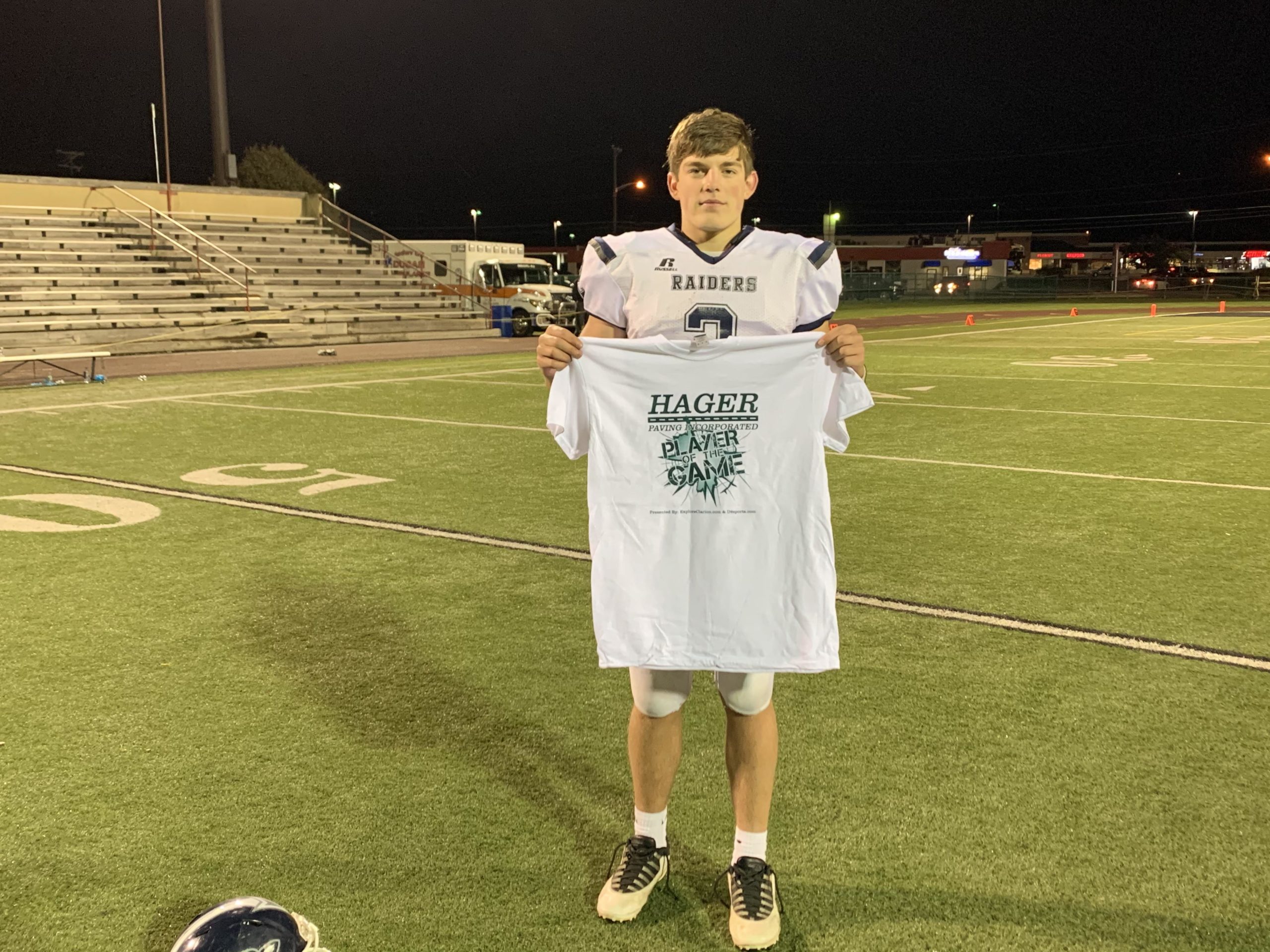 DUBOIS, Pa. – On a cold night at EJ Mansell Stadium, Brookville used a three touchdown second quarter to defeat DuBois 35-13.
(Hager Paving Player of the Game Robert Keth)
Jack Krug put in another strong performance under center for Brookville, completing 22 of his 29 passes for 327 yards and three touchdowns. Robert Keth scored three total touchdowns for the Raiders while also catching six passes for 115 yards. Ryan Daisley reeled in six passes for 67 yards and a touchdown, and Kyle Macbeth had three grabs for 72 yards. Zach Henery led the DuBois offense with 89 rushing yards.
Brookville started off hot on their first possession, driving 60 yards on eight plays to paydirt. Robert Keth put the finishing touches on the opening drive, diving home from two yards out. A successful PAT put the Raiders up 7-0.
After waves of defensive pressure forced an exchange of punts, DuBois picked up possession on Brookville's own 40-yard line. After a big 20-yard run by Henery, Austin Mitchell hooked up with Dale Kot in the back of the endzone for a 12-yard touchdown pass. A converted PAT tied the game at seven with 30 seconds left in the second quarter.
The second quarter belonged to Brookville, who took advantage of key plays on both sides of the football to jump out to a commanding lead. On Brookville's first drive of the second half, the Raiders faced and converted 3rd-and-24 and 3rd-and-22 opportunities, entering deep into DuBois territory. From the DuBois 3-yard line, Keth took a pitch and scored his second touchdown of the game, putting Brookville up 14-7 early in the second stanza.
Thanks to an explosive kickoff return by Braxton Adams, DuBois started their next drive on Brookville's own 28-yard line. Three plays later, Brookville's defense came up with a vital takeaway, forcing and recovering a DuBois fumble on Brookville's own four yard line.
Facing a key third down, Krug connected with Keth on an out route, and Keth broke free for a 58-yard gain. On the next play, Krug found an open Ryan Daisley for a 37-yard touchdown pass. Hayden Kramer's third successful PAT of the contest put the Raiders up 21-7 with 6:00 left in the second quarter.
The Brookville defense forced a quick DuBois three-and-out, giving the Raiders the ball back with time to spare. Krug then led the Raiders on an eight play, 71-yard drive that culminated with a 21-yard touchdown pass from Krug to Keth. Keth's third touchdown of the night put the Raiders up 28-7 as the first half came to a close.
The second half was a defensive struggle, with both teams failing to score in the third quarter. DuBois forced Brookville into two punts after unsuccessful drives, while the Raiders were able to force two DuBois interceptions, courtesy of Drew Sharp and Wyatt Thrush.
Thrush's interception led to Brookville's only score of the second half, as Brookville took advantage of good field position to quickly enter the red zone. Creed Knepp put the finishing touch on the drive, catching a Krug pass for a nine-yard touchdown. Rodney Waggoner knocked home the PAT to put Brookville up 35-7.
DuBois scored a late consolation touchdown, as Austin Mitchell scored from seven yards out to make the score 35-13. The touchdown would be the final points of the contest, as Brookville ran out the clock for their sixth victory of the season.
The win moves Brookville to 6-0. The Class AA playoffs are set to begin next week on either October 23rd or October 24th, and Brookville is lined up to face Ridgway in the first round. DuBois falls to 2-4 on the season. DuBois' next game is yet to be determined, as they were scheduled to play a playoff-bound opponent.
Catch an interview with Hager Paving Player of the Game Robert Keth: