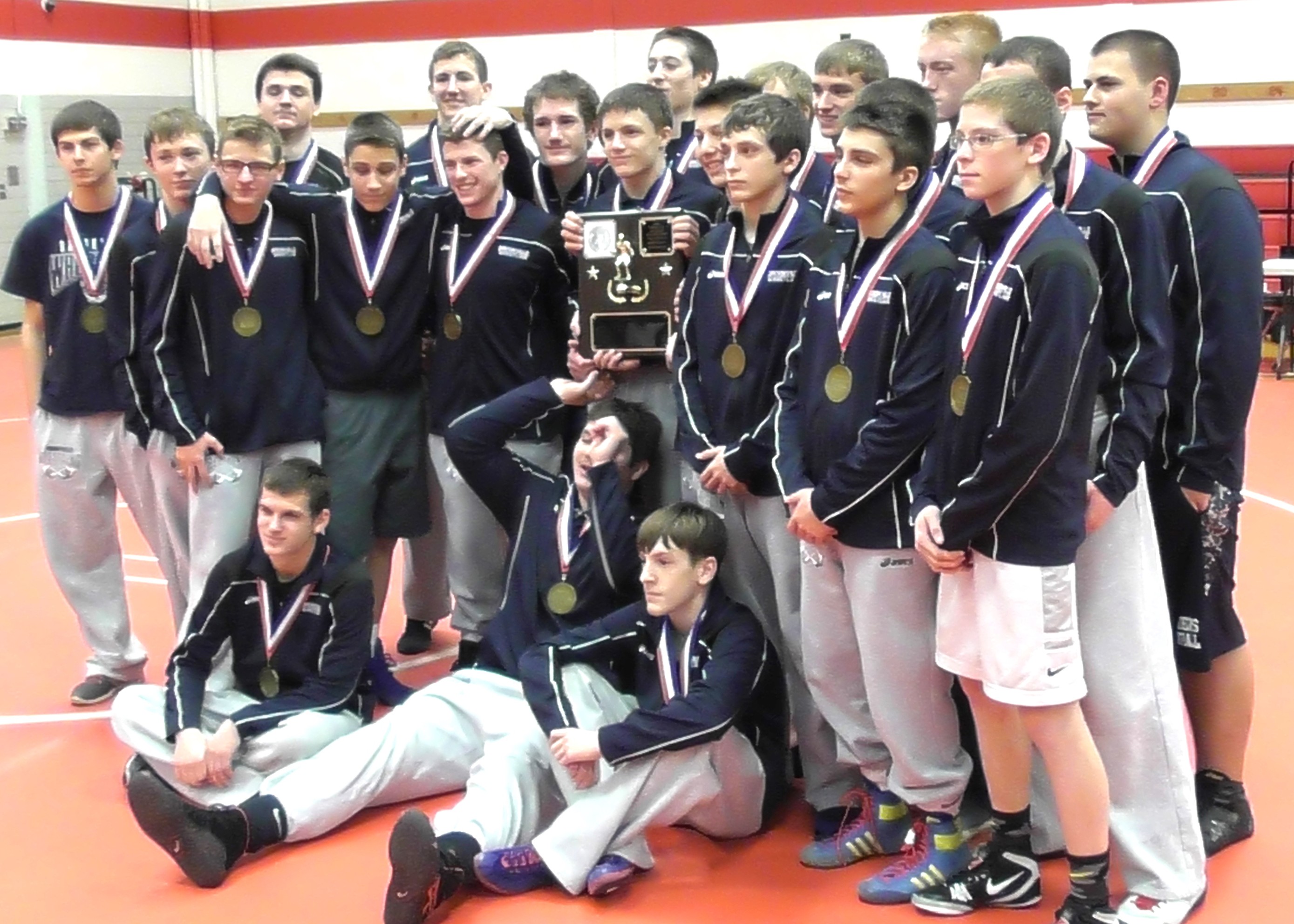 By Scott Shindledecker
DuBOIS, Pa. – The No. 1 ranked Brookville Raiders rolled to their third straight District 9 Class AA team wrestling championship Saturday afternoon at DuBois Area High School.
The Raiders, seeded first with a 23-0 record, beat Redbank Valley, 53-14, for its fourth title in the last five seasons. Brookville and Redbank have met in the AA finals four straight times with the Raiders winning the last three. The Raiders, now 25-0, have been in the finals six straight times.
Brookville's latest championship was its seventh overall, which broke a tie with Ridgway, also winners of six titles.
Brookville's first title was in 1999, the first year team champs were crowned, and it was also the year the Raiders won the state title. The goal is the same for the Raiders in 2016 – win states.
Raiders head coach Dave Klepfer said the District 9 title is always the team's first goal
"I think if we can go down there healthy, we can be right in it with anyone," Klepfer added when asked about his team's chances at the PIAA championships.
After the Raiders rolled past Brockway in the semifinals, they didn't have too much trouble with the Bulldogs, winning 10 of the 14 matches, including nine on the mat with each one resulting in bonus points. During the regular season, the Raiders beat Redbank, 62-13, Jan. 5.
With the match beginning at 195 pounds, Raider Dane Clever got his team off and running with a pin of Devin Bowser in 4:44.
Tyler Cook didn't need much time to deck Redbank's Pat Crawford in 1:02 at 220 to make it 12-0.
The Bulldogs got on the board as heavyweight Brylee Shumaker decisioned Bryce Town, 4-1. Shumaker ran his record to 25-0.
But the Raiders came back with three straight lopsided wins to take a 28-3 lead.
At 106, Brodie Joiner needed just 1:07 to pin Braydon Altobelli for an 18-3 lead. Then, Gavin Park dominated at 113 to score a technical fall over Hunter Martz, 16-0, in five minutes.
Kai Sorbin, Brookville's 120-pounder, scored a second straight tech fall, 17-0, over Redbank's Dawson Wilson.
The Bulldogs had a momentary bounce back with two major decisions. At 126, Tanner Altobelli scored an 11-3 major decision over Dontae Constable, then 132-pounder Travis Crawford beat Logan Thrush, 18-10.
Top-ranked Tate Ortz didn't take the mat at 138 pounds while receiving a forfeit. His win against Brockway and the forfeit improved his season record to 30-0.
Cole Aaron (145) and Josh Keesecker (152) kept the bonus babies coming for the Raiders as they pushed their lead to 43-11. Aaron scored a major decision over Jake Hopper, 12-2, then Keesecker delivered a 19-4 tech fall over Curtis Mohney.
The Bulldogs won their last match at 160 pounds as Devin Schimp edged Braden MacBeth, 10-9.
Brookville finished off the triumph as Xavier Molnar pinned Scott Toth in 1:05 at 170 pounds and Clayton Peace majored Logan Minich, 16-6 at 182 to set the final.
Brookville will compete in the PIAA Class AA Championships beginning Thursday against the runner-up from District 4 at Hershey's Giant Center.
Notes: Mason Lindemuth, Brockway's 132-pounder, won his 100th career match Saturday to help the Rovers beat Clarion in the preliminary round.
Stroy by Scott Shindledecker
CHAMPIONSHIP RESULTS
Brookville 53, Redbank Valley 14
195-Dane Clever, B, pinned Devin Bowser, 4:44.
220-Tyler Cook, B, pinned Pat Crawford, 1:02.
HWT-Brylee Shumaker, R, dec. Bryce Town, 4-1.
106-Brodie Park, B, pinned Braydon Altobelli, 1:07.
113-Gavin Park, B, won by tech. fall over Hunter Martz, 16-0, 5:00.
120-Kai Sorbin, B, won by tech. fall over Dawson Wilson, 17-0.
126-Tanner Altobelli, R, maj. dec. Dontae Constable, 11-3.
132-Travis Crawford, R, maj. dec. Logan Thrush, 18-10.
138-Taylor Ortz, B, won by fft.
145-Cole Aaron, B, maj. dec. Jake Hopper, 12-2.
152-Josh Keesecker, B, won by tech. fall over Curtis Mohney, 19-4.
160-Devin Schimp, R, dec. Braden MacBeth, 10-9.
170-Xavier Molnar, B, pinned Scott Toth, 1:05.
182-Clayton Peace, B, maj. dec. Logan Minich, 16-6.