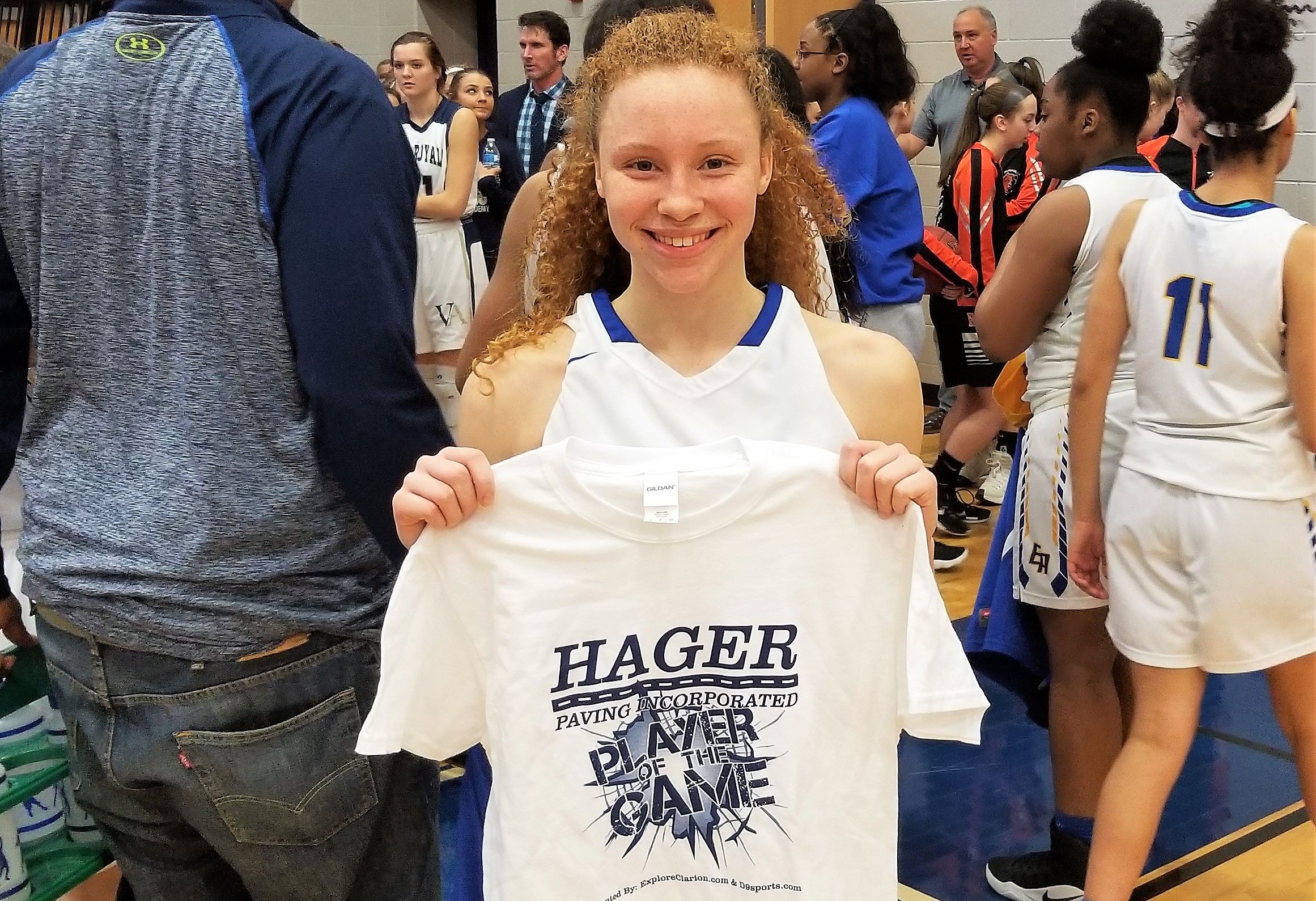 KITTANNING, Pa. – All season Brookville lived by a pressure defense that turned teams over.
(Photo: Amani Johnson of East Allegheny had 34 points, 7 steals and 5 rebounds)
On Tuesday night in the PIAA Class 3A second round, the tables were turned on the Lady Raiders, as East Allegheny turned Brookville over 31 times in a 60-34 win that ended the season for the District 9 champions.
"We are playing our game whether we win by 35 or we lose by five, we are going to stretch it," East Allegheny head coach Mike Osiecki said. "That is playing our game. If they want to go full court."
East Allegheny (26-1) used a 14-0 run in the second quarter to break open a six-point game, 19-13, and turn it into a 35-15 halftime lead. The Lady Wildcats seven straight points off turnovers during that stretch.
"We were worried about their pressure," Brookville head coach Mark Powell said. "They pressure the ball. I thought our effort was good. It just didn't turn out to be our night."
Amani Johnson showed why she is headed to NCAA Division I Kennesaw State by scoring 16 of her game-high 34 points in the second quarter. She also had seven steals and five rebounds.
"She is the best point guard in the state, by far," Osiecki said. "She is more than glad to dish it off than make a layup. We are yelling at the team to get down the court. She sees everyone. She is a hell of a player."
Powell didn't disagree.
"Her speed, her quickness, her ability to finish," Powell said. "It's something we hadn't seen. There is a reason she is a Division I player. We saw that tonight."
Marcy Schindler had a solid game for Brookville (19-6) with 14 points, 12 rebounds and four steals.
"Early on, I felt like we were able to get the ball inside and had some momentum," Mark Powell said. "I thought Marcy played well. I thought she hit the boards hard.
Everybody played hard. It just wasn't our night."
Brookville's cause wasn't helped when Kira Powell, Mark's daughter, went down with a knee injury in the first quarter and didn't return.
"It just seemed like the momentum started to switch (when Kira went out)," Mark Powell said. "The last few minutes of the half we lost control of the game a little bit there."
East Allegheny suffered a tough injury of its own early in the fourth quarter when Abby Henderson, who had 12 points and nine rebounds, hurt her wrist running into the padded wall after a loose ball. Henderson was in considerable pain and had either an aircast or split put on her left wrist before being taken out of the gym.
"It's tough today with Abby," Osiecki said. "It's not looking good, but we have to push on. We will do the same thing next game."
The loss ends a terrific season for Brookville, which finishes with 19 wins for the first time since 1998. It came on the heels of a six-win season in 2017 and was done without a senior on the roster.
"We are playing in the middle of March," Mark Powell said. "These minutes, these games, hopefully, will pay big dividends next year. It's been a fantastic season. I am so proud of the kids. Historically, it is one of the best seasons Brookville has ever had. You have to really think about the historical aspect of the season. It was a big season for us. Now, it's a building stone. Hopefully, we are able to build on things this summer and make a bigger run next year."
East Allegheny, which lost a tough game to Bishop Canevin in the WPIAL championship game but who has rebounded to win a pair of PIAA games, will take on York Catholic in the quarterfinals Friday at a site and time to be determined.
"They are a strong group led by Amani and Myla (Bortoluzzi)," Osiecki said. "They have been there. We had the heartbreak last year and took it down to the end again this year (in the WPIALs). We were confident about the rebound."
EAST ALLEGHENY 60, BROOKVILLE 34
Score by Quarters
Brookville 8 7 8 11 – 34
E. Allegheny 14 21 16 9 – 60
BROOKVILLE – 34
Madison McAninch 1 0-0 3, Sophie Sharp 0 0-0 0, Brooke Ganoe 0 0-0 0, Leah Kammerdeiner 0 0-0 0, Marcy Schindler 5 4-4 14, Morgan Johnson 2 0-0 4, Madison Johnson 0 0-0 0, Jenna Grant 1 0-0 2, Jillian Taylor 0 0-0 0, Lauren Hergert 2 1-2 5, Lexis Hatzinikolas 2 0-0 4, Mikayla Aikens 0 0-0 0, Bailey Ganoe 1 0-0 2, Kira Powell 0 0-0 0. Totals 14 5-6 34.
EAST ALLEGHENY – 60
Mikall Tarrant 0 0-2 0, Jaydah Hunter 0 0-0 0, Amani Johnson 12 10-12 34, Amaia Johnson 2 0-2 5, Brittany Ressler 0 0-0 0, Shauna King 0 0-0 0, Makala Ruffin 0 0-2 0, Myla Bortoluzzi 1 0-0 3, C'Keiyah Marshall 1 4-6 6, Abby Henderson 5 1-2 12, Jada Madden-Jefferson 0 0-0 0. Totals 21 15-26 60.
Three-pointers: Brookville 1 (McAninch). East Allegheny 3 (Amaia Johnson, Myla Bortoluzzi, Henderson).
Rebounds: Brookville 12 offensive, 21 defensive, 33 total (Marcy Shindler 12, Team 8). East Allegheny 20 offensive, 19 defensive, 39 total (Amaia Johnson 9, C'Keiyah Marshall 9, Abby Henderson 9).