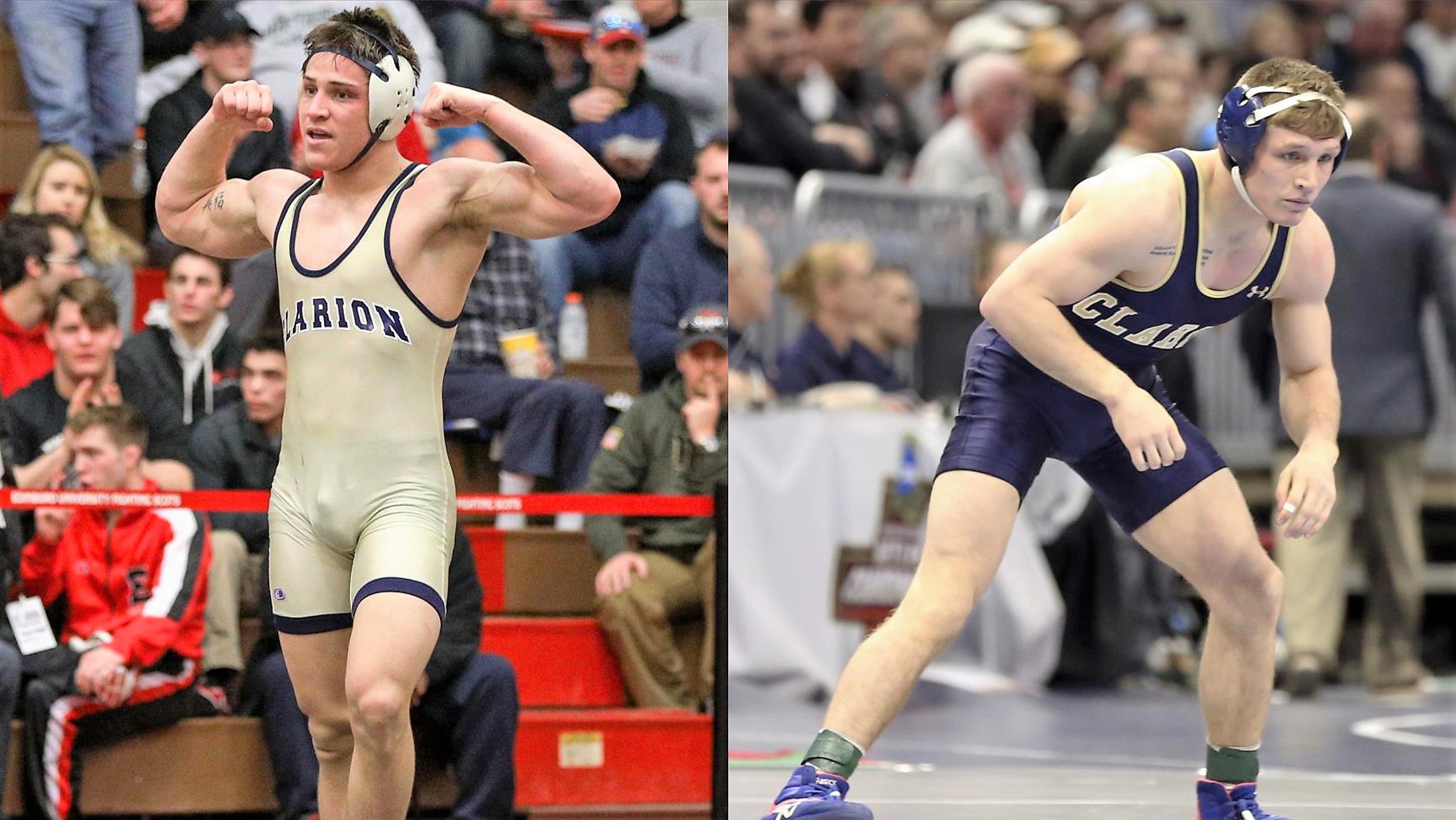 CLARION, Pa. – The Clarion University wrestling team couldn't have gotten worse news just prior to Christmas, as the Golden Eagles announced Wednesday that a pair of NCAA Division I qualifiers from a year ago – Taylor Ortz and Brock Zacherl – have been lost for the season with injuries.
(Photos of Taylor Ortz (left) and Brock Zacherl. Photos courtesy of Clarion University Athletics)
"We're disappointed that Brock and Taylor won't be able to compete with us for the rest of the season," Clarion head coach Keith Ferraro said. "We will look to the rest of our lineup to step up this year, and we hope to have both guys back in the future."
Both wrestlers suffered injuries earlier in the season and haven't competed since the Cliff Keen Invitational in Las Vegas Nov. 30. Zacherl hurt his elbow in Las Vegas while Ortz is out with a shoulder injury.
According to a release from Clarion University's Athletics Department, the program hopes that Zacherl and Ortz, who are both Brookville graduates, will be eligible for a medical hardship and an extra year of eligibility, which they intend to apply for at the appropriate time.
Ortz is listed as a 141-pounder on the Golden Eagles roster. The redshirt sophomore was ranked 31st in the final NCAA coaches panel rankings in 2017-19 and was the EWL runner-up at 149 pounds. He also took third place at the PSAC Championships.
Zacheral is listed as a 149-pounder on the Clarion roster. The redshirt senior was the 2017-18 PSAC Champion at 141 pounds and was the EWL runner-up for the second straight season. He posted his 100th career win during the 2017-18 campaign and was 5-1 against NCAA qualifiers a year ago. This season, he reached as a high as fifth in the national rankings.
There was no indication in the university's official release of what the plan is to fill either Ortz's or Zacherl's spot in the lineup.
Clarion's roster currently includes six additional wrestlers listed as 141-pounders including freshmen Andrew Gapas, Justin Ingram and Seth Koleno, sophomore Jalin Hankerson, junior Evan Myers and senior Austin Jamison.
The roster also only one other 149-pounder that being freshman Lavinsky Collins.
The Golden Eagles have only been in action once since Las Vegas wrestling in the PSAC Championships Dec. 8. Gapas wrestled at 141 pounds at PSACs for Clarion going 0-2. Jamison bumped up to 149 pounds at the PSACs and was 1-2 but his win was by forfeit.
Clarion returns to action at 7 p.m. Friday, Dec. 21, when it hosts Pitt at Marwick-Boyd Auditorium. The Golden Eagles are then at Buffalo Saturday, Dec. 22.