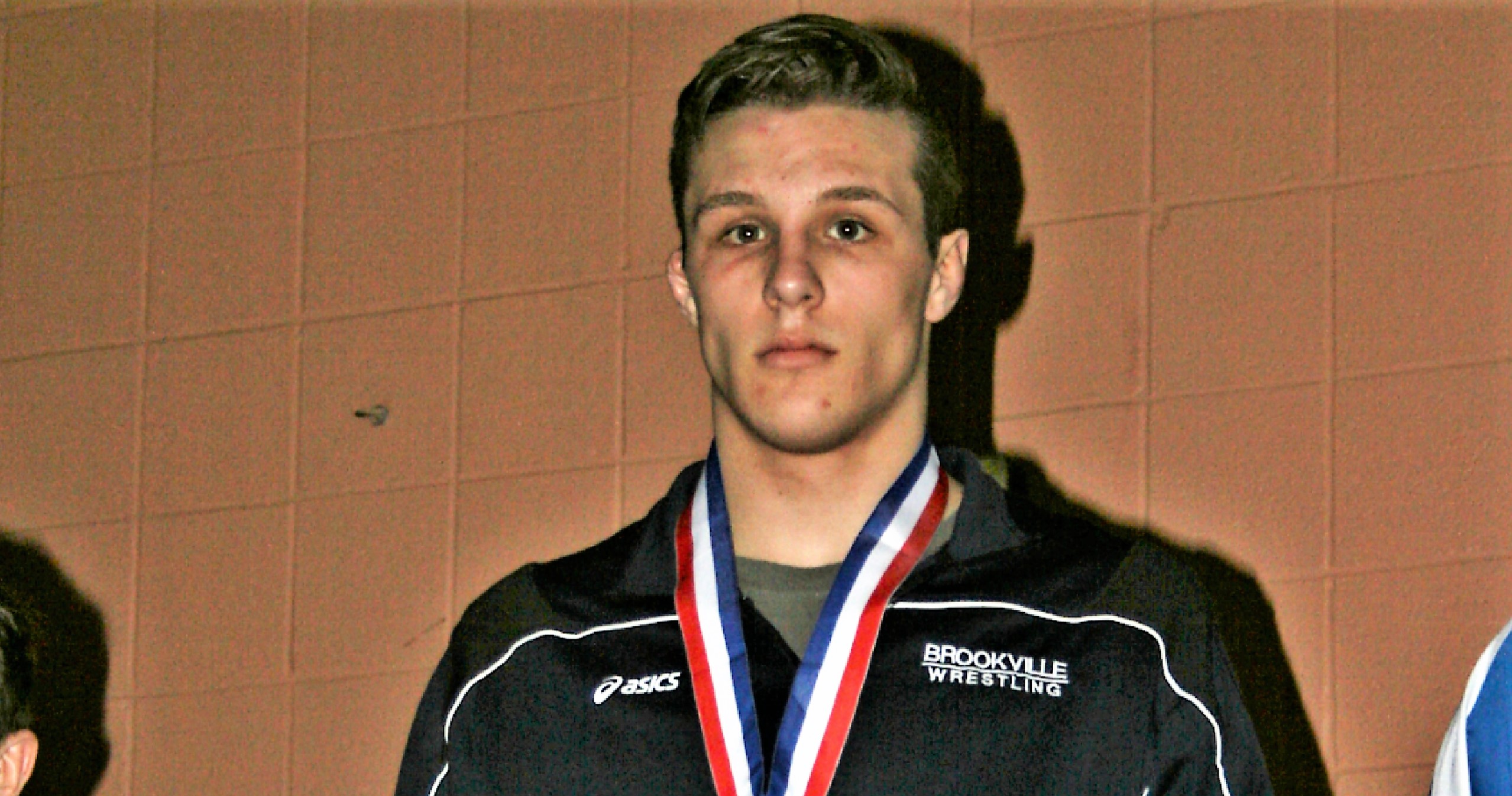 BROOKVILLE, Pa. – The Brookville wrestling team went 4-1 at Saturday's Johnson Motors Ultimate Duals at Brookville High School.
(Photo of Caleb Hetrick of Brookville, who went 5-0 at the Ultimate Duals Saturday. Photo is from the 2017 Northwest Regionals. Photo by Alli Zacherl)
The Raiders beat Freedom, 48-19, Burrell, 39-23, Chestnut Ridge, 31-29, and South Fayette, 58-6, before losing to Reynolds, 44-12.
Reynolds finished the Duals 5-0 also beating Burrell (48-13), Chestnut Ridge (45-19), Freedom (50-12) and South Fayette (66-2). See Reynolds complete results here.
Also at the Duals, Chestnut Ridge was 3-2 with wins over Burrell, South Fayette and Freedom, Burrell was 2-3 with victories over South Fayette and Freedom, Freedom was 1-4 with a win over South Fayette and South Fayette was 0-5.
BROOKVILLE MATCH-BY-MATCH RESULTS
BROOKVILLE 48, FREEDOM 19
285: Colby Whitehill (BAH) over Fernando Franco (FAH) (Fall 1:05)
106: Cayden Walter (BAH) over Joshua Ackerman (FAH) (Fall 0:25)
113: Parker Fleming (BAH) over Thomas Young (FAH) (Fall 3:52)
120: Cabe Park (BAH) over Kenny Duschek (FAH) (Dec 9-4)
126: ZJ Ward (FAH) over Steven (Kai) Sorbin (BAH) (Dec 7-4)
132: Trent Schultheis (FAH) over Wyatt Kulik (BAH) (MD 8-0)
138: Dontae Constable (BAH) over (FAH) (For.)
145: Jake Pail (FAH) over Jacob Cable (BAH) (Dec 7-3)
152: Caleb Hetrick (BAH) over Chase Komara (FAH) (Dec 3-0)
160: Michael Muron (FAH) over Cole LaBenne (BAH) (Dec 11-5)
170: Braden MacBeth (BAH) over Brett Johnston (FAH) (Fall 4:36)
182: Elliot Park (BAH) over Hersey Kaleb (FAH) (Fall 4:27)
195: Bryson Miller (FAH) over Xavier Molnar (BAH) (Fall 2:47)
220: Tyler Cook (BAH) over Nick Wolfe (FAH) (Fall 0:20)
BROOKVILLE 39, BURRELL 23A
106: Trent Valovchik (BUHS) over Cayden Walter (BAH) (Dec 9-5)
113: Ian Oswalt (BUHS) over Parker Fleming (BAH) (Fall 3:12)
120: Cabe Park (BAH) over Colby Christie (BUHS) (Fall 1:33)
126: Bryan Gaul (BUHS) over Steven (Kai) Sorbin (BAH) (Dec 5-2)
132: Anthony Corrado (BUHS) over Wyatt Kulik (BAH) (Dec 4-3)
138: Dontae Constable (BAH) over Dominic Holmes (BUHS) (Fall 0:59)
145: Daniel McCarthy (BUHS) over Jacob Cable (BAH) (Dec 3-0)
152: Caleb Hetrick (BAH) over Corey Christie (BUHS) (Dec 7-4)
160: Shaun Gates (BUHS) over Cole LaBenne (BAH) (Fall 1:37)
170: Braden MacBeth (BAH) over Austin Mele (BUHS) (TB-1 4-3)
182: Elliot Park (BAH) over Richard Feroce (BUHS) (SV-1 5-3)
195: Xavier Molnar (BAH) over Austin Mele (BUHS) (Fall 1:24)
220: Tyler Cook (BAH) over (BUHS) (For.)
285: Colby Whitehill (BAH) over (BUHS) (For.) (BUHS unsportmanlike conduct -1.00)
BROOKVILLE 31, CHESNUT RIDGE 29
120: Cabe Park (BAH) over Taylor Claycomb (CRH) (Fall 1:40)
126: Steven (Kai) Sorbin (BAH) over Gryphon Callihan (CRH) (Dec 6-0)
132: Seth Harbaugh (CRH) over Wyatt Kulik (BAH) (MD 9-1)
138: Dontae Constable (BAH) over Cody Brown (CRH) (MD 10-1)
145: Scott Miller (CRH) over Jacob Cable (BAH) (Dec 4-0)
152: Justin McCoy (CRH) over Wyatt Griffin (BAH) (Fall 2:48)
160: Caleb Hetrick (BAH) over Brodie Harbaugh (CRH) (Fall 1:02)
170: Jared McGill (CRH) over Cole LaBenne (BAH) (Fall 1:13)
182: Levi Hobson (CRH) over Braden MacBeth (BAH) (Dec 4-1)
195: Xavier Molnar (BAH) over Austin Crouse (CRH) (SV-1 3-1)
220: Tyler Cook (BAH) over Duane Knisely (CRH) (Dec 3-2)
285: Colby Whitehill (BAH) over Dalton Seace (CRH) (Fall 1:37)
106: Kai Burkett (CRH) over Cayden Walter (BAH) (MD 13-0)
113: Nathan Holderbaum (CRH) over Parker Fleming (BAH) (Dec 10-3)
BROOKVILLE 58, SOUTH FAYETTE 6
126: Steven (Kai) Sorbin (BAH) over Gary Loeffler (SFH) (MD 14-1)
132: Wyatt Kulik (BAH) over Luke Finestone (SFH) (Fall 2:48)
138: Dontae Constable (BAH) over Eli Brinsky (SFH) (Dec 7-0)
145: Michael Cusick (SFH) over Jacob Cable (BAH) (Dec 5-0)
152: Caleb Hetrick (BAH) over Dalton Hirt (SFH) (TF 17-1 2:44)
160: Cole LaBenne (BAH) over Johnny Obenour (SFH) (MD 13-5)
170: Braden MacBeth (BAH) over John Mikesell (SFH) (Dec 4-0)
182: Nicholas Carter (SFH) over Elliot Park (BAH) (Dec 4-3)
195: Xavier Molnar (BAH) over Joe Bastaroli (SFH) (Fall 4:43)
220: Tyler Cook (BAH) over Mark Kurchena (SFH) (Inj. [time])
285: Colby Whitehill (BAH) over Ryan Carter (SFH) (Fall 0:48)
106: Cayden Walter (BAH) over (SFH) (For.)
113: Parker Fleming (BAH) over (SFH) (For.)
120: Cabe Park (BAH) over Colin Dunn (SFH) (Dec 3-1)
REYNOLDS 44, BROOKVILLE 12
138: Cole Matthews (REHS) over (BAH) (For.)
145: Hunter Michaels (REHS) over Dontae Constable (BAH) (SV-1 3-1)
152: Mason Wilkerson (REHS) over Wyatt Griffin (BAH) (Dec 8-2)
160: Caleb Hetrick (BAH) over Jordan DeCarmen (REHS) (MD 13-3)
170: Hunter Thompson (REHS) over Cole LaBenne (BAH) (Fall 0:00)
182: Cole Toy (REHS) over Braden MacBeth (BAH) (Dec 5-2)
195: Jarod Miller (REHS) over Xavier Molnar (BAH) (Dec 2-1)
220: Tyler Cook (BAH) over Wyatt Owen (REHS) (Dec 6-4)
285: Colby Whitehill (BAH) over Derrick Skeehan (REHS) (Dec 9-4)
106: Gary Steen (REHS) over Cayden Walter (BAH) (MD 11-2)
113: Adam Wilcox (REHS) over Parker Fleming (BAH) (Fall 0:00)
120: Beau Bayless (REHS) over Cabe Park (BAH) (Fall 2:00)
126: Steven (Kai) Sorbin (BAH) over Andrew Ischo (REHS) (Dec 8-5)
132: Rocco Bartolo (REHS) over Wyatt Kulik (BAH) (MD 14-6) (BAH unsportsmanlike -1.00)