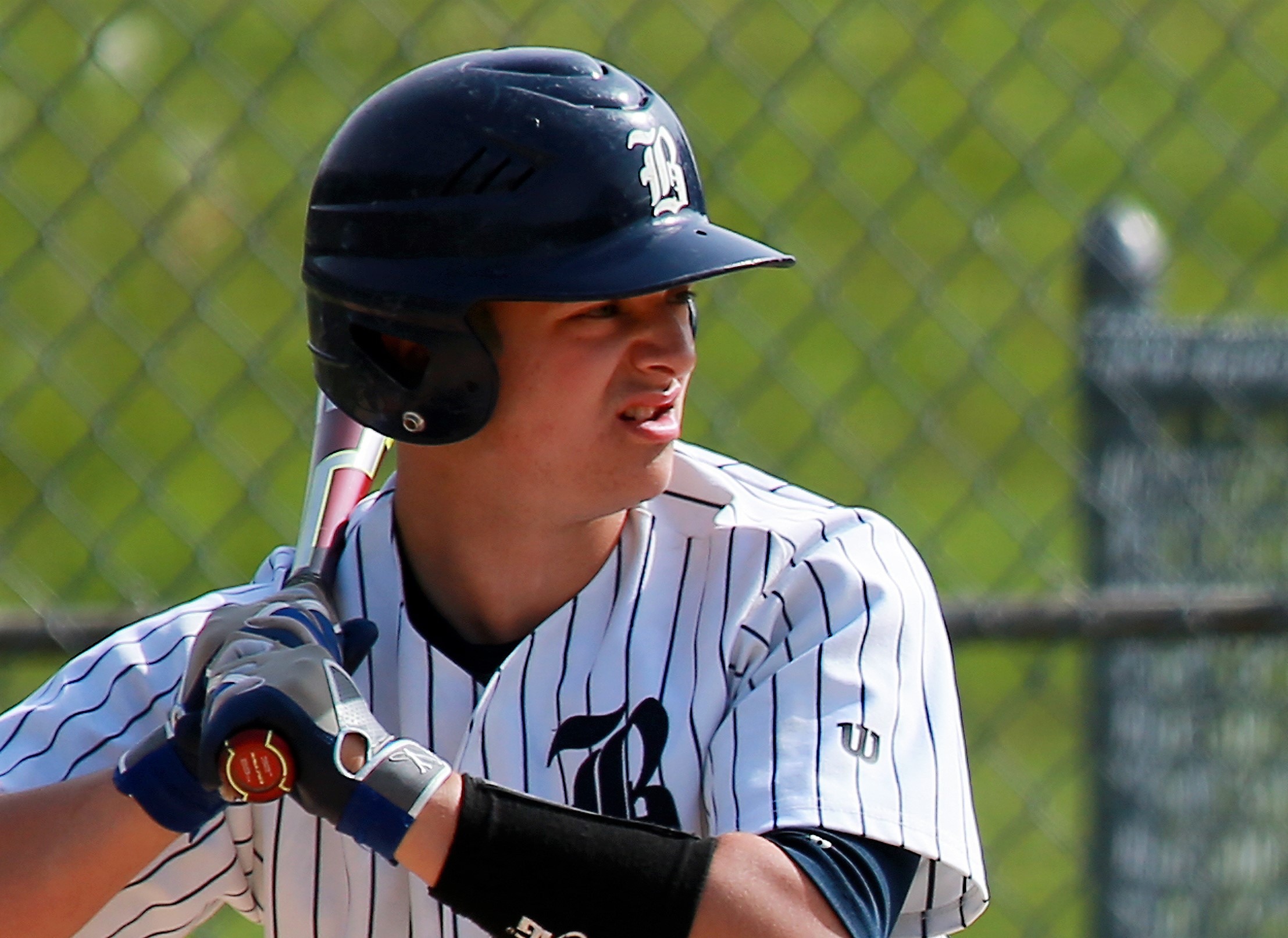 BROOKVILLE, Pa. – Think about this, at the start of the year the biggest worry for Brookville manager Bruce Ferry was how his team was going to get to practice.
(Cover photo: Ben Reitz is one of two seniors on Brookville's roster. Photo by Paul Burdick. Check out more of Burdick's work here)
Because of the large number of freshmen and sophomores on the Raiders roster – all but three are in the lowest two grades you can be in high school sports in Pennsylvania – and the fact Brookville practices at McKinley Field in downtown Brookville, a mile-and-half from the school, Ferry and his coaching staff didn't know how they would get the players to practice.
"Half these kids don't have driver's licenses," Ferry said after the Raiders beat Saegertown to reach the PIAA Class 2A semifinals for the first time in school history. "I'm serious. I remember the first practice trying to figure out who was going (get them to practice) because they won't let me as a teacher drive them down there. How are we going to get these kids to practice downtown? Now they are one of the final teams here."
Now Ferry's tykes are two games from a state title, one from playing in the PIAA championship game.
"We definitely feel like we are playing with house money," Ferry, whose team finished the regular season 9-11 and was the fifth seed in the six-team District 9 bracket before winning the D9 title, said. "I don't know if you can really explain it. It's just a bunch of good baseball players who gelled together right now. Throw in good pitching and timely hitting, that's a recipe for success with a little luck. I don't even think of them as ninth and 10th graders anymore, just good baseball players. They are playing the way we just teach them to play it and the way their Little League coaches taught them. At times, we are a little bit offensively challenged. We can't turn one-run innings (for the other team) into three-run innings or two-run innings into five-run innings We have to make the other team earn what it gets."
The other team now is one with plenty of PIAA experience.
Bishop McCort (18-7), who Brookville will play at 4:30 p.m. Monday in Punxsutawney for the right to go to Medlar Field at Lubrano Park on the campus of Penn State University for the title game, was the PIAA runner-up last year in 2A losing 3-0 to Neumann-Goretti, who is in another semifinal contest this year.
The Crushers, coached by Clarion University graduate Chris Pfeil, won a PIAA title under Pfeil in 2012 and have won five District 6 titles since he took over in 2011 and even overall.
"We definitely enjoy the underdog role," Ferry said. "We've been feeding off that the entire run in the playoffs, and we will certainly bring it up to them so that they know (they are the underdogs in this game)."
Brookville's formula for success all season and in the playoffs has been pitching, defense and timely hitting.
The 14-11 Raiders don't blow you away with offensive stats – they are hitting .287 as a team with six regulars hitting below .300. But they pitch the ball well – the team ERA is 2.76 – and they play solid defense – they have committed just 42 errors while fielding at a .943 clip.
"We have to continue to play the way we have," Ferry said. "We have to throw strikes and limit the number on base because of errors and works. We will work a little bit on controlling the running game, because (Bishop McCort) is pretty aggressive. If we can keep people off base, I think we've got a chance."
Seven of McCort's hitters are above .300 on the year led by Boston Bradley, who is hitting .430. Chris Miller (.367), Logan Kasper (.364) and Carmine Cannizzaro (.353) are all above .350 as well.
One of the two seniors on Brookville's roster, Ben Reitz, will be charged with keeping that group in check.
Reitz has been outstanding this season with a 1.93 ERA in 36 ⅓ innings of work. He has struck out 43 while only walking 11 and took a perfect game into the seventh inning against North Clarion May 12. In three postseason appearances, Reitz has pitched 11 innings allowing three runs, two earned.
"He has been really amped up the last two of times he has gone out and pitched," Ferry said. "It has made him a lot more aggressive, his offspeed stuff is a little crisper and there is late life on his fastball. He is the perfect guy in the perfect spot with what we need on Monday."
Reitz will most likely be opposed by Brenden Lavley, a senior. Lavely is 4-2 on the year with a 1.30 ERA. In 48 ⅓ innings of work, he has 29 strikeouts and 13 walks.
"There is a lot of luck involved when good teams play each," Ferry said. "Sometimes you get bounces, calls that go your way. It's kind of the way we looked at it. We have been a little more aggressive than normal in these quarters."
Brookville's offense is led by freshmen Aaron Park (.417, 19 RBIs) and Seth Dunkle (.347, 19 RBIs) and sophomores Tanner LaBenne (.403, 11 RBIs) and Bryan Dworek (.350, 22 runs scored).
"I'd like to just keep it going for another week," Ferry said. "You never know."
EXTRA BASES
The winner faces the winner of the Neumann-Goretti (District 12 champion) vs. Bellwood-Antis (District 6 runner-up) game in the PIAA title game at 10:30 a.m. Friday, June 16. Bellwood lost 5-3 to McCort in the D6 title game.
District 9 has never had a 2A school in the PIAA title game since the PIAA expanded to at least three classifications in 1999. On the old two-class system, Ridgway was the last 2A team to do so losing to Old Forge, 15-5 (6 innings) in 1992. The Elkers were also the last 2A team to make it to the semifinals doing so in 1997 when it lost to Canevin Catholic, 5-0. A District 9 team has never won a PIAA 2A title in baseball.