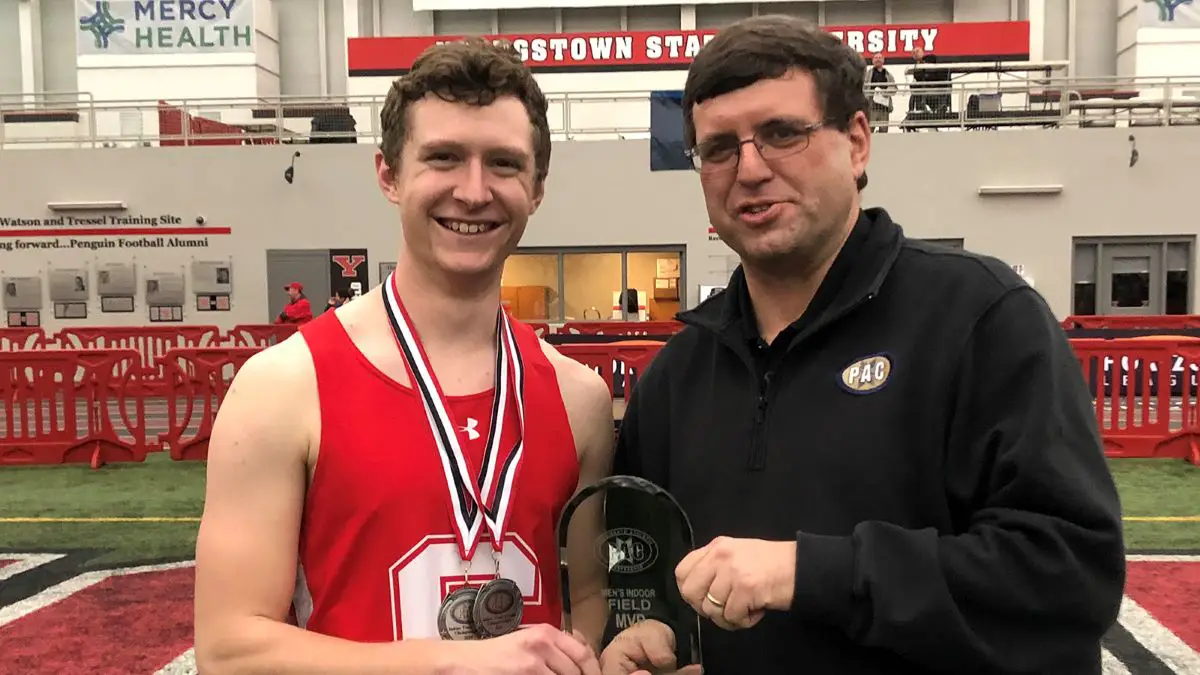 YOUNGSTOWN, Ohio – The Grove City College men's track and field team earned second place Thursday night at the 10-team Presidents' Athletic Conference Indoor Track and Field Championships, hosted by Youngstown State University at the Watson and Tressel Training Site.
(Brookville's Seth Ray receives the Presidents' Athletic Conference Field MVP award Thursday night from Presidents' Athletic Conference commissioner Joe Onderko. Photo courtesy of Grove City Athletics)
The Wolverines finished the meet with 84.5 points. Geneva won with 125 points.
Junior Seth Ray (Brookville, Pa./Brookville) earned the conference's Most Outstanding Field Performer after posting a pair of runner-up finishes in jumping events. He took second in the high jump by clearing 6 feet, 2 3/4 inches and also earned second in the triple jump with a best mark of 43-5 1/4. Ray also cleared 11-2 1/4 in the pole vault, good for eighth.
Junior Jared Gay (Doylestown, Ohio/Chippewa) earned Groev City's lone win at the championships as he won the shot put (46-1 1/2).
Junior Kevin Ballentine (Carlisle, Pa./Boiling Springs) set Grove City's record in the indoor pole vault by clearing 13-3 3/4, good for second place. Meanwhile, freshman James Parenti (Hilliards, Pa./Moniteau) earned second in the weight throw with a best toss of 50-3 1/2.
Junior Cameron Drake (Monaca, Pa./Central Valley) led Grove City on the track by taking second in the 60 hurdles. Drake recorded a time of 8.67 seconds in the finals. Drake, Ray, junior Thomas Troxel (Wheaton, Ill./Timothy Christian) and freshman Hunter Jones (Chicora, Pa./Karns City) combined for a fourth-place performance in the 1600-meter realy (3:33.98).
Troxel also took fourth in the 800 meters (1:57.84). Sophomore Jeffery Eide (Seminole, Fla./Northside Christian) earned fifth in the 5000 meters with a time of 16:37.02. Junior Chris Sweeney (Uniontown, Pa./Laurel Highlands) marked at 42-2 in the triple jump, earning fifth place. Meanwhile, junior Matthew Becker (Littlestown, Pa./Littlestown) finished fifth in the weight throw with a mark of 41 feet, 1/2 inch.
Sophomore Melvin Sanchez (Starford, Pa./Purchase Line) took sixth place in the high jump by clearing 5-10 3/4. Sophomore Einar Trosdal (Nashville, Tenn./Sovereign Grace) placed sixth in the mile (4:33.35). Grove City's distance medley relay team also took sixth as the quartet of sophomore Nathan Warrick (Delaware, Ohio/Olentangy Liberty), freshman Matthew Grazulis (Vandergrift, Pa./Kiski Area), sophomore Calvin Raab (Perkiomenville, Pa./Perkiomen Valley) and junior Malachi Lyon (Lancaster, Pa./Penn Manor) posted a time of 11:32.80.
Parenti added a seventh-place finish in the shot put (42-4 1/4). Freshman Jeffrey Boyd (North Huntingdon, Pa./Norwin) took eighth in the triple jump (40-7) and sophomore Noah Callinan (Dayton, Ohio/Kettering Fairmont) finished eighth in the 5000 (16:44.43).
Several Grove City athletes will compete in the All-Atlantic Regional Championships next weekend in Rochester, N.Y.