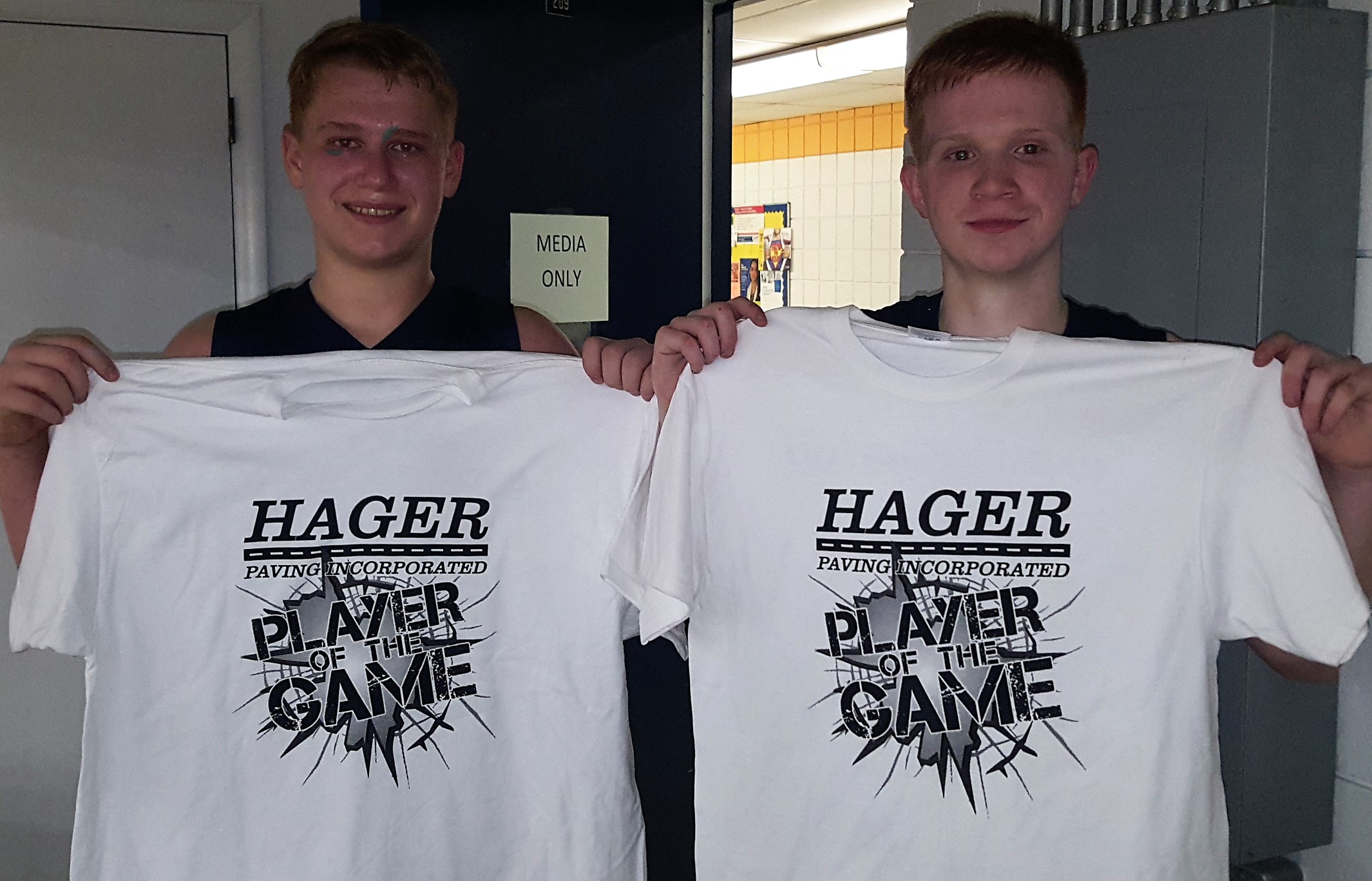 CLARION, Pa. – Less than a minute into the fourth quarter of its District 9 Class 3A semifinal game with Kane, Brookville found itself trailing for the first time since early in the game.
Click here for recaps from the Class 1A quarterfinals from Thursday
But there was no panic from the fourth-seeded Raiders (12-11), who quickly turned a 32-30 deficit into a seven-point, 39-32, lead with a 9-0 run that including five points from Trenton Gilhousen, the only five points the sophomore scored all night. The Raiders then held off a Kane comeback to gain a spot in the District title game with a 48-42 victory at Clarion University's Tippin Gym.
"A lot of it came down to determination and grit of the guys," Brookville head coach Kevin Wolfe, who has the Raiders in the D9 title game for the first time since they won the title in 2014, said. "They wanted the basketball game. The seniors weren't ready to go home, and the rest of the guys weren't ready to let the senior go home. They found a way to win."
What Brookville did was attack the basket with some sharp cuts during the game-deciding run.
It starts after a 30-second timeout by Wolfe when Nick Keth cut to the hoop and took a pass from Jimmy Moore converting for the game-tying layup with 6:54 left.
Then after Kane's 6-foot-7 big man, Andrew Bucheit missed a free throw – something that plagued Bucheit and the Wolves all night long with the big man going 4 of 11 and the top-seeded Wolves (16-8) 11 of 22 from the line – Gilhousen gave the Raiders the lead for good, 34-32, with 5:38 left.
Following another Bucheit missed charity shot, it was Gilhousen cutting to the hoop again and taking a backdoor pass from Aaron Park for another layup that was turned into an old-school 3-point play to make it 37-32 with 5:14 left.
One more cut, this time from Bryan Dworek, who left the game momentarily in the third quarter with an apparent shoulder injury, closed out the run at the 4:28 mark giving Brookville th 39-32 advantage.
Kane wasn't quite done.
The Wolves used the momentum from a Bucheit alley-oop dunk off a Davis Gardner pass to go on an 8-2 run that ended with a Bucheit basket with 1:37 left that closed the deficit to a single point, 41-40 with 1:37 left.
A pair of free throws by Dworek with 44.8 to play made it 43-40, but Bucheit hit two charity shots at the 29.2 mark to get Kane within a point again, 43-42.
Park, just a freshman, had what it took to seal the victory.
He hit two free throws with 28.1 to play to make it 45-42, and then came up with a steal with 14.3 left when he dove to the floor for a loose ball that Bucheit just reached down to try to pick up.
"That was a huge play," Wolfe said."They had a shot to tie it up. The ball got away (from Maze), and Aaron wanted it and got it. I saw it playing out and got the timeout called. We had one to burn."
Watch Park get the steal.
Less than a second later Park was back at the line and hit two more free throws that all but sealed the victory putting the Raiders ahead 47-42.
Park and Moore, who led the well-balanced Raiders with 12 points and seven rebounds while hitting three 3-pointers, talked about the victory.
After trailing 6-5 late in the first quarter, Brookville took control of the game with an 8-0 run to close out the quarter thanks to four points from Colton Singleton.
Kane battled back in the second quarter thanks to four points and two rebounds from Keaton Rounsville to close within one, 17-16, on an Ange Costanzo bucket off a steal with 2:56 left.
But Moore's second three of the first half with 27.3 to play before the break put the Raiders up four, 20-16, at halftime.
The game continued at a fairly slow pace in the third quarter with Kane, which lost to Brookville by 28 during the regular season, controlling the tempo with a zone defense and a methodical offense.
The result was an 11-10 third-quarter advantage for the Wolves, who went into the fourth down three, 30-27.
"We got what we wanted on the offensive end," Kane head coach Matt Gasbarre said. "We executed our game plan really well."
The Wolves seemed to grab the momentum at the start of the fourth when freshman Chad Greville hit his only shot of the game, a 3-pointer, 11 seconds into the quarter to tie the contest at 30. Bucheit then followed with a basket 32 seconds later that gave Kane the short-lived lead, 32-30.
"We (Greville) hit the three to star the fourth and then we took the lead, I thought we could sustain the momentum. We got good looks, but we didn't hit our free throws."
Kane was 4 of 12 from the free-throw line in the fourth quarter while Brookville went 10 of 11 from the line in the quarter.
"That's playoff basketball," Gasbarre, whose team won the D9 2A title last year, said. "You have to shoot the ball well and hit your free throws. Give credit to Brookville. Their freshman and sophomore hit the free throws. That was the difference. That was a great high school basketball game."
BROOKVILLE 48, KANE 42
Score by Quarters
Brookville 13 7 10 18 – 48
Kane 6 10 11 15 – 42
BROOKVILLE – 48
Bryan Dworek 2 6-6 10, Ben Reitz 2 0-0 4, Aaron Park 3 5-6 11, Jimmy Moore 4 1-2 12, Colton Singleton 2 0-1 4, Nick Keth 1 0-2 2, Trenton Gilhousen 2 1-1 5, Alec Lachnicht 0 0-0 0, Brady Caylor 0 0- 0 0. Totals 16 13-18 48.
KANE – 42
Frank Truden 0 0-0 0, Davis Gardner 4 2-3 10, Ange Costanzo 1 0-2 2, Andrew Bucheit 7 4-11 18, Chad Greville 1 0-0 3, Ray Maze 0 3-4 3, Keaton Rounsville 2 2-2 6. Totals 15 11-22 42.
Three-pointers: Brookville 3 (Moore 3). Kane 1 (Greville).
KARNS CITY 56, MONITEAU 45
CLARION, Pa. – Karns City used a 12-0 fourth-quarter run to break a tie ball game and get a 56-45 win over Moniteau in the District 9 Class 3A semifinals at Clarion University's Tippin Gym.
Josh Adamson had tied the game for the Warriors at 42 with a 3-pointer with 3:41 to play, but Karns City got six points from Noah Pollock, four from Chandler Turner and two from Jimmy Thompson to take control of the game.
It was fitting that Turner was part of the run because the senior played a big role in a strong second half for second-seeded Karns City (16-7) scoring 14 of his game-high 20 points after halftime including 10 in the third quarter.
"It's huge, 10 points in any quarter is huge," said Turner. "My teammates did a great job getting me the ball down there. It was just huge."
Turner's play helped the Gremlins rally from a 10-point third-quarter deficit, 33-23. Behind Turner, Karns City went on a 14-4 run that tied the game at 37 going into the fourth quarter.
"Chandler stepped up big tonight when we needed him," said Karns City head coach Chris Bellis. "I thought the third quarter was big. We had a great quarter defensively, and I thought all-in-all our defense is what won the game for us."
Turner talked about the win.
While Turner was having a great night, Karns City was shutting down Moniteau's Lake Pry, the leading scorer in District 9 holding him to five points on the night. He came into came into the game averaging 23.4 points per game. Pry had scored 15 and 24 in the first two games against Karns City.
"That's been our strategy all season to try and limit his touches," Bellis said. "I think it took us three games to finally execute the strategy. I thought our guys did a great job game planning. Jimmy Thompson, he's a great defender, and he did a job on him tonight."
Pry gave credit to Karns City's defense.
"They did a good job playing defense tonight," Pry said. "They stopped a lot of our offense. They seemed to know what we had coming for them."
Karns City led 17-15 after a quarter but third-seeded Moniteau (14-9) took a 26-20 halftime lead.
"We got a couple of decent shots we just didn't knock them down," Bellis said. "We missed a few layups, and we weren't kicking the ball out when we drove.
"We came out at halftime and made an adjustment. Our wings did a better job getting the ball to the post in the third quarter.:
Moniteau shot 5 of 8 from beyond the arch in the first half, but just 3 of 10 in the second half. The Warriors shot 18 of 47 from the field for the game. Karns City shot 20 of 48 and outrebounded Moniteau 26-15.
"We were playing good man-to-man defense, and we made some shots in the first half to put us up by six," Moniteau head coach Jerry Day said. "But in the end, we just didn't have an answer for Turner.
"These kids put in so much hard work this season from July until now, I said before the season that we'd be the hardest working team in the league, and I think we were the hardest working team in the league."
Karns City, which is looking for its first District 9 title since 2005, will take on Brookville in the title game at a site, time and place to be determined.
KARNS CITY 56, MONITEAU 45
Score by Quarters
Moniteau 15 11 11 8 – 45
Karns City 17 3 17 19 – 56
MONITEAU 45
Lake Pry 2 1-2, 5, Josh Adamson 4 0-0, 13, Jake Jewart 4 0-0, 11, Ethan McDeavitt 4 0-0 8, Jared Lominski 2 0-2 4, Ross Tenney 2 0-0 4. Totals 18 1-4 45.
KARNS CITY – 56
Noah Pollock 8 2-5 19, Chandler Turner 8 4-5, 20, Ian McElroy 0 3-4 3, Noah Kepple 2 0-0 6, Jacob Friel 2 0-0,4 Eric Dodd 1 0-0 2, Jimmy Thompson 1 0-0 2 Nolan Riley 0 0-0 0. Totals 22 9-14 56.
Three-pointers: Moniteau 8 (Jewart 3, Adamson 3, McDeavitt 2). Karns City 3 (Kepple 2, Pollock 1).