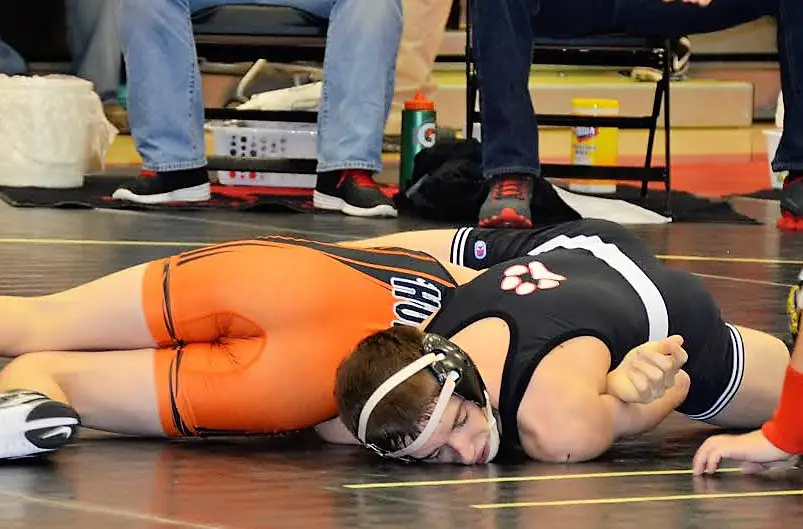 HYDE, Pa. — The Brookville Raiders had a very good opening at the District 9 Class 2A Wrestling Championships Friday at Clearfield Area High School, placing 10 wrestlers into Saturday's semifinals.
Cover photo of Brockway's Anthony Glasl
While that was not a surprise to even a novice wrestling fan, the Raiders did have one surprise as sophomore Braden MacBeth entered the first day of the tournament with a 3-8 record.
MacBeth decked Oswayo Valley senior Nate Shroyer in the preliminary round before taking on Smethport senior Akete Kindle, who was 22-4 and seeded second.
MacBeth wrestled tough with the favored Kindle, taking the match to overtime.
He scored the first escape before Kindle responded to make it 5-5.
Finally, in the last 30-second period, MacBeth broke free from Kindle's grasp for the escape and a 6-5 win.
Nine other Raiders reached the semifinals, including senior Keelan Kunselman (113), senior Gavin Park (120), junior Kai Sorbin (126), junior Dontae Constable (132), junior Caleb Hetrick (152), junior Xavier Molnar (195) and junior Tyler Cook (220).
The Coudersport Falcons have seven in the semifinals, including David Kudrick (138), Dustin Kudrick (145), Julian Smith (152), Gage Arnold (160), Isaac Wright (170), Eli Ayers (182) and Corey Thompson (220).
The Ridgway Elkers have six in the semifinals, including Kyle Bush (113), Luke Tomaski (120), Bryce Barclay (126), Lukas McClain (132), Logan McClain (138) and Colton McClain (285).
The Kane Wolves have Noah Blankenship (126), Alec English (145), Aiden Hulings (152), Teddy Race (160), Ty Stahli (195).
Curwensville has four in the semis, including Zach Holland (106), Blake Passarelli (113) and Kaleb Witherite (182) and Steven McClure (285).
The Redbank Valley Bulldogs have four wrestlers in the semifinals, including sophomore Mason Songer (113), sophomore Hunter Martz (120), senior Curtis Mohney (170) and junior Logan Minich (182).
The Brockway Rovers have three in the semifinals, including freshman Anthony Glasl (106), sophomore Garrett McClintick (170) and sophomore Justin Smith (220).
Port Allegany's semifinalists include Reese Vollmer (106), Trenton Stiles (126) and Jake Kallenborn (160).
Cranberry has three wrestlers in the semifinals, including sophomore CJ Shreffler (138), senior Josh Hancock (145) and Timmy McCauley (285).
Clarion saw two of its grapplers reach the semifinals, including senior Mike LeFay (152) and junior Tom Wurster (220).
Oswayo Valley has two in the semifinalists, including Dylan Pesock (106) and Isaiah Barney (138).
The Bradford Owls have two in the semifinals, including Tyler Thompson (132) and Dillon Keane (145).
Four teams each have one in the semifinals, including Keystone's Tyler Van Tassel, Johnsonburg's Devon Norlin (132), Smethport's Matt Stratton (195) and Sheffield's Nick Knowles (285).
Saturday, the semifinals begin at 10:30 a.m. with two rounds of consolations.
At 3:30 p.m., the Parade of Champions and District 9 Hall of Fame presentation will be done.
The finals and consolation finals begin at 4 p.m.
The top four finishers in each weight class qualify for the 2A Northwest Regional Tournament in Sharon March 3-4. A team trophy will also be awarded.
Tickets are $3 for students and $6 for adults.